Baur's Restaurant and Listening Lounge/O.P. Baur Confectionery Company
Introduction
In 1870 Otto Paul Baur founded the O.P. Baur Confectionery Company. He partnered with James Colwell and the duo became successful caterers. Eventually Baur became the sole owner. By the 1890s his candies and confections were known around the world. It was an 1891 that he opened the location at 1512 Curtis Street.
Images
Baur's Restaurant and Listening Lounge occupies the space that was once the O.P. Baur Confectionery Company.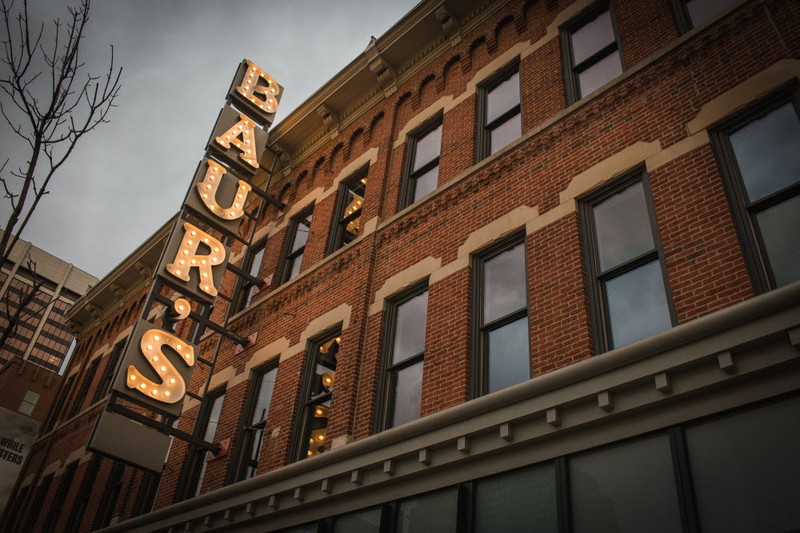 The O.P. Baur Confectionery Company was known the world over for its candies, cakes and ice cream sodas.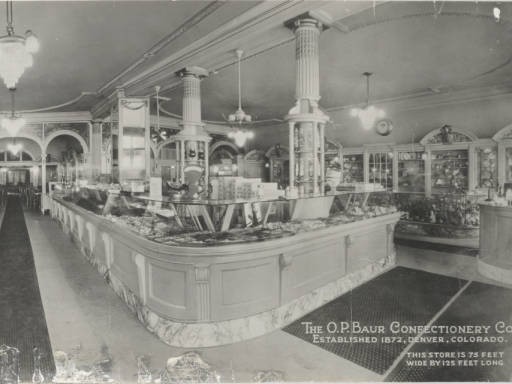 The restaurant and listening lounge with outdoor seating photographed at night.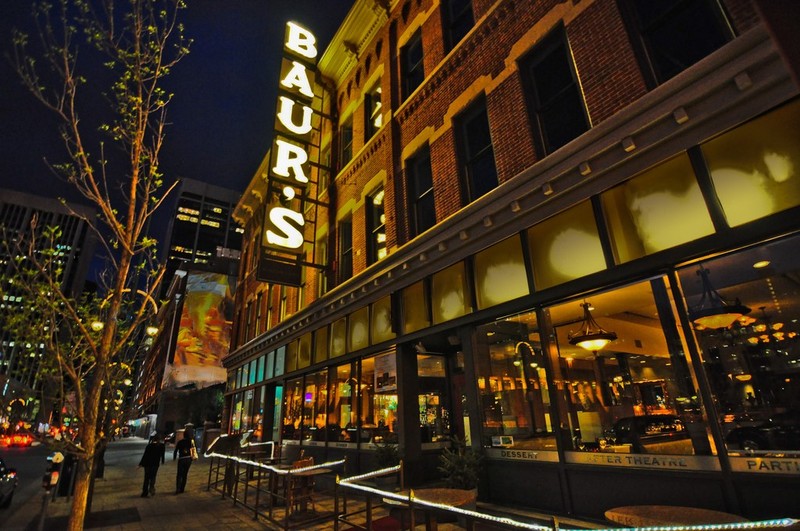 Backstory and Context
The building was constructed by real estate developer Rodney Curtis and designed by architect Leonard Cutshaw. The three-story, red brick building is an example of late 19th Century architecture. The building initially housed a number of businesses. The original storefront was remodeled in the 1970s. The building was renovated in 2005 by ArtectureDenver to create updated restaurant space.
After Baur died, the Confectionery remained under family ownership until 1951. A restaurant was added in 1918 and Baur's then occupied the entire building. The company was famous for "good things to eat" as well as good business practices. It expanded through the years but also racked up debt and eventually sold in 1951. New management continued to grow the business before eventually closing in 1970.
Upper floors of the building were converted to office space at that time and several different restaurants came and went in the original storefront. KEW Realty Corporation bought the building and remodeled it in 2005. It was added to the National Register of Historic Places in July of 2006. Chef Dory Ford brought back the Baur name and focus on quality food when he opened Baur's Restaurant and Listening Lounge in 2015.
Sources
Baur's Restaurant website. Accessed May 31, 2016. http://www.baursrestaurant.com/ National Register of Historic Places, National Park Service. Accessed May 31, 2016. http://focus.nps.gov/GetAsset?assetID=a3cf0bda-d4b0-48c1-b5d8-b85f7442cb0a
Additional Information