1977 Gay and Lesbian Protest Against Anita Bryant at Norfolk Scope
Introduction
At this location on June 8, 1977, several hundred members of the gay and lesbian community of the greater Norfolk area held a public protest against singer Anita Bryant as she performed at Norfolk Scope. The protest was a response to Bryant's organization "Save Our Children" that attempted to repeal or prevent the passage of statutes protecting the rights of LGBTQ people. Bryant made a series of inflammatory public statements in the spring of 1977, accusing homosexual men of seeking to corrupt America's youth. After hundreds of Norfolk residents protested against Bryant, thousands of formerly-closeted gay men and women mobilized by organizing protests at Bryant's concerts in other American cities. By the end of the year, several thousand gay men and women had made taken their first public stance in defense of their rights. In cities such as Chicago and Houston, protests outside of Anita Bryant concerts attracted national attention because of the violence perpetrated against homosexual people and gay rights activists. The protests against Bryant continued, and while many defended her views, the violence of some of these individuals led many of Bryant's fans to abandon her. The appearance of Klan members who defended Bryant at a Huntington, West Virginia concert did little to help the singer's cause. Protests against Bryant grew into protests in favor of gay rights, swelling the size of planned gay rights marches in cities like Los Angeles to include thousands of participants.
Images
Bluefield Daily Telegraph (WV) Jun 9, 1977. This coverage demonstrates how Anita's "Victory" in Florida inspired the protest in Norfolk that became national news and spurred additional protests.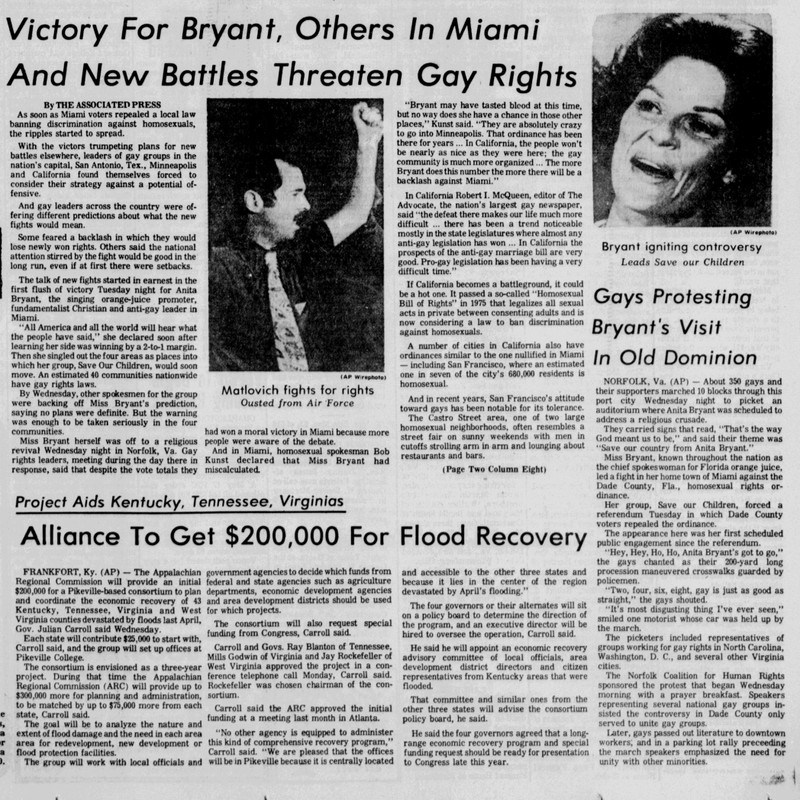 Danville Bee June 2, 1977. Opponents of gay rights warned that the Norfolk protesters hoped to expand the 1964 Civil Rights Bill to include protections for the civil rights of homosexuals.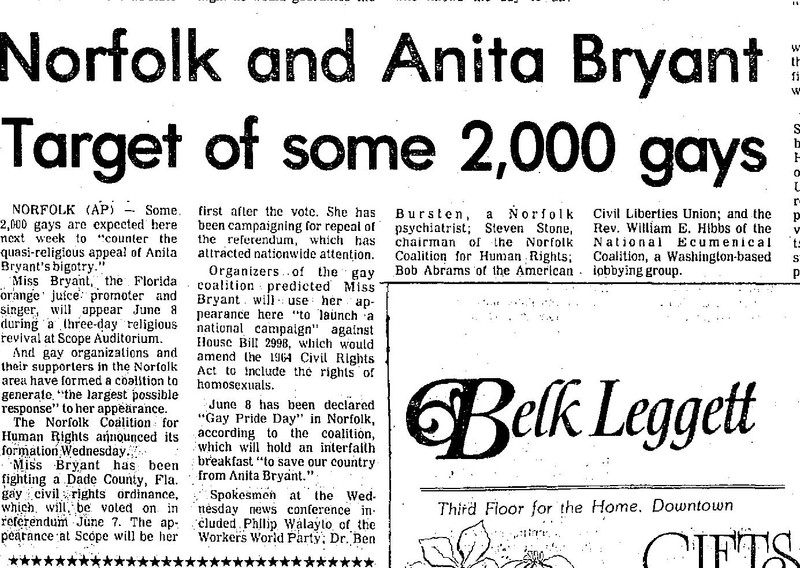 This article in the Las Vegas Sun (June 9, 1977) indicates that Bryant and her supporters believed the Miami law would lead to the repeal of legal protections for homosexuals in other cities.

Backstory and Context
Believing that America's children were being targeted by homosexuals, Singer Anita Bryan used began a campaign in 1977 to organize opponents of gay rights within a new organization. Anita Bryant's "Save the Children" worked to repeal recent laws that protected the rights of LGBTQ people. After her organization secured the repeal of a recent law in Miami that extended protections to gay and lesbian residents of Dade County, dozens of men and women protested against her appearance at Norfolk Scope on June 8, 1977. The protesters included allies, such as members of Norfolk's Quaker community.

A second protest against Bryant and "Save Our Children occurred on October 7th in Richmond. This protest at the University of Richmond led to the creation of the Richmond Gay Rights Association. According to participant Neal Parsons, supporting the protest required many formerly closeted men and women to be photographed by reporters. This protest against Bryant became the first of many similar protests against the singer. Each protest helped to galvanize LGBTQ communities across the country as members of those communities made the choice to appear in public and make a stand against the actions of Bryant and others who portrayed homosexuals as deviants.
Sources
Charles Ford and Jeff Littlejohn, "LGBT Hampton Roads," Charleston SC: Arcadia Publishing, 2016. Cindy Bray, editor. Rainbow Richmond: LGBTQ History of Richmond, VA (accessed 6/20/16) http://outhistory.org/exhibits/show/rainbow-richmond/the-beginnings-of-pride/organizing Beth Marschak and Alex Lorch, "Lesian and Gay Richmond." Charleston: Arcadia Publishing, 2008.
Additional Information