John & Annie Glenn Museum and Historic Site
Introduction
This New Concord Museum opened in 2002 and is operated by volunteers who offer tours of the childhood home of astronaut and U.S. Senator John Glenn. John Glenn was a fighter pilot who earned three Distinguished Flying Crosses and made history as the pilot of the first transcontinental supersonic flight in 1957 before also becoming the pilot of the Friendship 7, the first American spaceship to orbit the earth. The museum includes numerous artifacts related to Glenn's career as a pilot, astronaut, and public official. The museum also preserves the story of Annie Glenn, a childhood friend from New Concord who was married to John Glenn for sixty years. Given her career as a member of numerous national advisory boards and her work to overcome a severe communication disorder, Annie Glenn received the first national award of the American Speech and Hearing Association. In addition to exhibits related to the Glenn family, visitors will learn how events such as the Great Depression and World War II shaped life for area residents.
Images
John and Annie Glenn with a background of the US Capitol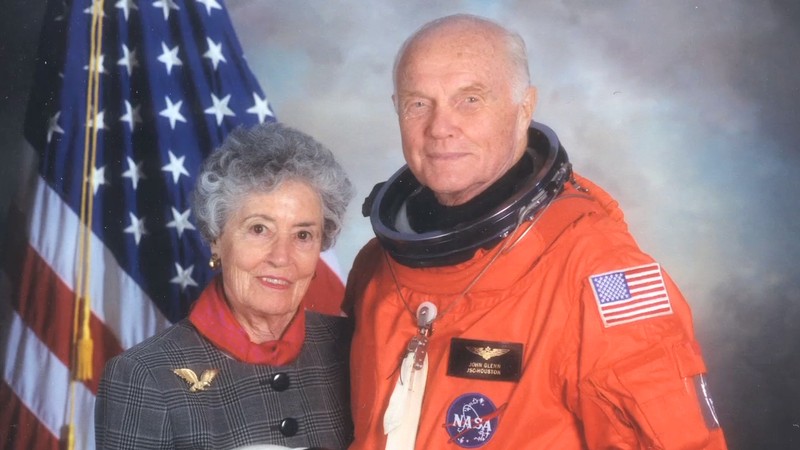 John Glenn with then longtime friend Annie Casto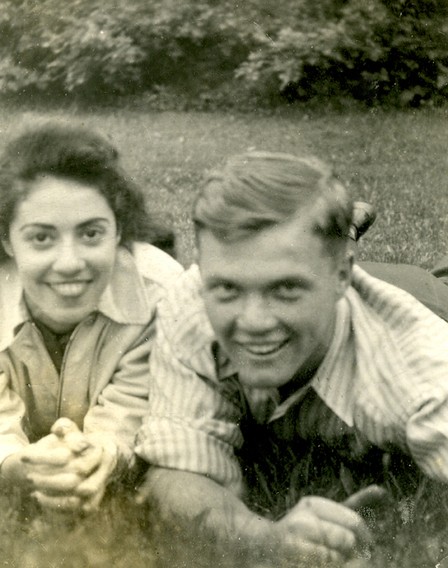 John Glenn in front of Friendship 7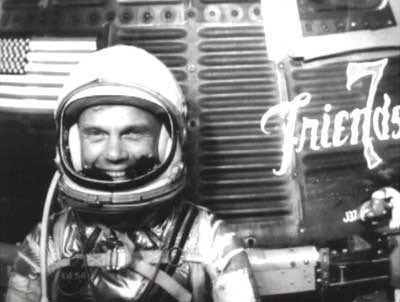 President Obama giving Glenn the Presidential Medal of Freedom in 2012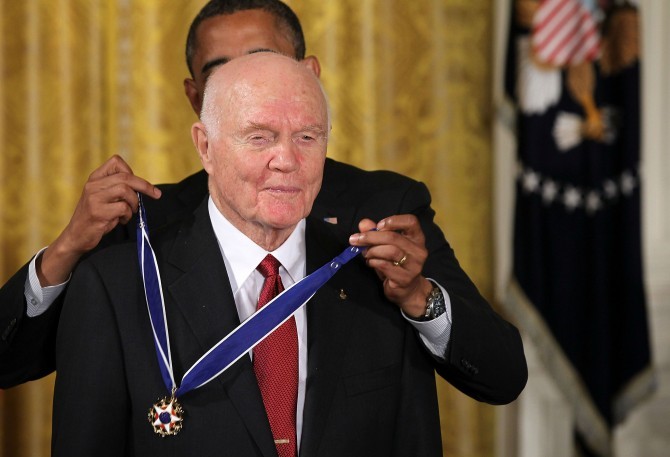 The childhood home of John Glenn is now a museum.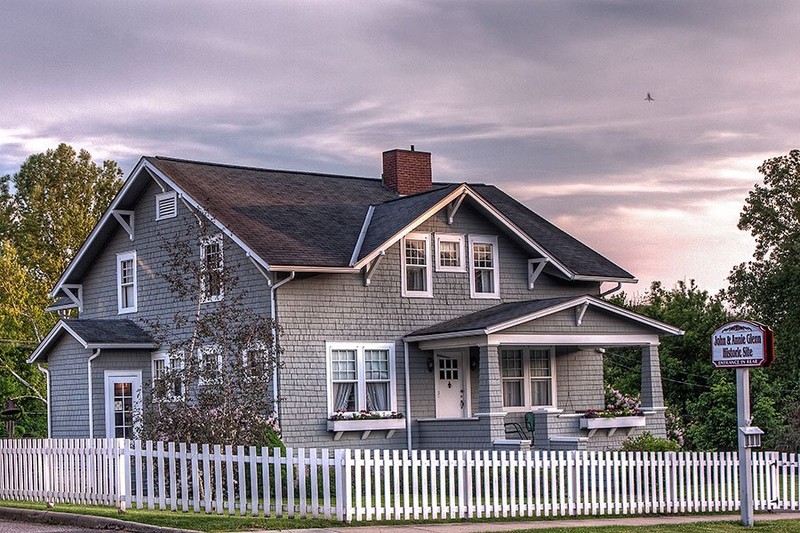 Backstory and Context
John Glenn grew up in this New Concord home and inherited a tradition of military service from a father who served in WWI and a great-grandfather who fought for the Union in the Civil War. Glenn's passion for aviation started young. When John was only eight he recalls seeing a biplane flying while traveling with his dad to one of his plumbing jobs. Thanks to his father, the pilot asked John if he wanted to fly with him. Glenn recalls the feeling of this first flight in his memoir:
"When I got out of the plane I was elated. I couldn't get the view from the air out of my mind, and the feeling of being suspended without falling...I was hooked on flying after that..."1

Glenn earned a pilot's license through a physics class at Muskingum College in 1941. When the United States entered WWII, John quit school and enlisted in the army. He later switched to the Navy and finally ended up as a Marine. Glenn flew 59 combat missions in the South Pacific. He continued to serve after the war ended as a flight instructor and attained the rank of captain.
When the Korean Conflict broke out John was called upon to serve again. He flew 63 combat missions and shot down several MiGs. Indeed, his plane was nicknamed the Mad MiG Marine. John earned the Distinguished Flying Cross six times. After Korea, he stayed in the service as a test pilot. He broke the speed record for supersonic flying across the country--from Los Alamitos, CA to New York. His time was 3:23:83. But, John could not resist the pull of the new NASA program which he joined in 1958.
The Soviets were ahead in the space race at that time, and the American space program received significant funding to catch and surpass their rival nation. John was one of seven men who were selected for the Mercury Space Program. On February 20, 1962, onboard Friendship 7, John Glenn became the first American to orbit the earth and completed three complete orbits before returning to the ground. The nation celebrated the accomplishment and John Glenn became a national hero and instant celebrity. As a result, President Kennedy intervened to make sure that Glenn did not participate in any additional space missions else he risk the potential loss of enthusiams and support for the space program should an accident cost the life of this national hero. Glenn retired from NASA in 1964.
John Glenn ran for one of the Senate seats for Ohio in 1964 but withdrew owing to a serious injury. After another unsuccessful run for Senate, John Glenn won election to the Senate in 1974 and served five terms, more than any other Ohioan.
On October 29, 1998, at the age of 77, John Glenn returned to space as part of the crew of the space shuttle Discovery. Far from simply being a mission that would garner public interest, Glenn's return to space allowed for experiments to determine how space affected older human beings because his test results could be compared to his recorded vital signs during missions when he was younger.
In 1998, Ohio State University established the John Glenn Institute for Public Service and Public Policy. In 2006 the institute became The John Glenn School for Public Affairs and in 2015 the organization again changed its name, this time becoming the John Glenn College of Public Affairs. Glenn siad that his goal in working with this center was to encourage young people to serve their country through government public service. In 2012 John Glenn received the Presidential Medal of Freedom.
In the summer of 2016, just a few months prior to John Glenn's passing, the Columbus airport was named in honor of John Glenn.
Sources
1. Glenn, John and Nick Taylor. John Glann, a Memoir, New York, NY: Bantam Books, 1999 2. "John H. Glenn, Jr." Online Encyclopedia of the Ohio History Connection. Accessed June 16, 2016. www.ohiohistorycentral.org. 3. "The John and Annie Glenn Historic Site." Destination Guide of the state of Ohio. Accessed June 16, 2016. www.ohio.org 4."John Glenn." The John & Annie Glenn Historic Site. Accessed June 16, 2016. johnglennhome.org 5.https://www.youtube.com/watch?v=jRmgkUWwM4E
Additional Information