Worcester Union Station
Introduction
Union Station was built in 1911 as a replacement for a previous depot that had been built in 1875. It was abandoned in the 1970s but renovated and reopened in 2000 as a bus/train terminus with retail, business offices, and event space.
Images
Worcester Union Station (image from Wikimedia)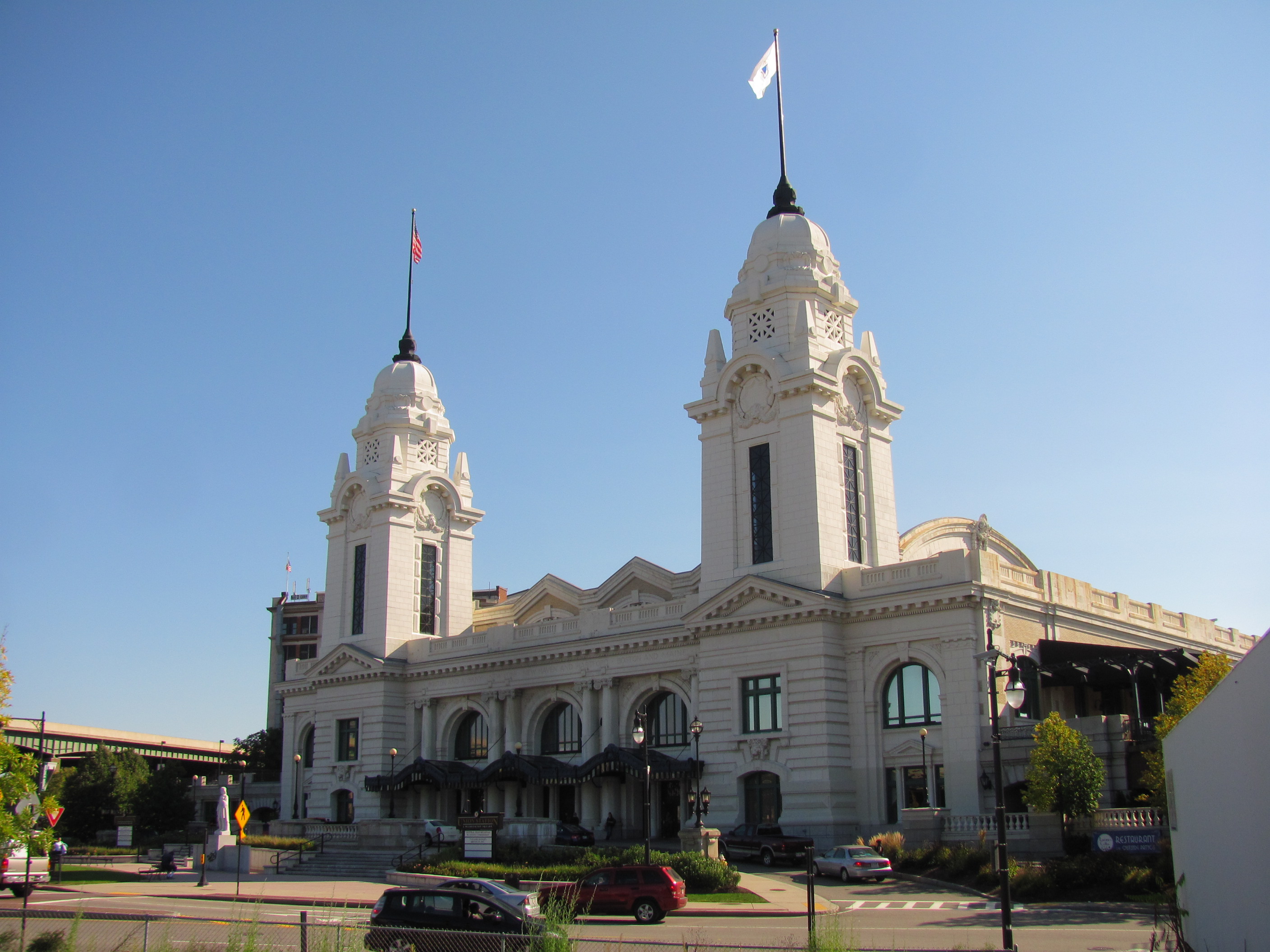 Interior with skylight (image from Nirvana Excursions)
Union Station interior prior to restoration (image from WorcesterMass.com)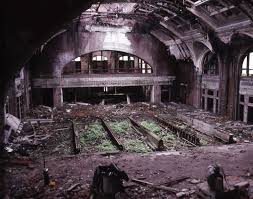 The 1875 Worcester Union Station (image from Wikimedia)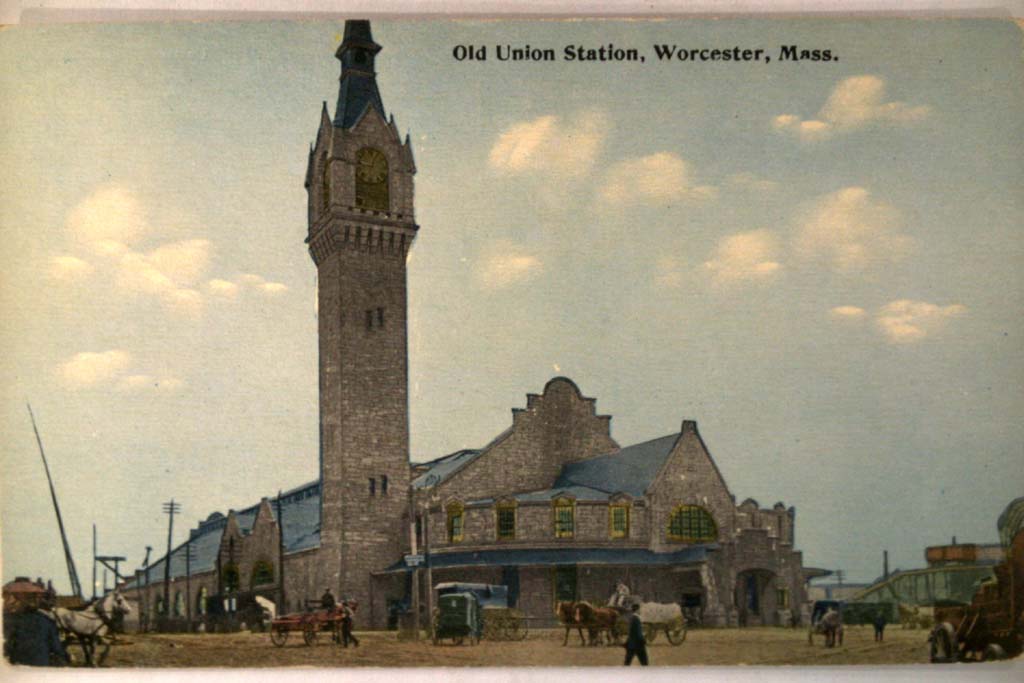 Backstory and Context
The first railroad depots in Worcester were small, serving trains traveling to and from Boston beginning in 1835. The original Union Station at Washington Square was built in 1875, featuring a 212-foot clock tower and granite lions, and saw 10,000 passengers daily [1; 2]. This station was replaced by the standing Union Station in 1911, and its lions were moved to East Park (now Christoforo Colombo Park) [2]. The second Union Station, built for the Boston and Albany (B&A) Railroad, was designed by the Philadelphia firm Watson and Huckel. The building features French Renaissance style architecture, an elliptical stained glass skylight, terra cotta and marble floors, and originally included a pair of 175-foot towers (which were removed in1926 due to structural instability caused by the vibrations of the trains). In addition to the B&A, the New York, New Haven and Hartford Railroad and the Boston and Maine Railroad also used the station, with 140 trains per day coming through Union Station [1; 2].
Trolley service at Union Station was discontinued in 1945, and as train travel decreased throughout the 1960s and 1970s, the station closed and was boarded up in 1972 [1; 2]. Within the decade, little remained but the skeleton of the building, the plaster and beams having crumpled to the floor under the skylight's missing panels [1]. The non-profit Union Station Alliance formed in 1992, and in 1994, the Worcester Redevelopment Authority (WRA) purchased the station and began a $32 million restoration directed by the architectural firm of Finegold Alexander & Associates. The marble floor and stained glass ceiling of the main hall were restored, new red oak and mahogany trim installed, and the towers re-built with steel reinforcement. In July of 2000, Union Station reopened to passengers as an intermodal facility, connecting inter- and intra-city bus lines, taxis, Amtrak, and Massachusetts Bay Transit Authority's Framingham/Worcester rail lines. The Grand Hall hosts events, retail, business offices, and a restaurant, lounge, and coffee shop [1; 2].

Sources
1. AMTRAK Presents. "Worcester, MA (WOR)." Great American Stations. Accessed June 14, 2016. http://www.greatamericanstations.com/Stations/WOR. 2. City of Worcester. "Union Station." Worcester, MA Government. Accessed June 14, 2016. http://www.worcesterma.gov/development/initiatives-master-plans/union-station.
Additional Information