St. Johns Bridge
Introduction
The St. Johns Bridge is a steel suspension bridge built across the Willamette River. It is part of the U.S. Route 30 Bypass. It is one of three public highway suspension bridges in Oregon. The Portland landmark has 14 concrete Gothic piers and two steel towers that stretch to 401 feet. Designed by engineer David B. Steinman it was completed in 1931. Steinman designed nearly 400 bridges in his career and was quoted as saying the St. Johns Bridge was his favorite.
Images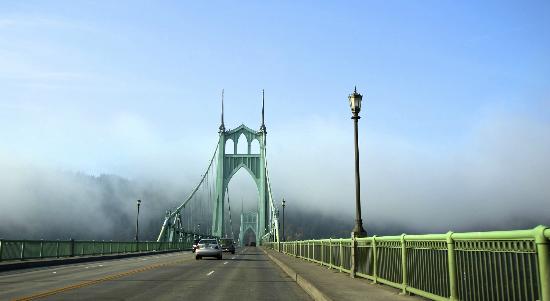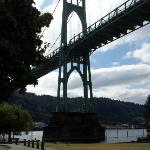 Backstory and Context
The bridge has also 53 lights on each side. It's wingspan of 1,207 feet was the longest west of Detroit when it was completed. In 1928 voters approved a 4.25 million bond to help pay for the bridge's construction. The total cost wound up being $7.69 million.
The bridge, which came about by public demand, took two years to complete and now has about 23,000 vehicles across it every day. The opening of the bridge began with a parade that included an elephant.
The St. John's Bridge has received millions of dollars in repairs and upgrades through the years. It has received new paint, new concrete decks, a new drainage system, new metal rails, new lighting and new waterproof cables.

Sources
Brettman, Allan. "St. John's Bridge has evolved into Portland symbol: 'Spanning Oregon," The Oregonian. December 5, 2015, accessed June 10, 2016. http://www.oregonlive.com/portland-bridges/2015/12/st_johns_bridge_has_evolved_in.html PdxHistory.com, updated on June 13, 2013 (accessed on June 10, 2016). http://www.pdxhistory.com/html/st_johns.html
Additional Information