The Grotto - National Sanctuary of Our Sorrowful Mother
Introduction
This 62-acre Catholic shrine and botanical garden is known as "The Grotto" but is actually The National Sanctuary of Our Sorrowful Mother. It is a non-profit organization supported solely by the proceeds of its gift shop and by donations. It is administered by the Order of Friars Servants of Mary, USA Province. The Grotto provides a variety of ministries including counseling, education, spiritual direction and liturgical celebrations. It aims to offer a welcoming presence and a beautiful environment conducive to peace, quiet, and spiritual inspiration.
Images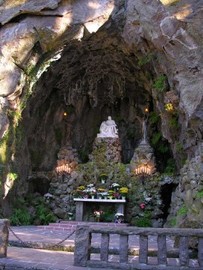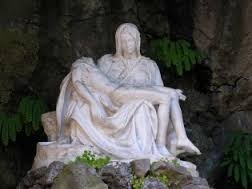 Backstory and Context
Father Ambrose Mayer found the property in 1923. It was then owed by Union Pacific Railroad. His own money of $3,000 was accepted as a deposit and a national campaign garnered the rest of the funds to purchase the land and erect the sanctuary.

Work began in 1923, and the first Mass took place on May 29, 1924. The Chapel of Mary, Mother of the Human Race, was dedicated in 1955 by Portland Archbishop Edward D. Howard. The chapel was designed by L. L. Dougan of Dougan & Heims, Architects. In 1983 the shrine was designated a National Sanctuary.

Today, The Grotto attracts millions of visitors from all over the world. It has more than 100 statues and shrines. It has flower-lined pathways, towering fir trees, ponds and cliffside vistas.

Sources
The Grotto website (accessed June 10, 2016). http://www.thegrotto.org/about-us/history/ Travel Portland website (accessed June 10, 2016). https://www.travelportland.com/directory/the-grotto/
Additional Information