St. Patrick's Church
Introduction
St. Patrick's Church is one of the earliest, largest, finest examples of Gothic Revival style architecture in the city and country. The parish, the second oldest in New Orleans behind St. Louis Parish, was founded in 1833. St. Patrick's was designed in 1837 and built in 1840, and remains in use to this day. The church was added to the National Register of Historic Places and designated a National Historic Landmark in 1974.
Images
Exterior view (http://www.neworleanschurches.com/)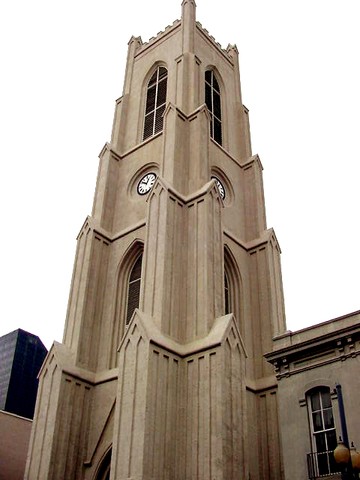 Sanctuary view (oldstpatricks.org)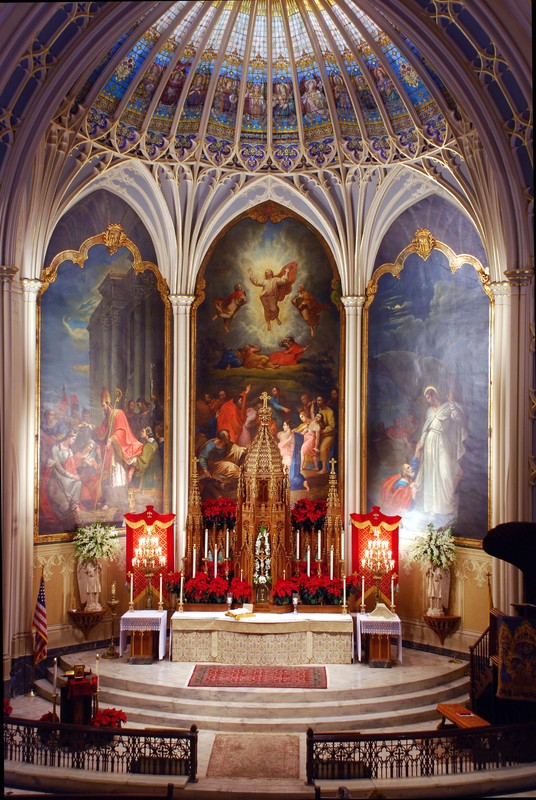 Sanctuary view (http://www.neworleanschurches.com/)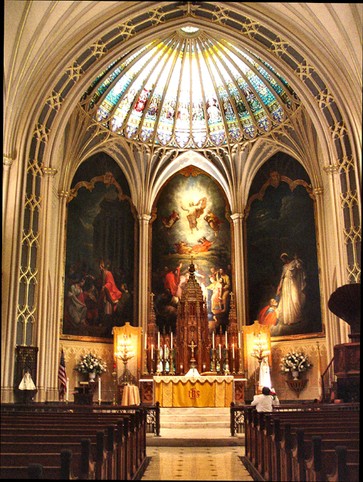 Organ with murals (http://www.neworleanschurches.com/)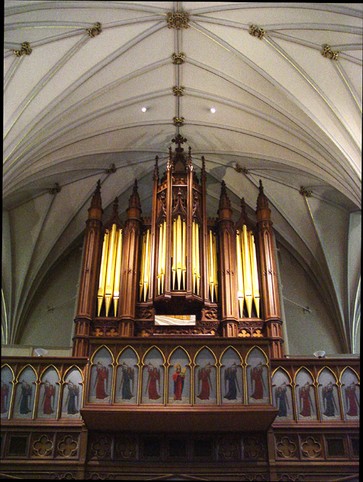 Backstory and Context
In the early 19th century the city was a melting pot of different nationalities, and was experiencing a surge of population growth and was extending into new land towards Canal Street. A new parish was established in 1833 - the first outside of the city - by the Irish Catholics of New Orleans, who sought to have a city comparable with those found in France, such as St. Louis Cathedral, built in their city, and who were eager to differentiate themselves from the largely French-speaking congregation of the Cathedral on Jackson Square. In 1837 Charles B. and James H. Dakin produced the first plans for the church, and were subsequently commissioned to oversee its construction the following year. However, in 1839 a disagreement over the structural integrity of the foundations caused them to leave the project, and architect James Gallier oversaw the construction until its completion in 1841. The first services began in 1840.

The building is composed of brick, covered in plaster that was once painted to imitate dressed stone (this was later replaced by the white rough-cast weatherproofing cement seen today). It has a 190 ft high bell tower, that has survived numerous hurricanes, lightning strikes, and periods of inadequate upkeep - though substantial repairs were required following Hurricane Betsy in 1965. Near the church can be found an Italianate rectory built by plantation architect Henry Howard in 1874.

The interior design was largely influenced by James Gallier directions. Visitors can admire the plaster fan vaulting, cypress pews, and the magnificent stained glass ceiling skylights of the sanctuary, which dramatically illuminate the altar during the day. Beneath this sanctuary are the interred remains of Irish-born Father James I. Mullon, who was the second pastor of St. Patrick's and a who fought for the U.S. Navy during the War of 1812. Of exceptional note is are the three oil paintings found in the sanctuary. Painted by the young New Orleanian artist, Leon Pomarede, in 1840, they depict St. Patrick baptizing the princesses of Ireland and the Transfiguration. Pomarede also painted a series of murals on the church organ, which was itself salvaged from an organ built by the renowned French organ maker, Aristide Cavaille-Coll, who made the instruments for Notre Dame Cathedral, Paris.


Sources
Goeldner, Paul. "National Register of Historic Places -- Nomination Form." United States Department of the Interior/National Park Service. January 8, 1974. Accessed January 26, 2017. https://focus.nps.gov/GetAsset?assetID=552882ac-b4b6-4480-81f2-6e3e257a3c27
Schneider, Frank. "History of St. Patrick's Catholic Church. New Orleans Churches. September 1994. Accessed January 26, 2017. http://www.neworleanschurches.com/stpatrick/stpat.htm
Schneider, Frank. "History" Old St. Patrick's. September, 1994. Accessed January 26, 2017. http://oldstpatricks.org/news/our-history/
Additional Information