Camp Bushnell Marker
Introduction
In the city of Bexley there is a stone marker commemorating the fact that this residential city was once the site of a 500 acre army camp for gathering and organizing volunteer troops for the Spanish-American War. The needed infrastructure that the camp brought in proved to be very valuable to the growth of the area.
Images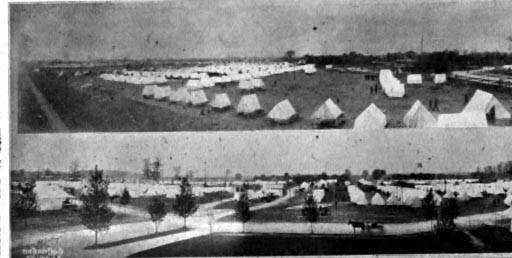 Soldiers at Camp Bushnell
Present day photo of Camp Bushnell Marker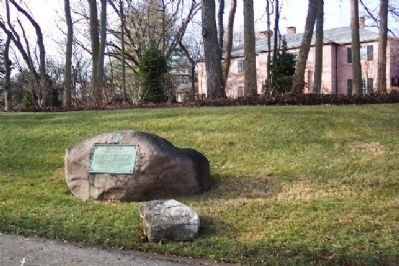 Backstory and Context
In early 1898 many Americans were clamoring for war against Spain over Cuba. Some eyed the economic potential of Cuba while others hated the way the Spanish were treating the rebels who wanted independence. Once the US ship Maine exploded in Havana's harbor, President McKinley could hold out no longer. War was declared on April 25, 1898.
In April, 1898 the Army had only about 27,000 soldiers. It had to quickly accommodate tens of thousands of volunteers. Only three days after the declaration of war, Camp Bushnell was established. The camp only existed for four weeks. But, in that short time it processed over 15,000 soldiers.
By all accounts Camp Bushnell was a fairly well-run operation. Sewer and water lines were extended from Columbus. This improved infrastructure helped the area develop both commercially and residentially once the camp was gone. In 1908 two existing communities merged to form the Village of Bexley.
In 1934 Bexley schoolchildren decided to honor the men who served by creating a marker for the camp. They raised money to move a large stone to the intersection of Broad Street and Drexel Avenue. Part of the inscription reads: Here Ohio Loyalty responded to the summons "Remember the Maine"
Sources
Fischer, William Jr. "Camp Bushnell Spanish American War.", The Historical Marker Database. March 11, 2009. www.hmdb.org http://www.thisweeknews.com/content/stories/2012/07/17/a-little-war-leads-to-a-little-town.html Images of America: Bexley, Bexley Historical Society, Arcadia Publishing, 2014 Bacheller, Lover's Day at State Camp, The Cosmopolitan, June 1898 bexleyhistory.org
Additional Information