Pittock Mansion
Introduction
Situated high above the Portland skyline, the Pittock Mansion was commissioned in 1909 by businessman Henry Pittock and wife Georgiana. The twenty-two room estate was designed by Edward Foulkes and features English, French, and Turkish design elements. The home was fitted with the most cutting-edge innovations, including an indirect lighting, intercom system, and a central vacuum system. The Pittock family remained at the residence until 1958 when the house was put up for sale.
Images
"I Kept At Work: Portland's Henry Pittock" by K.F. Stewart --Please see the link below for more information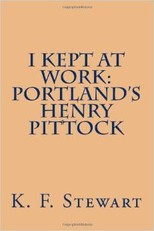 Pittock Mansion was completed in 1914, five years after construction started. It was added to the National Register of Historic Places for its outstanding architecture.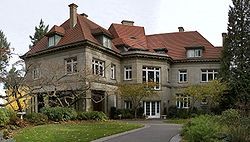 This picture shows the east facade of the mansion.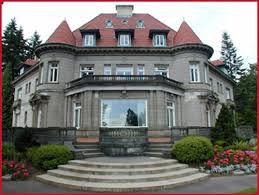 Pittock Mansion Historic Marker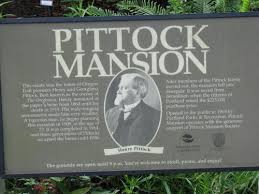 Backstory and Context
The home, 16,000-square feet with 46 rooms, was damaged by a severe storm in 1962 and was later sold to the city of Portland for $225,000 in 1964. City officials opened the estate to the public in 1965. Today the city's Parks and Rec department along with the non-profit Pittock Mansion Society work to maintain the home and surrounding 46 acres.

Rumors swirled about the Pittock Mansion in 1911 when it was revealed that water lines had been run to the estate using public funds. Portland Councilman Will H. Daly explained that the mansion was situated nearly a half mile outside the city perimeter and accused Pittock of misappropriating city resources. Tensions grew between the two men and a feud quickly developed. Pittock, publisher of The Oregonian, was able to deal a severe blow to Daly's political career and ultimately ended it.

Damage from the 1962 storm took a toll on the roof and windows and left the interior exposed. It took workers 15 months to make the repairs before it could be opened to the public.

The mansion was added to the National Register of Historic Places in 1974 and has appeared in popular films such as First Love, Unhinged, Body of Evidence, and The Haunting of Sarah Hardy.

The site is also one of the most popular bird watching locations in Portland because it sits nearly 1,000 feet above sea level.

Sources
"History." Pittock Mansion. Accessed June 8, 2016. http://pittockmansion.org/our-story/history.

Koffman, Rebecca. "Portland Landmark Pittock Mansion turns 100 in 2014 with free admission and special tours," The Oregonian, February 24, 2014. Accessed June 8, 2016. http://www.oregonlive.com/portland/index.ssf/2014/01/portland_landmark_pittock_mans.html.

"Pittock Mansion." City of Portland. Accessed June 8, 2016. http://www.portlandoregon.gov/parks/finder/index.cfm?action=ViewPark&PropertyID=1127.
Additional Information