Emily Hoyt's Boarding House, Quantrill's Raid
Introduction
One of the oldest buildings in the city, this home was built by Hiram Towne and survived William Quantrill's raid when Emily Hoyt begged the men who destroyed the town and killed over a hundred men to spare the home. While her son hid behind the property to aoid being one of the many male residents of Lawrence who were murdered that day, Hoyt emphasized that she was a widow and operating the home as a boarding house was her only source of income. The raid was inspired by the anti-slavery views of the citizens of Lawrence and previous attacks on both sides of of the Kansas-Missouri border. Using these attacks as an opportunity to steal property and commit violence, Missouri residents followed William Clark Quantrill in a raid on the city on August 21, 1863. Prior to the attack on Oklahoma City in 1995, Quantrill's raid was the most deadly episode of domestic terrorism committed against an American city.
Images
This monument honors the victims of the raid and can be found in Oak Hill Cemetery.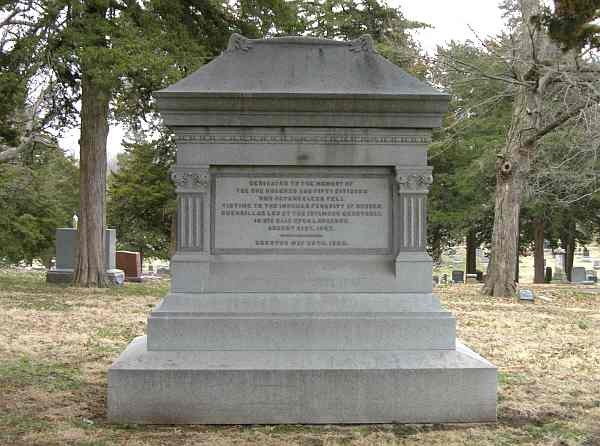 This boarding house was spared during Quantrill's Raid when Emily Hoyt pleaded with the raiders not destroy her home because it was her only income.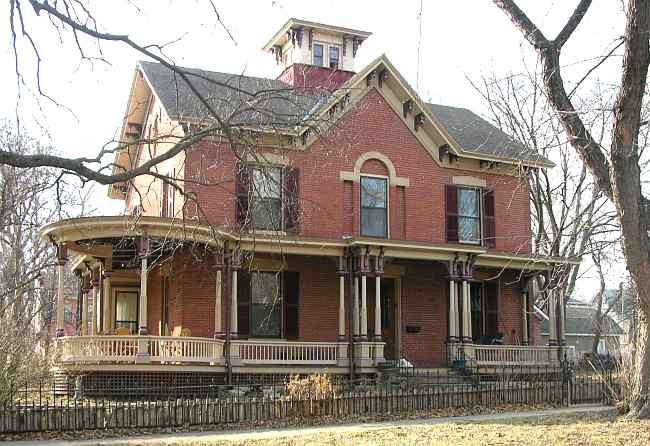 Backstory and Context
Before and throughout the Civil War, the residents of Kansas Territory and the state of Missouri engaged in attacks against one another that were largely driven by differences regarding the extension of slavery. The citizens of Lawrence were known to hold anti-slavery views, leading to two previous attacks on the city by residents of Kansas and Missouri during the territorial period supported the pro-slavery government at Lecompton. Because the issue of slavery's extension had already been settled by the time of Quantrill's 1863 raid, this horrific and vicious act can best be understood as a war crime committed by men who hoped to use the war to steal property and commit atrocities.
Quantrill led four hundred men who claimed to be aligned with the army of the Confederate states but might more accurately be labeled as guerrilla warriors acting on their own. The raiders included men like of Jesse James, his brother Frank, Cole Younger, and his brother Jim. These cowardly raiders chose the early morning for their attack on the residnets of Lawrence, burning buildings, stealing property, and dragging 183 boys and men from their homes and murdering them in front of their mothers, wives, and children. Nearly every building was set on fire, leaving only a handful of homes such as this boarding house intact.
Sources
1. "William Quantrill Raids Lawrence, Kansas, 1863." William Quantrill Raids Lawrence, Kansas, 1863. Accessed May 29, 2016. http://eyewitnesstohistory.com/quantrill.htm. 2. "Civil War on the Western Border: The Missouri-Kansas Conflict, 1854-1865." Quantrill's Raid on Lawrence. Accessed May 29, 2016. http://www.civilwaronthewesternborder.org/content/quantrill's-raid-lawrence. 3. "Quantrill's Raid on Lawrence: A Question of Complicity." - Kansas Historical Society. Accessed May 29, 2016. https://www.kshs.org/p/kansas-historical-quarterly-quantrill-s-raid-on-lawrence/13185.
Additional Information