Fort Bisland and the Battle of Fort Bisland
Introduction
Previously located in southern Louisiana in St. Mary Parish, Fort Bisland was a Confederate fort under the command of Major General Richard Taylor. The fort was attacked by Union forces under the command of Major General Nathaniel Banks in April, 1863. This attack was a resounding Union victory and the fort was subsequently captured and destroyed, nothing remains of the previous structure.
Images
Battlefield, looking West toward the Confederate line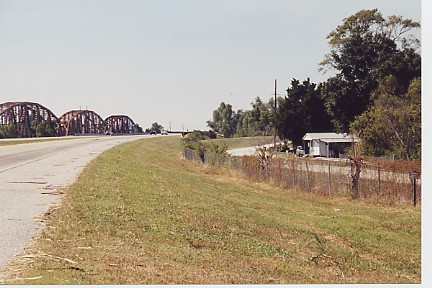 Bayou Teche at Franklin, looking downriver Diana lies somewhere along the shoreline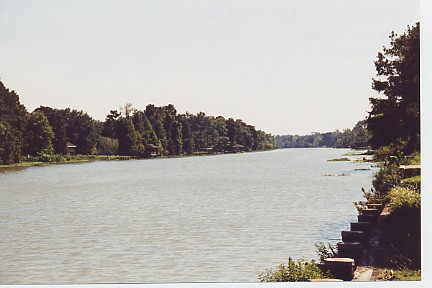 Backstory and Context
Union General Nathaniel Banks was appointed head of the Army Corps Department of the Gulf in December 1862, his focus during the war was to capture Port Hudson, LA while General Ulysses S. Grant moved his forces in an attempt to take Vicksburg. [1] To capture Port Hudson, Banks would need to march down the Bayou Teche. Fort Bisland, under the command of Major Gen. Richard Taylor was the only bastion of defense that the Confederacy could have used to impede the Union's advance toward Alexandria, and thus became the focus of Banks' assault. The attack would consist of two parts, heavy shelling followed by an infantry advance to take the occupied fort.
The battle of Fort Bisland lasted only two days before Confederate forces abandoned the fort on April 13, the key to Banks' success lie in his fervor and show of force. Before the battle, Taylor was aware of Banks' imminent attack due to successful cavalry scouting under Brig. Gen. Alfred Mouton, though this information did him little good in the battle due to the immediate shelling from the Union by the captured Confederate ship Diana the battle commenced, this artillery fire continued into the next day. The ship was damaged in the fighting and fired by the crew to prevent capture. [3] On April 13, Union forces advanced on the fort and after fierce fighting that resulted in the loss of over 200 men for the Union and nearly 500 for the Confederacy the battle died down that evening. Upon learning of Banks' reinforcements poised to cut off any Confederate retreat, Taylor evacuated his men from the fort that night and the Union forces discovered it abandoned the next day. [1]

Sources
[1] Louisiana Civil War Battle Fort Bisland American Civil War. Accessed June 07, 2016. http://americancivilwar.com/statepic/la/la006.html. [2] United States. National Park Service. Battle Summary: Fort Bisland, LA. National Parks Service. Accessed June 07, 2016. https://www.nps.gov/abpp/battles/la006.htm. [3] Comeau, Dave. Fort Bisland. Fort Bisland. October 1997. Accessed June 07, 2016. http://www.acadiansingray.com/photo gallery-fort_bisland.htm.
Additional Information