The Armory
Introduction
Built in 1930 by Lieutenant Colonel Henry C. Hengels, The Janesville Armory is an Eclectic Revival Style Building with Spanish undertones.
Images
The Armory Building as it looks today. Once upon a time, the Rock County Historical Society actually had their offices located in the building!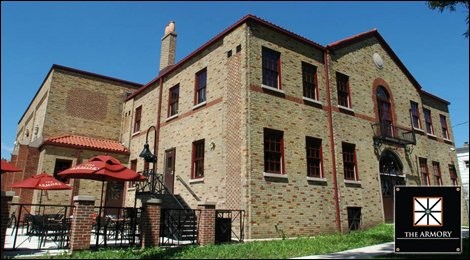 Backstory and Context
The Armory was used as the headquarters and training ground of the historic 32nd Tank Company Division of the Wisconsin National Guard, later known as Company A in the 192nd Tank Battalion during World War II. Company A went overseas to fight in late 1941 and were stationed at Fort Stotsenburg in the Philippines. The Fort went under heavy fire from the Japanese starting on December 8th, 1941. The Company held them off until they were captured in April. They then participated in the infamous "March of Death" in which they marched 20 miles a day in the tropical heat to get to work camps where many died. Almost two-thirds of Company A didn't make it back to Janesville alive but were commended for their courage and bravery. The Armory has been used for miscellaneous city purposes since the National Guard moved out in 1970, until recently when it became, and remains, an event space.
Additional Information