The Mermaid House Inn
Introduction
This small two-story in Lebanon seems rather unassuming, but it has a surprising history. The little building was once an inn for people traveling westward through the Looking Glass Prairie. Many people came to the inn, but its most famous visitor was Charles Dickens, one of the most popular British novelists of the 19th century and a man whose words came to define the era he lived in. The inn no longer operates as a hotel, but it is available for tours, and it stands as a spot of historic pride for the town.
Images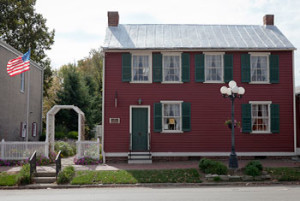 Backstory and Context
The Mermaid House Inn was built in 1830, a former sea captain who'd come to settle down in Illinois. Being a sea captain, he gave it a nautical name, hence the Mermaid House. Twelve years later, a young Charles Dickens, who'd already made himself a household name back in England for such novels as Oliver Twist and David Copperfield, crossed the Atlantic in order to tour America and advocate international copyright laws. For the most part, Dickens hated his trip. He despised the squalor of New York slums, claiming it was filthier than any slum in London, was horrified by the slave auctions in Richmond, and detested the heat and humidity of the lower Midwest. One of the only things he enjoyed was the Mermaid House Inn. While visiting in St. Louis, which he, of course, thought was too hot, he decided that he wanted to see an American prairie. He and thirteen other men set out on a short excursion through the Looking Glass Prairie, near Lebanon, and stopped at the Mermaid House. He loved it, saying that, "In point of cleanliness and comfort it would have suffered by no comparison with any village alehouse, of a homely kind, in England."

The inn's legacy has lent a sort of Dickensian vibe to the town of Lebanon. A nearby store is named Fezziwig's Marketplace, after one of the most beloved characters from Dicken's story A Christmas Carol, and the town hosts a Victorian era styled Christmas festival every November. In fact, since Dickens wrote A Christmas Carol a year after his visit, some people think that the inn was Dickens' inspiration for the classic story. Literary fan will enjoy visiting this historic inn so that they can walk in the footsteps of such a revered author.
Sources
Perdue, David. "First American Visit-1842." Charles Dickens in America. Accessed May 27, 2016. http://charlesdickenspage.com/america.html "Mermaid House Inn." The Lebanon Historical Society. Accessed June 1, 2016. http://www.historic-lebanon.org/mermaidhouse.htm
Additional Information