Dr. Richard Eells House
Introduction
This somewhat unassuming, three-story brick building has a fascinating history behind it. The home of Dr. Richard Eells, a staunch abolitionist, the house was once on the Underground Railroad. The Eells home was an essential part of the anti-slavery movement in Quincy, a town that was many a runaway slave's first chance at freedom after crossing the Mississippi from Missouri. The house is part of the South Side German Historic District, a neighborhood that is on the National Register of Historic Places.
Images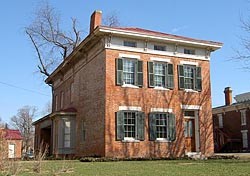 Backstory and Context
Dr. Richard Eells and his wife had the house built in 1835 in the Greek Revival style, though they later modified it to a more Italianate look. At that time Quincy was a prosperous river town, and Eells was not only an important figure in the community, but he was also a prominent member of the Illinois abolitionist movement. He is believed to have helped hundreds of slaves escape to freedom, and became the president of the Illinois Anti-Slavery Party in 1843. In 1842, Eells sheltered a man named Charley at his house. Charley was a slave who had run away from Monticello, Missouri by swimming across the Mississippi River and was hoping to reach freedom in Canada. While trying to get Charley to safety at another Underground Railroad location in Quincy, Eells was stopped by slave hunters, Charley escaped but was later caught and sent back to Missouri. Eells was arrested for aiding a fugitive slave and stood trial before Judge Stephen A. Douglas. Douglas senteced Eells to pay a fine of $400, but Eells refused and appealed his case to the Illinois Supreme Court. Eells lost the appeal along with much of his finanes. In 1846, while taking a trip on a river boat on the Ohio River, Eells died.

The house is now a museum run by a organization known as the Friends of Dr. Eells House. Tour guides take guests through the home every Saturday, talking about the home's significance to Quincy's Underground Railroad, as well as the architecture of the house. The furniture and decor the home have been authentically reproduced to an early 19th century look.


Sources
"Dr. Richard Eells House." National Park Service. Accessed June 2, 2016. https://www.nps.gov/nr/travel/underground/il3.htm "Visitors Guide to Dr. Richard Eells House." Great River Road. Accessed June 2, 2016. http://www.greatriverroad.com/quincy/eells.htm
Additional Information