Constitution Hall Park, Huntsville
Introduction
Alabama Constitution Hall Park, also known as The Alabama Constitution Village, includes exhibits within sixteen structures that were built to reflect the period between 1805 and 1819, the year when delegates met here to debate and draft Alabama's first state constitution. This complex of reconstructed buildings and exhibits offer a chance to explore the day-to-day functions of life in 1819 as well as the events that shaped statehood. This hands-on, living history museum functions as a replica of life during the early years of Alabama, allowing visitors to learn about history in a unique way. Guides in period costumes will take visitors on a tour of the working village, showcasing the many aspects of early life in Alabama.
Images
Alabama Constitution Hall Park is a hands-on, open air museum that celebrates when Alabama became a state and joined the Union in 1819.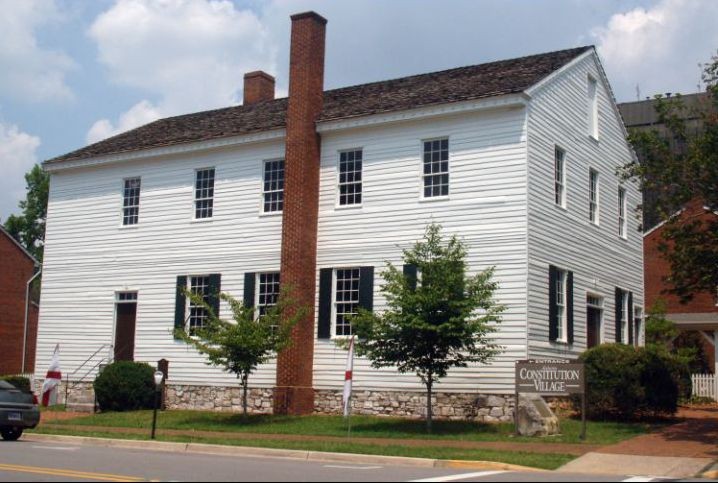 Backstory and Context
This historic village celebrates the creation of Alabama by recreating the day-to-day functions of life during its early years as a state. Alabama became the 22nd state admitted to the Union on December 14, 1819. Within the park, villagers proceed with their daily tasks of woodworking, baking, spinning, laundry, gardening and more as guests walk through the area. Additionally, a popular Santa's Village event takes place here every year. The complex grew out of a desire in the 1960s to discover the location of the state's 1819 Constitutional Convention where Alabama's statehood was debated and the first state constitution was drafted. In the year leading up to Alabama's sesquicentennial in 1969, members of the Huntsville Madison County Historical Society conducted research and discovered that this was the location of the convention. The site became a state landmark in 1975.

The site also commemorates the place where the 1819 Constitutional Convention took place. Forty-four delegates set up in Constitution Hall, which was then a vacant cabinet shop, to organize Alabama as the 22nd state. There are more than eight reconstructed buildings that surround the cabinet shop in the open-air museum including a print shop, law office, Federal Land Surveyor's office, post office, and Sheriff's home. The site was added to the Alabama Register of Landmarks and Heritage on October 31, 1975.
With a desire to appeal to families and offer programs for schools groups as well as adults, this historically-themed complex brings Alabama history to life. Part of the Earlyworks Museum Complex, Constitution Hall Park educates visitors about the early 19th century with artifacts, live demonstrations, and period-themed celebrations of major holidays.
Sources
Official website of the Earlyworks Museum Complex and the Alabama Constitution Hall Park accessed June 2, 2016. http://www.earlyworks.com/alabama-constitution-village

Alabama Register of Landmarks and Heritage. Alabama Historical Commission. . Accessed May 21, 2019. https://ahc.alabama.gov/AlabamaRegisterPDFs/Alabama%20Register%20of%20Landmarks%20&%20Heritage%20Property%20Listing%20(for%20web)%20April%202019.pdf.


Additional Information