North Alabama Railroad Museum
Introduction
Established in 1966, the North Alabama Railroad Museum offers numerous exhibits housed in a former train station. Run entirely by volunteers, the goal of the facility is to preserve the rich railroad history of the past. Visitors can take train rides and tour the volunteer organization's growing collection of historic engines, railcars, and other rolling stock.
Images
North Alabama Railroad Museum Logo

North Alabama Railroad Museum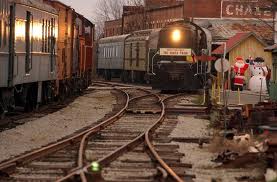 Backstory and Context
Located in Chase, Alabama just east of Huntsville, the North Alabama Railroad Museum seeks to keep railroad history alive. The goal of the exclusively volunteer-run Museum is to preserve the railroad history of the area and allow visitors to experience railroad operations firsthand. Visitors can take self-guided tours, train rides, and see more than 30 pieces of rolling stock. There is also an on-site library.
The centerpiece of the North Alabama Railroad Museum is the restored Chase Depot, a historic building that has served several purposes throughout history. It operated as a U.S. Post Office and a storage area for the Chase Nursery after its time as a railroad depot. Because the Chase Depot served more than one railroad, it was classified as a union depot, possibly the smallest one in the country.
The on-site library is housed within the Hugh Dudley Railroad History Center, a building renovated from the Chase Nursery office building. The Railroad History Center is named in honor of one of the museum's founding members. The library contains books relating to the railroad, technical manuals, and videotapes, some of which can be checked out.
The Museum operates its own small line called the Mercury and Chase Railroad. This enables visitors to take train rides and experience the railroad firsthand. There is a train schedule with rides for special events and holidays. Excursions and field trip opportunities for children are also available.
Sources
North Alabama Railroad Museum. Accessed May 24, 2019. http://northalabamarailroadmuseum.com/wp/.


Additional Information