Burritt on the Mountain
Introduction
Burritt on the Mountain is the result of Dr. William Henry Burritt bequeathing his home and surrounding 167-acre pristine, mountain-top estate to the City of Huntsville in 1955. Since that time, his residence has been meticulously restored, a Historic Park has been created and continually augmented, and Nature Trails have been established and enhanced for the benefit and usage of the public.
Images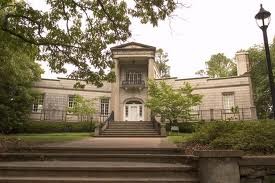 Burritt on the Mountain Aerial Shot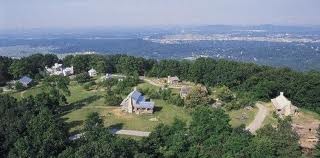 Backstory and Context
Inventor and physician, Dr. William Henry Burritt was set to move into his mountain-top home in 1936. It burned that day. So he set about building a new home in the same location. The present mansion was finished in 1938. Concrete and concrete-fiber-reinforced shingles replaced much of the wood in the original design. Burritt lived in the home until his death in 1955.The mansion, built in a Neo-Classical Revival style, was added to the National Register of Historic Places in 1996.

Burritt was concerned that Huntsville's change and growth would impact its woodland habitats, he donated the house and entire property to the city to be used as park space. The home was the city's first museum. Now the home serves as a museum with some of the original furnishings, exhibition galleries and some of Burritt's personal artifacts.
Visitors to the mansion and surrounding property can get a glimpse of history and life of the region. The park itself serves as a living history of farming in the 19th century. Guests will find interpreters in period attire demonstrating the skills and techniques of the time period.
Sources
1) http://www.burrittonthemountain.com/about-us/burritt-site-and-facility 2) http://www.burrittonthemountain.com/burritt-mansion/burritt-mansion National Register of Historic Places, National Park Service. Accessed June 2, 2016. http://npgallery.nps.gov/nrhp/GetAsset?assetID=3b2c99a5-32d8-4c4b-9e51-7c09de79b68b
Additional Information