Abraham Lincoln Presidential Library and Museum
Introduction
The Abraham Lincoln Presidential Library and Museum campus consists of three buildings; the museum, the presidential library, which is across the street from the museum, and the old Union Station building, which houses a visitor center and some exhibits. Of all of the presidential libraries and museums devoted to American presidents, only the Abraham Lincoln Presidential Library and Museum is managed by a state government agency, the Illinois Historic Preservation Agency.
Images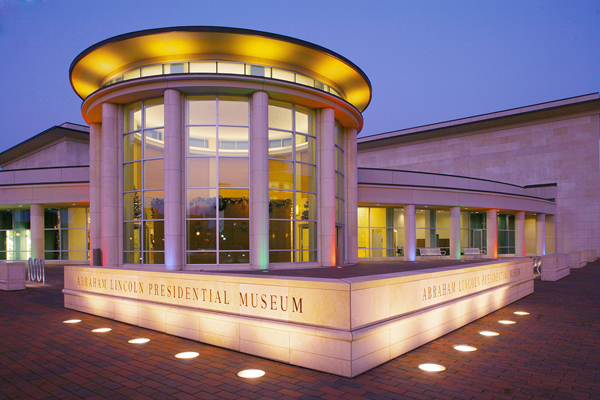 Backstory and Context
By using a combination of digital technology, historical items, and storytelling, the Abraham Lincoln Presidential Museum informs visitors about Abraham Lincoln's life and legacy. The museum has, along with two high-tech shows that are about both Lincoln and the presidential library across the street, three exhibits that take visitors from Lincoln's frontier background to his days in the White House to the aftermath of his assassination. On display are such items as Lincoln's stovepipe hat, Mary Lincoln's music box, and uniforms of Civil War soldiers from both sides of the conflict. There is also a rotating exhibit and a film where President Lincoln can answer people's questions based on quotes from his own speeches and writings.

The Abraham Lincoln Presidential Library is home to the world's largest collection of Lincoln texts and artifacts. Along with thousands of books written on the subject of Abraham Lincoln, the library also owns many of Lincoln's letters, speeches, and other writings. This massive collection also includes a copy of the Gettysburg Address that was written by Lincoln himself. It is one of only five that ever existed. The library also houses many books, artifacts, and other items pertaining to the history of Illinois, as well as a vast amount of genealogical records.

Both the museum and the library tell the story of one of America's most influential and beloved presidents. Thousands of people a year visit the museum to learn about this famous man who called Springfield his home. This is a site that is not only important for preserving the legacy of Abraham Lincoln, but for preserving the history of Illinois. It is a place full of information on not just a president, but also the state that meant so much to him.
Sources
"Museum History." Abraham Lincoln Presidential Library and Museum. Accessed June 1, 2016. http://www.illinois.gov/alplm/museum/About/Pages/Museum-History.aspx "What's Inside..." Abraham Lincoln Presidential Library and Museum. Accessed June 1, 2016. http://lincolnlibraryandmuseum.com/lincoln-museum.htm
Additional Information