Ulysses S. Grant Home Historic Site
Introduction
This was the home of Ulysses S. Grant, Union general and 18th President of the United States, from his return to Galena after the Civil War to his death in 1885. A fine example of a Victorian mansion done in the Italianate style, the home is now a National Historic Landmark and State Historic Site. It is also on the National Register of Historic Places.
Images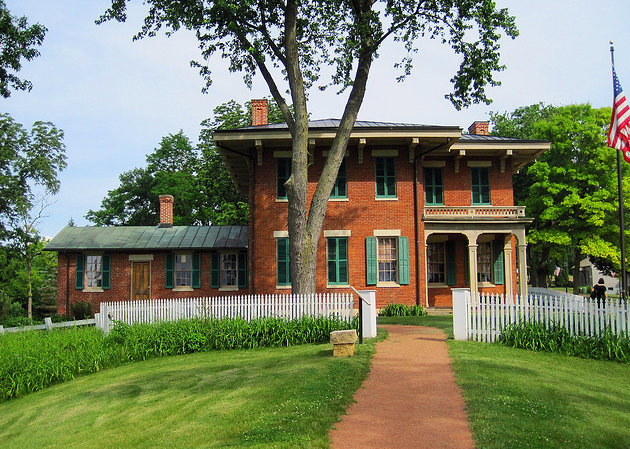 Backstory and Context
The house was built in 1860, before the war, for City Clerk Alexander J. Jackson. In August of 1865 the town of Galena bought the house and granted it to local boy Ulysses S. Grant upon his return from the war. Grant came to Galena only five years before, a failure in every job he tried other than the military, to work in his father's store. He left to join the army at the start of the Civil War and came back a military hero, having led the Union to victory as a general and accepting General Robert E. Lee's surrender at Appomattox Courthouse. Grant is considered to be one of the greatest general's of the Union army because of his modern, relentless war tactics. This heroic status was well-paid upon his return to Galena, where, along with the house, a full parade was given in his honor.

Grant and his family continued to own the house throughout the rest of his life, but they often didn't reside there. After his election to the presidency in 1868 he moved to Washington D.C. and then New York, visiting the house only occasionally. He last visited the property in 1880, only five years before his death. Grant's children gave the house to the city of Galena in 1904, and Galena later sold the house to the state of Illinois in 1931. The state restored the house with 1860s decor and furnishings and turned the house into a museum.

Today, the Grant home is one of the most popular tourist attractions in Galena. Visitors interested in Civil War history flock to it for Grant's life story, while people interested in architecture will love the style and design of the mid-Victorian era home. For a small donation to the museum visitors can be led on tours throughout the home, marveling at the period furnishings and learning about the life of this Civil War general and 19th century president.




Sources
"Ulysses S. Grant Home." Galena State Historic Sites. Accessed May 16, 2016. http://www.granthome.com/ "Ulysses S. Grant." Encyclopedia Britannica. Accessed June 1, 2016. http://www.britannica.com/biography/Ulysses-S-Grant
Additional Information