David Davis Mansion
Introduction
The David Davis Mansion, also known as Clover Lawn, is a Victorian home in Bloomington, Illinois that was the residence of David Davis, Supreme Court justice (1862-1877) and Senator from Illinois. It is an elegant mansion whit a style that is a combination of Italianate and Second Empire, two of the most popular architectural designs in the Victorian era. The mansion is on the National Register of Historic Places and is a National Historic Landmark.
Images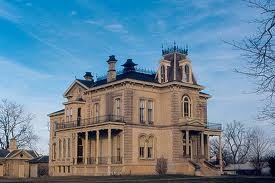 Backstory and Context
David Davis was a Maryland who moved to Bloomington in 1836 after studying law at Yale. He became a lawyer and married Sarah Walker, the daughter of a Massachusetts judge, and the two set about transforming the Illinois frontier. Davis went on to become a politician, serving a term in the Illinois House of Representatives. He became a friend a mentor to fellow lawyer Abraham Lincoln, and served as the man's campaign manager in 1860. After Lincoln's election, Davis was appointed to the Supreme Court. He was later elected to the United States Senate to represent Illinois before retiring back to Bloomington.

The mansion itself was built in 1872 on the site of an old farm. It was designed by both Sarah Davis and Alfred Piquenard, the architect who also designed the state capitol buildings of Iowa and Illinois. The three-story home was a luxurious marvel of its time, having been built with thirty-six rooms, expensive furnishings, running water, a central furnace, and gas lighting.

The home is a museum open to the general public for tours from Wednesday through Sunday. The home hosts many seasonal events including "Halloween at Clover Lawn," and "The Blessings of the Table" at Thanksgiving. During the winter holiday season the mansion is lavishly decorated for the Christmas holiday.
Sources
"History." David Davis Mansion. Accessed May 21, 2016. https://www.daviddavismansion.org/about/2014-10-23-20-28- "Judge David Davis." McLean County Museum of History. Accessed June 1, 2016. 04http://mchistory.org/research/resources/judge-david-davis.php
Additional Information