Gene Stratton-Porter State Historic Site
Introduction
This fourteen-room cabin, built in 1912, was the home of Gene Stratton-Porter, famous author, naturalist, and photographer. It is now a state historic site and museum, commemorating the life and work of Indian's most widely read female writer. Along with the home, the grounds also function as a park and nature spot.
Images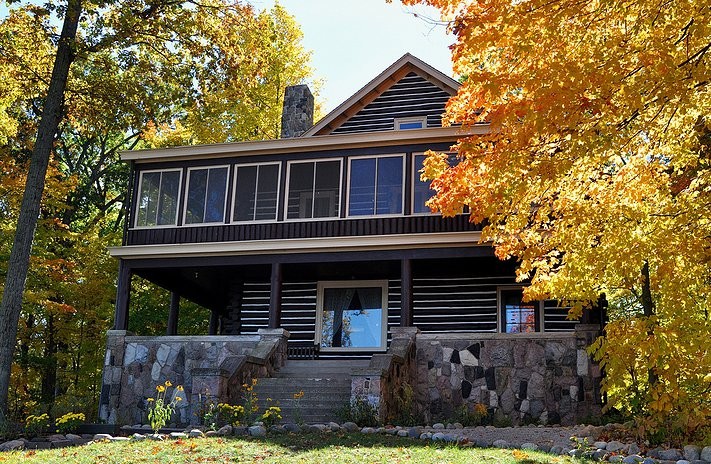 Backstory and Context
Gene Stratton-Porter moved into Limberlost Cabin, the inspiration for the house seen today, in 1894 with her husband and daughter. The Queen Anne style log cabin, situated in the beautiful Wildflower Woods, was named Limberlost Cabin. While living at the cabin, Stratton-Porter began to write about the natural world she saw around herself, and she soon published a novel titled Song of the Cardinal. She went on to write many more novels, along with nature books, poetry, children's stories, and magazine articles. Her nature works were so popular that she came to be known as "The Bird Lady." In 1912, when the Limberlost Swamp near Stratton-Porter's home was drained, Porter had her new, Queen Anne style log cabin, Limberlost North, built in the beautiful Wildflower Woods. Stratton-Porter eventually moved out to California, but the cabin remained one of her most beloved homes.

Visitors to the Gene Stratton-Porter State Historic Site have many options. They can walk amongst the Wildflower Woods, enjoying the same scenery as the famous author, tour the cabin, or go to the visitor center and gift shop. The visitor's center is only open from 10 A.M. to 5 P.M., but the grounds are free to walk upon from dawn until dusk. This turn of the century cabin and the woods that surround it are a must see for any history buffs or nature lovers.
Sources
"The Cabin at Wildflower Woods." Gene Stratton-Porter State Historic Site. Accessed May 27, 2016. http://www.genestratton-porter.com/#!about_us/cjg9 "Indiana's Most Widely Read Female Author." Gene Stratton-Porter State Historic Site. Accessed May 27, 2016. http://www.genestratton-porter.com/#!about-gene/cyu6 "Gene Stratton-Porter." Indiana Historical Society. Accessed June 1, 2016. http://www.indianahistory.org/teachers-students/hoosier-facts-fun/famous-hoosiers/gene-stratton-porter
Additional Information