The Warren Ballpark
Introduction
The Warren Ballpark is located in an old copper mining town called Bisbee, Arizona. It is one of the oldest professional baseball stadiums in the country and is still used today. The ballpark was originally built of wood in 1909. The park received renovations over the years and is still used today for semi-professional baseball games, High school games as well as graduations, concerts and a vintage baseball game held every year. There have been many notable players throughout history to play at Warren Ballpark including hall of famers Ray Schalk, Tris Speaker, Sam Crawford and Red Faber.
Images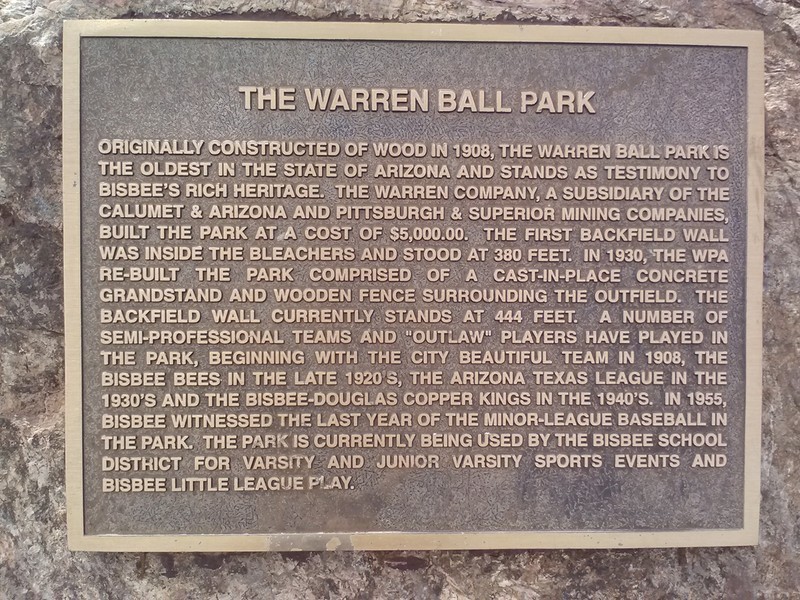 Outside The Warren Ballpark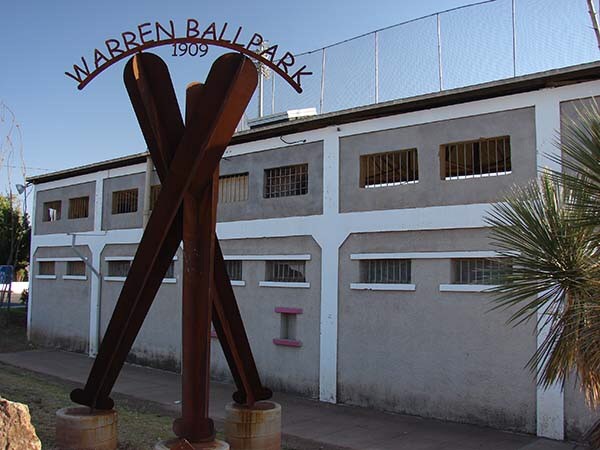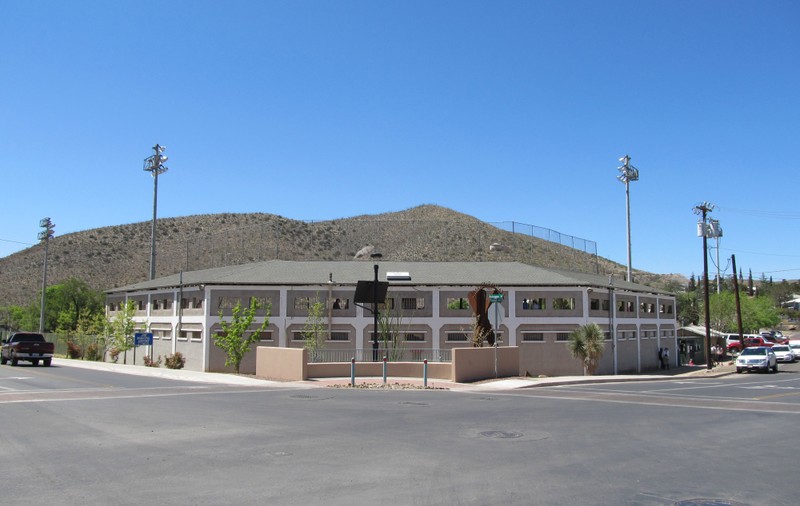 Bisbee Baseball team in 1928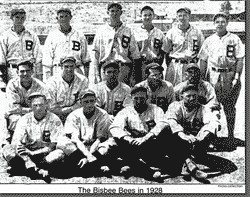 Backstory and Context
The Warren Baseball Field was built in a mining community in Bisbee, Arizona. Although the ballpark was designed for miners and their families it also became a popular location for traveling baseball teams because it was located in front of the railroad line. The ballpark has been used for a variety of sporting events over the years including baseball, softball, football and cricket.
Opening day was June 27th 1909 when the hometown team defeated a team from El Paso. The victory was on the front page of the Evening Miner the next day. Even though they won the first game, the rest of the season did not go so well; they played their way to a losing record. Some of the Semi-pro teams that defeated them that year included; Cananea , Douglas, Morenci, Clifton, Tucson, Pearce and the Calumet & Arizona Mining Company team.
From 1909 to 1920, Warren Ballpark was primarily used by local town teams which were organized by the copper companies or local businesses which played teams of other area towns. These teams were considered semi-professional and players were recruited and paid by the mining company.
On July, 12th 1917 fifteen hundred minors that were on strike were rounded up by the heavily armed posse of Cochise County Sheriff Harry Wheeler. The miners were led to the Warren Ballpark and given two options, go back to work or be deported for life. At least 1100 chose deportation. Two people were killed that day, the others that chose deportation were taken to Mexico. The unlawful deportation was heavily criticized in the press but all efforts to bring charges against those involved failed.

On November 7, 1913 a post season game was held at Warren Ballpark between the professional teams New York Giants and Chicago White Sox. The game featured several future hall of famers including Sam Crawford, Tris Speaker, Ray Schaulk and pitcher Urban "Red" Faber. The game was part of a thirteen nation world tour; the Giants defeated the White Sox 9-1. Warren Ballpark is the only sports facility where the world tourist played in the 1900's that is still in use today.
In 1928 a Class D state league was created including four teams: The Bisbee Bees, Miami Miners, Tucson Waddies and Phoenix Senators. The State League continued to play at the field until they faced financial difficulties; they then stopped playing completely in 1958.
For at least the next 5 decades Warren Ballpark was used mainly for high school sporting events. In 2006, a semi-pro team called the Bisbee Copper Kings was formed and completed a full season at Warren Ballpark. In 2007 the team was purchased by two businessmen, Tom Mosier and Frank Barco. The Copper Kings joined the Pacific Southwest Baseball League in 2008. The Copper Kings still play at Warren Ballpark today. With fans cheering on teams for over one hundred years, fans can be hopeful that baseball will be played here for many years to come and that The Warren Ballpark will remain one of the oldest ballparks still used today
.
Sources
"Bisbee's Warren Ballpark Pitches Memories." Arizona Sonora News Service. Accessed May 18, 2016. http://arizonasonoranewsservice.com/bisbees-warren-ballpark-pitches-memories/. "Back in Time: A Trip to Historic Warren Ballpark." Home. Accessed May 18, 2016. http://www.thenationalpastimemuseum.com/article/back-time-trip-historic-warren-ballpark "The Warren Ballpark." The Arizona Experience. 2012. Accessed May 18, 2016. http://arizonaexperience.org/remember/warren-ballpark.
Additional Information