This entry includes a walking tour! Take the tour.
Introduction
The West Virginia University (WVU) Coliseum is a venue that has brought Mountaineers together since 1970. It serves as the home of the WVU's men's and women's basketball teams, and is also used as a space for concerts and commencement ceremonies. Among the most historic moments in the Coliseum were the Mountaineers' first game – a 1973 victory over rival Pittsburgh – and the upset of #1 ranked University of Nevada, Las Vegas Rebels in 1983. The Coliseum holds the retired jerseys of leading players, including the legendary Jerry West (44) and Hot Rod Hundley (33).
Images
West Virginia University Coliseum at night.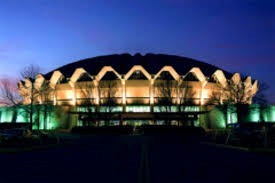 Basketball is one of West Virginia's most popular and beloved sports. The Coliseum continues this tradition.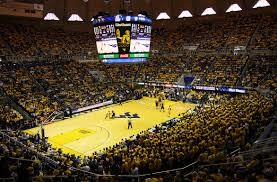 The Coliseum's architectural style uses concrete to create a modern look. Photo circa 1965-1971.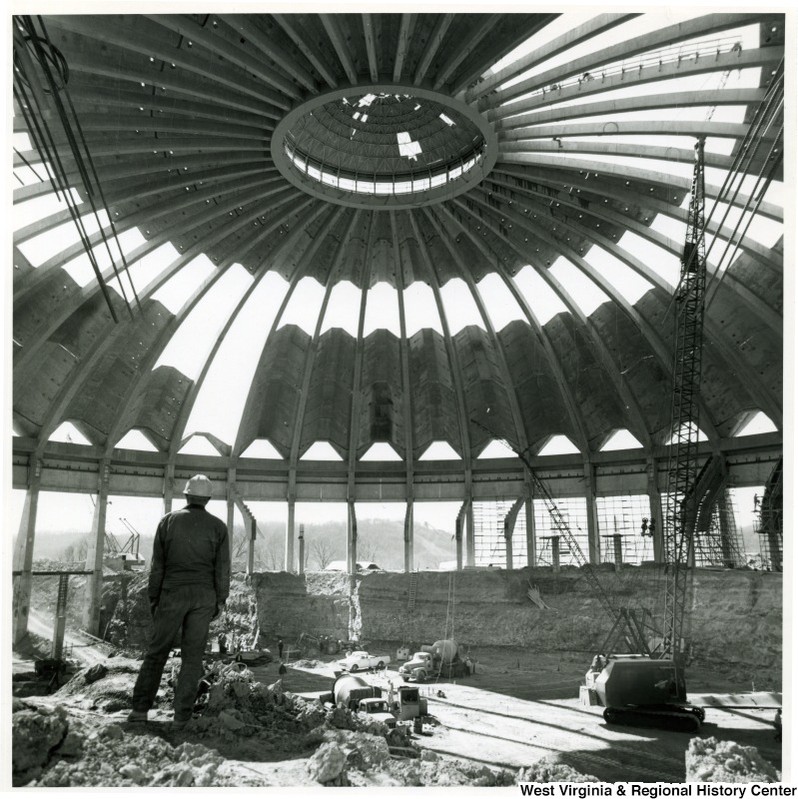 View of the Coliseum and Evansdale campus, which expanded at WVU in the mid-twentieth century.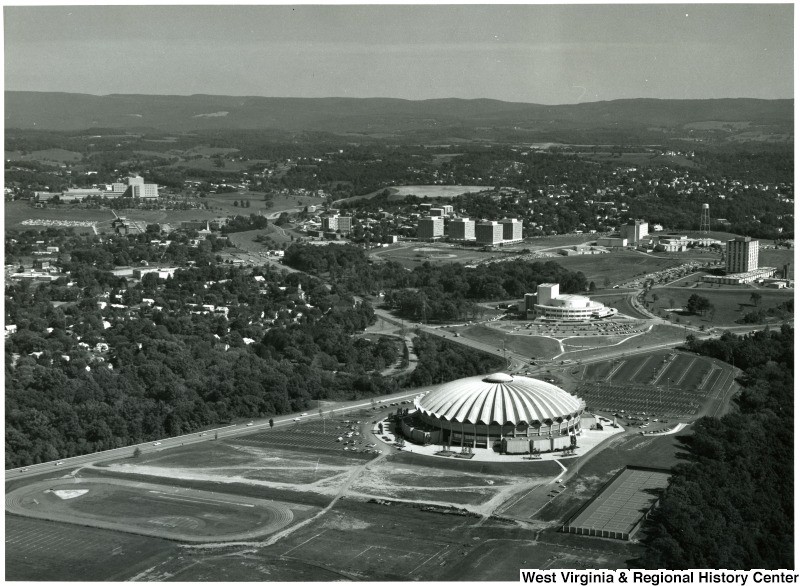 Jerry West, whose success as a basketball player at WVU led him to a career with the Los Angeles Lakers, had his jersey number retired at a ceremony in the Coliseum in 2005.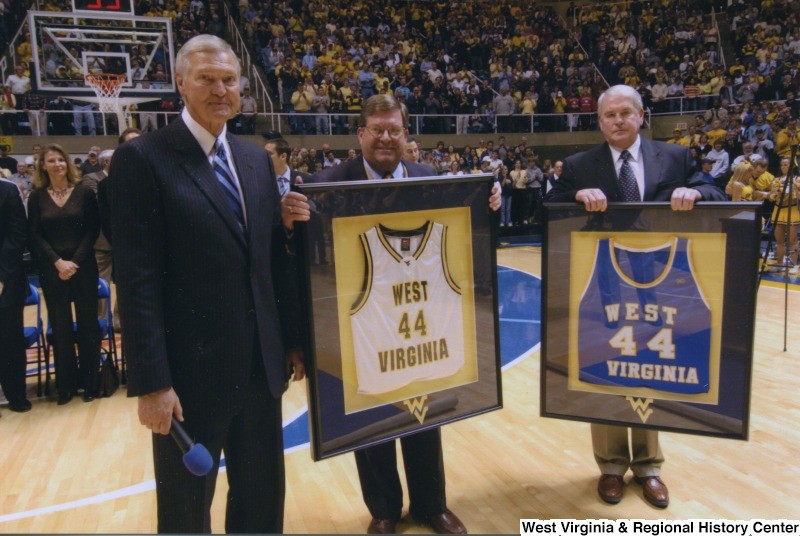 The NBA logo, inspired by a photo of West. Ironically, West dislikes the logo and wishes he had not been used as the figure.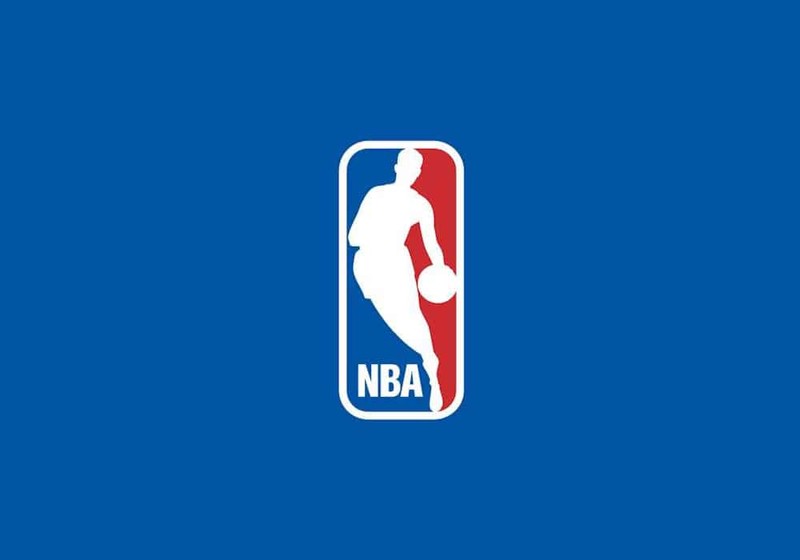 Backstory and Context
The Coliseum was built on the Evansdale campus during West Virginia University's (WVU) largest growth spurt in the mid-twentieth century. Various construction projects began on the Evansdale campus in the 1950s and 1960s. These projects added a Medical Center, engineering complexes, the Creative Arts Center, and the Evansdale Residential Complex. Rising enrollments, the popularity of basketball, and available land prompted the Coliseum's construction. The men's basketball team and its fans had outgrown the Field House, which was built in 1929-30 and seated only 6,500. Sports also played a symbolic role in West Virginia. According to historians William Doherty and Festus Summers, "Success in sporting events was a more powerful weapon for stimulating loyalty than academic performance or ceremonial occasions."1 Even as classrooms became overcrowded, the university committed itself to building an arena for basketball, a sport beloved by West Virginians since the early twentieth century. As the Mountain State's coal mining economy faltered and sports at competing universities professionalized, there was pressure for WVU to demonstrate its ability on the courts and fields of its athletic facilities.
The 14,000-seat Coliseum opened in December of 1970. The Coliseum is built in the Brutalist architectural style, which rose to popularity in the mid- to late-twentieth century. This style consists of large concrete masses organized in a simple, geometric manner, creating a fortress-like appearance. Other buildings on the Evansdale campus, such as the Creative Arts Center and College of Engineering, also evoke this style. The Coliseum underwent restorations in the 1990s and in 2016 to resolve issues with asbestos, which was incorporated in the building's construction prior to knowledge of its health hazards. In 1970, the Mountaineers faced off against the Colgate Raiders and won their first Coliseum game.
The Coliseum is home to lasting legacies of equality through the integration of basketball and establishment of a women's basketball team. In 1973, WVU was one of the first university teams to feature an all-Black starting five lineup when the Mountaineers defeated the University of Pittsburgh 82-78. Also in 1973, a women's basketball team was organized in response to Title IX, part of the Educational Amendments Act of 1972, which made sex discrimination illegal in sports programs. Although other universities began women's teams earlier and the female players at WVU had to compete with the financial success of the men's team, women's basketball soon became important to recruiting talented students. As of the end of the 2015 season, the men's and women's basketball teams have a combined record of 832-294 while playing at this stadium – an impressive 73.9% winning percentage. 
Two of WVU's star players from an earlier era, Jerry West and Hot Rod Hundley, have statues placed outside the Coliseum and their retired jerseys on display. West was regarded as such a dominant and iconic player that the NBA selected his image as the basis of the league's logo. Much like its Roman ancestor, the Coliseum at West Virginia University stands as a testament to the power of athletics in modern culture.
Sources
1. Barnett, Bob. Hillside Fields: A History of Sports in West Virginia. Morgantown: West Virginia University Press, 2013.
Doherty, William T., Jr. and Festus P. Summers. West Virginia University: Symbol of Unity in a Sectionalized State. Morgantown: West Virginia University Press, 1982.
Lewis, Ronald L. Aspiring to Greatness: West Virginia University Since World War II. Morgantown: West Virginia University Press, 2013.
"WVU Coliseum - WVU Athletics." WVUsports.com. Accessed May 29, 2016. http://www.wvusports.com/page.cfm?section=7925. 
"40 Memorable Moments in the History of WVU Coliseum." WVUToday. January 25, 2011. Accessed May 29, 2016. http://wvutoday.wvu.edu/n/2011/1/25/40-memorable-moments-in-the-history-of-wvu-coliseum.
Image Sources
"Coliseum during Construction, West Virginia University." West Virginia & Regional History Center. Accessed October 1, 2020. https://wvhistoryonview.org/catalog/018864.

"Aerial View of the West Virginia University Coliseum and Evansdale Campus." West Virginia & Regional History Center. Accessed October 1, 2020. https://wvhistoryonview.org/catalog/018863.

"Jerry West's Jersey Number is Retired by West Virginia University at the Coliseum, Morgantown W. Va." West Virginia & Regional History Center. Accessed October 1, 2020. https://wvhistoryonview.org/catalog/050494.

Turbologo. Accessed October 1, 2020. https://turbologo.com/articles/nba-logo/.

Additional Information