Chief Leatherlips Monument
Introduction
In Dublin Ohio, north of Columbus, in a public park is a large limestone monument to Chief Leatherlips of the Wyandot. Leatherlips was so named by white settlers because he never broke a promise. This admirable trait may have lead to his death.
Images
view from rear of monument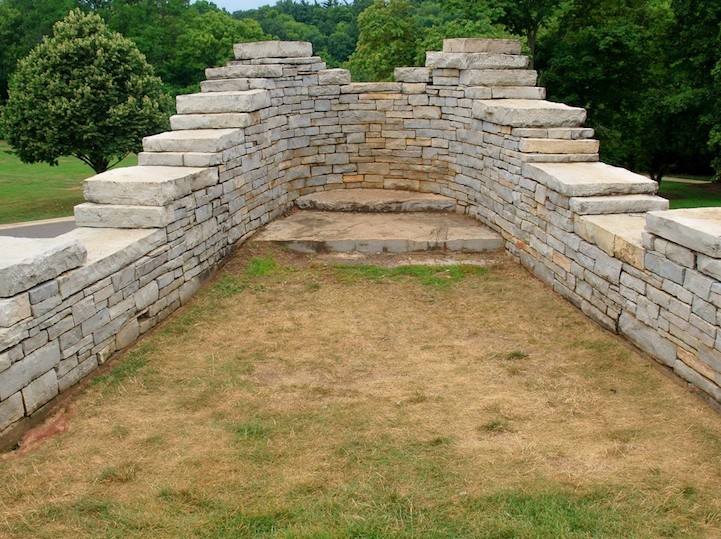 view of monument from down the hill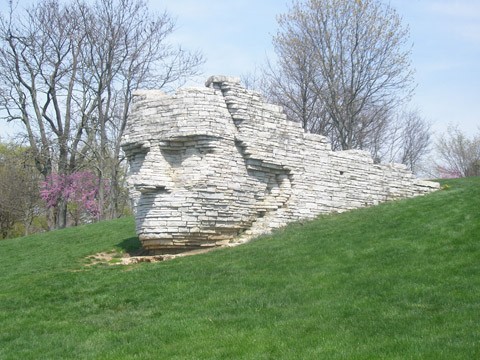 Backstory and Context
Chief Leatherlips was one of the most famous leaders of the Wyandot tribe. The Wyandots moved to northern Ohio from Canada. They joined with other Great Lakes and Ohio Valley tribes in Pontiac's Rebellion in 1763. Over the next several decades there were other skirmishes with settlers until a decisive victory for the settlers at the Battle of Fallen Timbers in 1795. Chief Leatherlips, representing the Wyandot signed the treaty that followed the battle, the Treaty of Greenville. He pledged to never take up arms against the white man again.
This pledge, and Leatherlips' friendly relationships with many settlers, made powerful Native Americans angry. In the early 1800s a Shawnee leader named Tecumseh began creating a confederacy of tribes to make one last fight for their lands. One Wyandot leader who joined him was Leatherlips' brother, Roundhead
In 1810 Roundhead lead a council of Wyandot who found Leatherlips guilty of witchcraft and sentenced him to death. The charge was simply an excuse to get rid of him. An execution party found Leatherlips and gave him one last chance to take back his pledge. He refused. Some of his white friends offered him a chance to escape. He refused. The friends tried to bribe the executioners. It did not work. Leatherlips was killed by a tomahawk blow to the head.
Leatherlips is said to have cursed the golf tournament at Muirfield Country Club near the site of his execution. Supposedly the tournament does not honor native lands. The curse comes in the form of torrential rains during the tournament.
The monument is a 12 foot limestone bust of his head. It is situated on a hill in Scioto Park so that if you approach it from the rear you can stand at the top of his head and gaze out toward the river. It was done by Ralph Helmick and dedicated in 1990.
Sources
"Chief Leatherlips Monument." Roadside America. Accessed May 28, 2016. www.roadsideamerica.com Buser, C. A. "Leatherlips." Wyandotte Nation-Preserving the future of our past. Accessed May 28, 2016.www.wyandotte-nation.org The Dublin Community Church."The Death of Chief Leatherlips." Dublin Historical Society. October 25, 1929. www.dublinohiohistoricalsociety.org Curry, Otway. "The Doomed Wyandot." Dublin Historical Society. 1838. www.dublinohiohistoricalsociety.org "Wyandot Indians." Online encyclopedia of the Ohio History Connection. Accessed May 28, 2016 www.ohiohistorycentral.org
Additional Information