Meadow Brook Hall
Introduction
Meadow Brook Hall is the historic home of Matilda Dodge Wilson and her family. Matilda was the widow of auto pioneer John Dodge and a great philanthropist. The Tudor-Revival mansion was completed in 1929 for $4 million and features 110 rooms filled with fine decorative arts and architecture on a 1,500-acre estate.
Images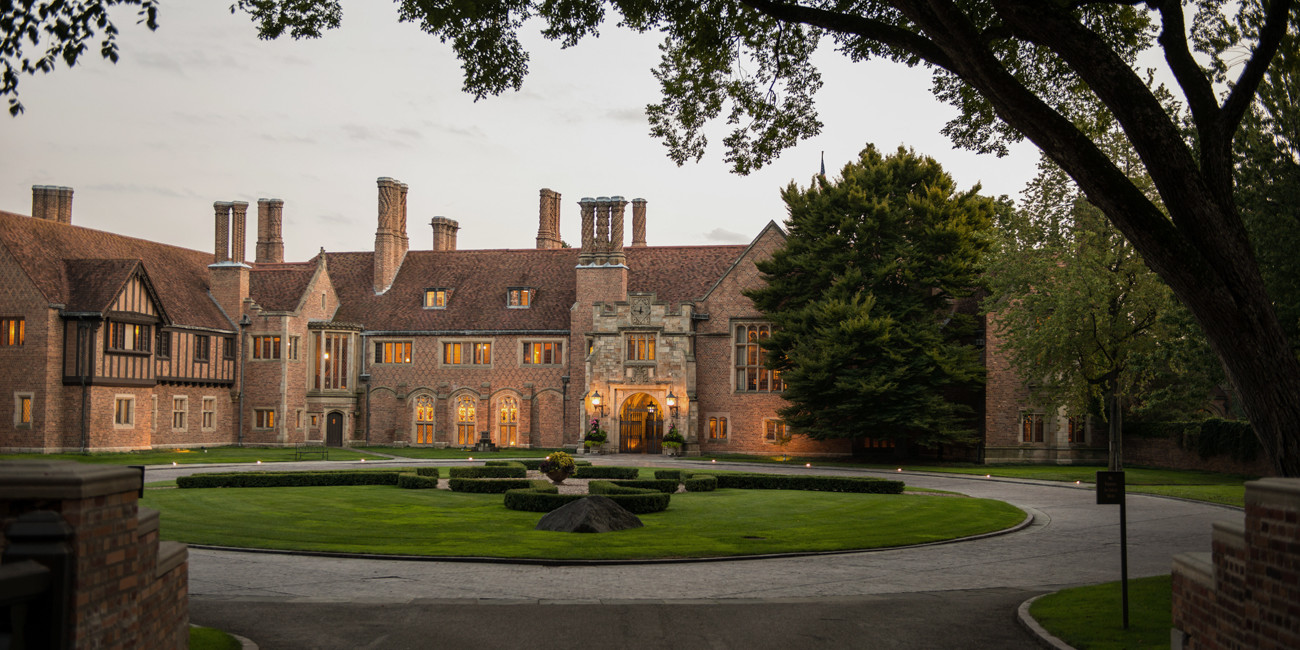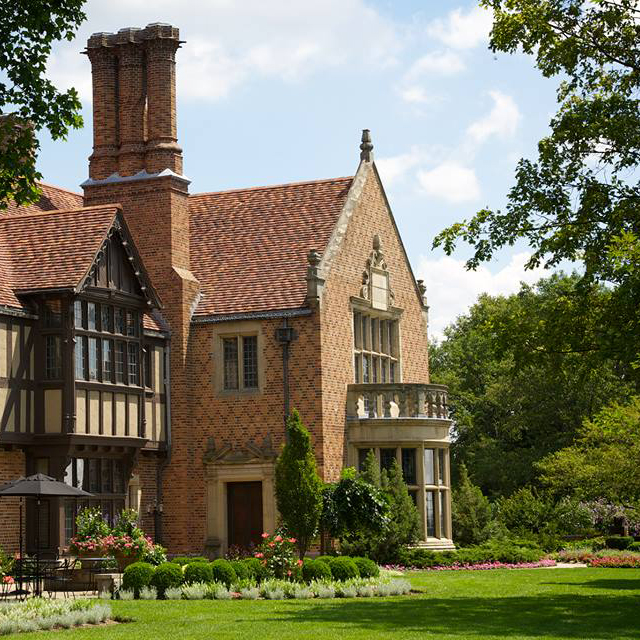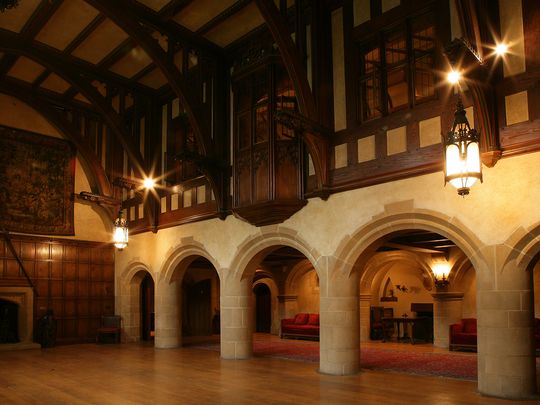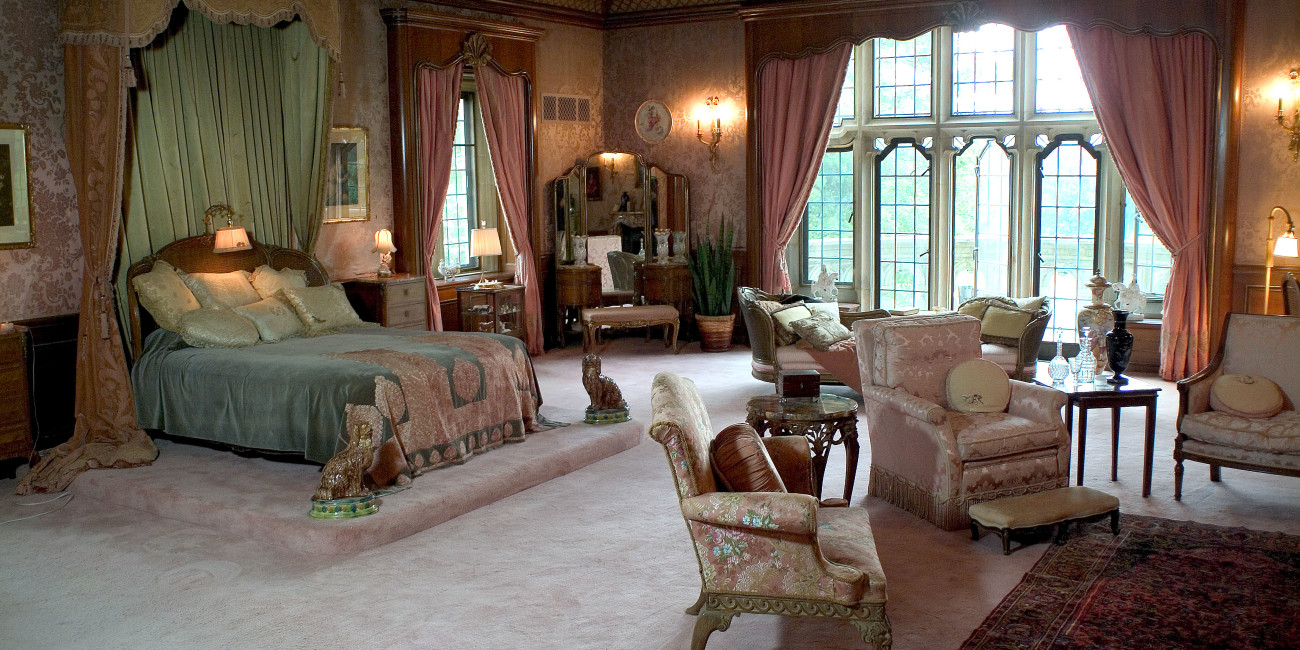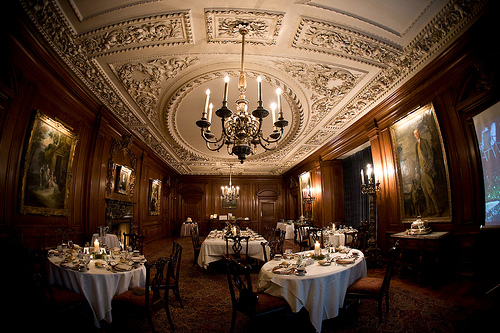 The Dodge-Wilson Family: Matilda, Alfred, and two of their children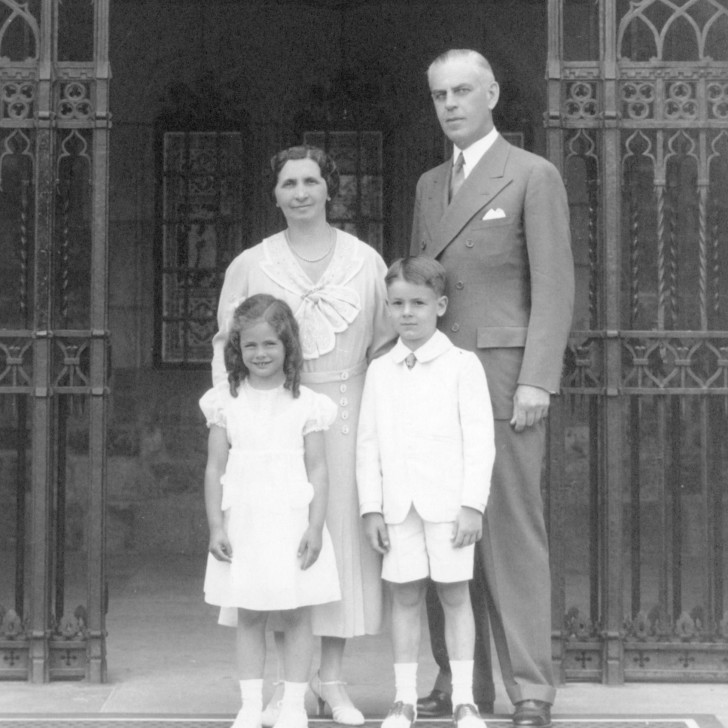 Backstory and Context
Matilda Rausch was born to German immigrants who settled in Detroit in 1884, the year after she was born. She graduated from Gorsline Business College in 1902 and went to work as a secretary for brothers John and Horace Dodge. The Dodge brothers were machinists from a humble background who had recently landed contracts with Ransom E. Olds and Henry Ford to build engines for the burgeoning Detroit automobile industry. A romance grew between Matilda and John Dodge, and they were married in 1907.

In 1913, John and Horace's business was so successful that they decided not to renew their contract with the Ford Motor Company and instead formed the Dodge Brothers Motor Car Company. Within four years, they became the fourth largest American auto manufacturer. Meanwhile, John and Matilda were raising his three children from his first marriage, and they had three children of their own. Matilda became a great patron of several charities and cultural institutions, including the Salvation Army and her Presbyterian church. They family spent time between a home north of downtown Detroit and a country home in Grosse Point.

Sadly, John died from influenza in 1920, and Horace died shortly after. This left the Dodge fortune to Matilda and Horace's widow, Anna. They sold their company shares in 1925 for a whopping $146 million, becoming some of the wealthiest women in the world at the time. Matilda remarried on June 29, 1925 to Alfred Gaston Wilson, a man she had met at church who shared her passion for art and music. They adopted two children together and built Meadow Brook Hall in which to raise their new blended family.

Meadow Brook Hall was designed and built by architectural firm Smith, Hinchman and Grylls between 1926 and 1929, at a cost of nearly $4 million. The Tudor-Revival mansion is 88,000 square feet with 110 rooms, and is "elaborately detailed with carved wood and stone, ornate plaster ceilings, Tiffany stained glass, custom made hardware, and filled with fine and decorative art. Although the interiors reflect various historic styles, the house is equipped with every 'modern' amenity appropriate to the active lifestyle of the Wilson's and their children."1 Made of brick, sandstone, and wood timbers, it was completely electrified with a central heating system, 39 chimneys, two elevators, and a home theater.

Matilda was very involved in the details of the design. Many of the decorative elements were inspired by architectural styles she saw on tours throughout England. She was ahead of her time in using mostly American-made materials, rather than the popular trend to import from Europe. Matilda was also a great collector of decorative arts and filled the home with paintings, sculpture, fine furniture, textiles, pottery, and glasswork, much of which can still be seen in the home today.

The home was a spot for family and social gatherings for decades. The vast estate makes up 1,500 acres, and the family used the grounds for horse-riding, gardening, and raising pedigree livestock. Matilda and Alfred continued their philanthropic work the rest of their lives. In 1957, they donated the estate and $2 million to Michigan State University to start a new campus in Rochester, Michigan that would eventually become Oakland University. They lived at Meadow Brook Hall until their deaths, Alfred in 1962 and Matilda in 1967. The home was opened for public tours in 1971, and welcomes about 70,000 visitors every year.





Sources
1. Meadow Brook Hall Official website: http://meadowbrookhall.org/about/history/
Additional Information