Declaration House (Graff House)
Introduction
Built by bricklayer Jacob Graff, Jr. in 1775, two rooms of the Graff House were rented by Thomas Jefferson during the summer of 1776 while he wrote the Declaration of Independence. In honor of the Bicentennial in 1976, the Declaration House was reconstructed from photographs and descriptions of the original building and refurnished with reproduced period furniture including Jefferson's swivel chair and lap desk. The house museum also includes exhibits and a film on the drafting of the Declaration.
Images
Declaration House, a historic reconstruction of Graff House, where Thomas Jefferson wrote the Declaration of Independence (image from Historic Marker Database)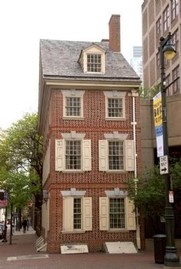 Declaration House (image from Constitutional Walking Tours)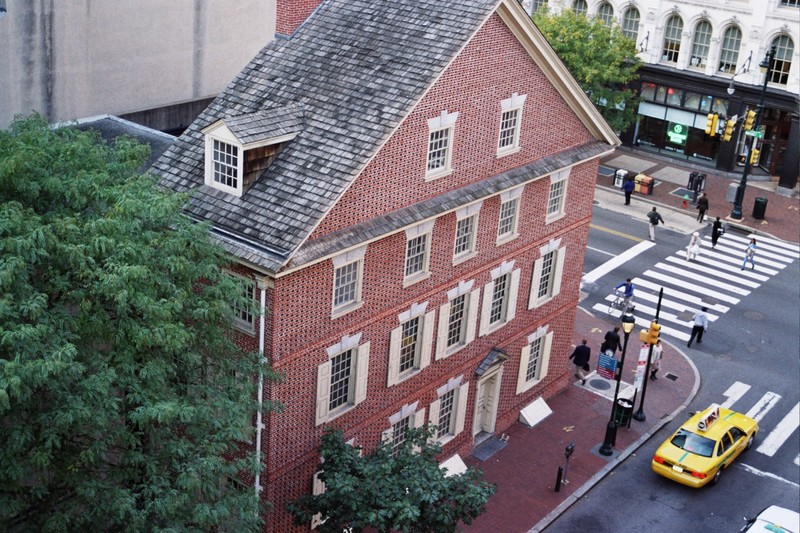 Reconstruction of Thomas Jefferson's parlor in Declaration House (image from the National Park Service)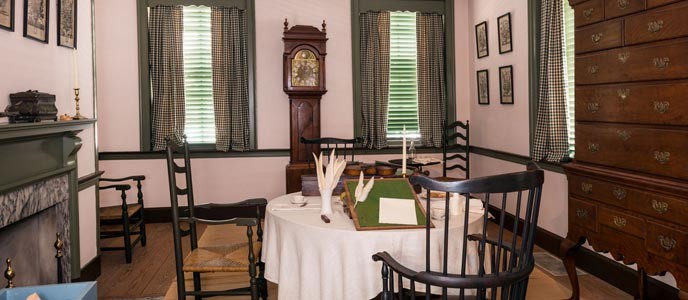 Declaration House marker (image from Historic Markers Database)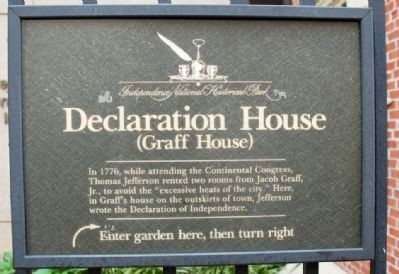 Graff House marker (image from Historic Markers Database)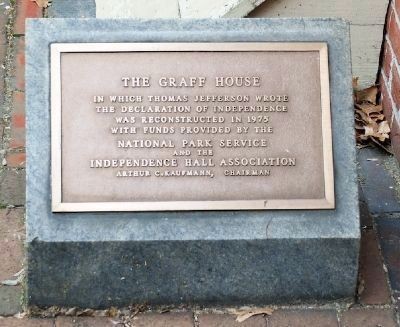 Backstory and Context
Built by bricklayer Jacob Graff, Jr. in 1775, the Graff House originally stood on the rural outskirts of Philadelphia, surrounded by fields. Seeking a peaceful setting in which to work on the Declaration of Independence, Thomas Jefferson rented the two furnished second-story rooms above the Graff family's lodgings beginning in June of 1776. Jefferson had been selected as Virginia's alternate delegate to the Second Continental Congress, officially taking on the role of when Peyton Randolph, Virginia's First Continental Congress delegate in 1774, stayed in Williamsburg to help create a central state government in 1775. After a ten-day journey from his home state, Thomas Jefferson arrived in Philadelphia on June 21 and took lodgings with cabinetmaker Benjamin Randolph at The Golden Eagle near City Tavern, where delegates often dined and met. Congress adjourned on August 2 and reconvened on September 5; however, due to the death of Jefferson's 18-month-old daughter Jane, he did not return to Philadelphia from Monticello until the 25th of September. Jefferson spent one day of each week writing letters home to his grief-stricken wife, Martha, whose lack of replies worried Jefferson throughout November and December, in spite of reassurance from home that she was not ill. As British and Colonial relations worsened, so did Jefferson's family life, until finally he left Congress at the end of December, staying at Monticello with his wife until April of 1776. In addition to Martha's grief (and his own) over their daughter's death, Jefferson's mother died suddenly on March 31st at age 57. For over a month afterward, Jefferson suffered from acute migraines which delayed his return to Philadelphia; he even requested to be replaced in the Virginia delegation, but was re-elected to Congress instead, and returned to the capitol in May.
At first, Jefferson resumed his lodgings with Benjamin Randolph, who made the portable lap-desk for him before Jefferson moved to the three-story Graff House the next month. Graff, his wife, and their infant son lived on the first floor, while Jefferson's bedroom and parlor were upstairs, on either side of the stairwell. Jefferson wrote and entertained guests in the parlor, including other members of Congress. Having made a name for himself with the publication in 1774 of Summary View of the Rights of British America and his drafting of a proposed Virginia constitution, and having caught the attention of Massachusetts delegate John Adams, Jefferson's youth (at only 33) did not prevent him from being chosen to draft the Declaration of Independence. On June 7, Congress chose The Committee of Five to write the Declaration: Adams, Jefferson, Benjamin Franklin, Roger Sherman, (Connecticut), and Robert Livingston (New York). Adams, though eight years his senior, picked Jefferson to write the document, in part, because Jefferson was from Virginia, a Southern state—and the issue of independence required the support of the South in order to carry. In addition, Adams had pushed the issue of independence to the point of irritating the rest of Congress, while Jefferson was popular and well-liked. However, the primary reason was Adams' admiration for Jefferson's talent as a writer.
The first draft of the Declaration was written in just 17 days, with only Franklin and Adams providing input from the committee, and was presented to Congress on June 28, 1776. The public was unaware of Jefferson's authorship of the document until after the end of the American Revolution eight years later, in 1784. In part, this was because the writing of the document amounted to an act of treason, and it would be eight months before the names of those who signed the Declaration on July 4, 1776, were even revealed. Throughout the writing process, Jefferson had fretted about Martha and had found time to send home presents for her and for their four-year-old daughter, also named Martha. When his wife finally wrote to him, she begged him to come home, but he was left as the only delegate for Virginia in late July. Finally, fellow champion of independence Richard Henry Lee relieved Jefferson in early September, at which time Jefferson vacated Graff House for Monticello. During the Revolution, Jefferson served as a legislator and then Governor of Virginia.
Perhaps, in part, due to the delay in public knowledge of the authorship of the Declaration, Graff House received no recognition as a significant building in the 18th or 19th centuries. It later housed a print shop and a diner, and it was demolished in 1883. Thankfully, the building had survived long enough to be photographed before its demolition, and the National Park Service combined photographic evidence, known dimensions of the house, and descriptions from historical documents to reconstruct the building at the Independence Hall Association's request in 1975. A Georgian Style house featuring Flemish bond brickwork, the reconstructed Declaration House now serves as a museum.
Historic Marker Inscriptions:
Marker 1: In 1776, while attending the Continental Congress, Thomas Jefferson rented two rooms from Jacob Graff, Jr., to avoid the "excessive heats of the city." Here, in Graff's house on the outskirts of town, Jefferson wrote the Declaration of Independence.
Marker 2:
In which Thomas Jefferson wrote
The Declaration of Independence
was reconstructed in 1975
with funds provided by the
National Park Service
and the
Independence Hall Association
Arthur C. Kaufmann, Chairman

Sources
"Declaration House Marker." The Historical Marker Database. Accessed May 30, 2016. http://www.hmdb.org/marker.asp?MarkerID=7643. United States National Park Service.

"Declaration House." Independence National Historical Park, Pennsylvania. Accessed May 30, 2016. https://www.nps.gov/inde/learn/historyculture/places-declarationhouse.htm.

"The Declaration House (Graff House)." The Constitutional Walking Tour of Philadelphia. The Constitutional Walking Tour Blog. August 18, 2014. Accessed May 30, 2016.

"Declaration House: An Exact Replica of Where Thomas Jefferson Stayed in 1776." Enjoying Philadelphia. EnjoyingPhiladelphia.com. Accessed May 30, 2016. http://www.enjoyingphiladelphia.com/declaration_house.html.
Additional Information