The Old Talbott Tavern
Introduction
Built in 1779, The Old Talbott Tavern is known as the oldest western stagecoach stop in America. Visitors have included the likes of Abraham Lincoln, Andrew Jackson, General George Rogers Clark and Jesse James to name a few. Today it is a restaurant, pub, bed and breakfast and includes a gift shop. It is an American stone building and is a rare example of Flemish bond stonework. It was put on the National Register of Historic Places in 1973.
Images
The Old Talbott Tavern was built in 1779 and is known as the oldest western stagecoach stop in America. Today it is a bed and breakfast and restaurant.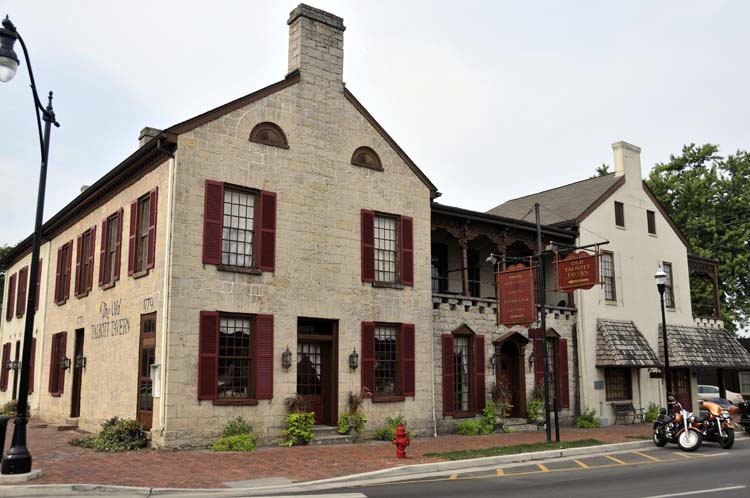 Backstory and Context
Architecturally, it is reminiscent of the Warwickshire Inns in England with heavy ceiling timbers and deep window casings. It was a haven for pioneers moving westward in the wilderness. Initially it was a tavern and offered a single room for men and another for women to stay the night. The tavern was the western end of the stagecoach road from Pennsylvania and Virginia during the latter part of the 18th century.
The eastern portion of the building was built first with stone. The western end, made of brick, was added in the early 1800s. A connecting portion with verandas was also added. Alexander Walters, one of the co-founders of the NAACP, was born in the new portion. The building received a final addition in the 1960s on the most western part and was a home to a drug store.
It was damaged by fire in 1998 and reopened in 1999. It has featured a number of names through the years including Hynes Hotel in the beginning, but has maintained its primary purpose – a place for people to eat, rest, connect and regroup before heading on with their journey.
Today visitors can stay overnight in one of five rooms, eat, shop, see live entertainment, go on ghost tours or even have special events. There's also a bourbon bar to sample some of Kentucky's finest.
Sources
www.visitbardstown.com www.kentuckytourism.com http://www.talbotts.com http://focus.nps.gov/nrhp/Download?path=/natreg/docs/All_Data.html
Additional Information