Benjamin Banneker and the SW 9 Intermediate Boundary Stone
Introduction
Benjamin Banneker (1731-1806) was a remarkable figure in U.S. history, and commemorated here at the boundary stone set after he assisted in surveying the original boundaries of the District of Columbia. Forty stones were placed around the four ten-mile edges of the original territory, each one placed at intervals of one mile. In 1976 this boundary stone was added to the List of National Historic Landmarks in Virginia.
Images
1906 Map of All D.C. Boundary Stones (http://ghostsofdc.org/)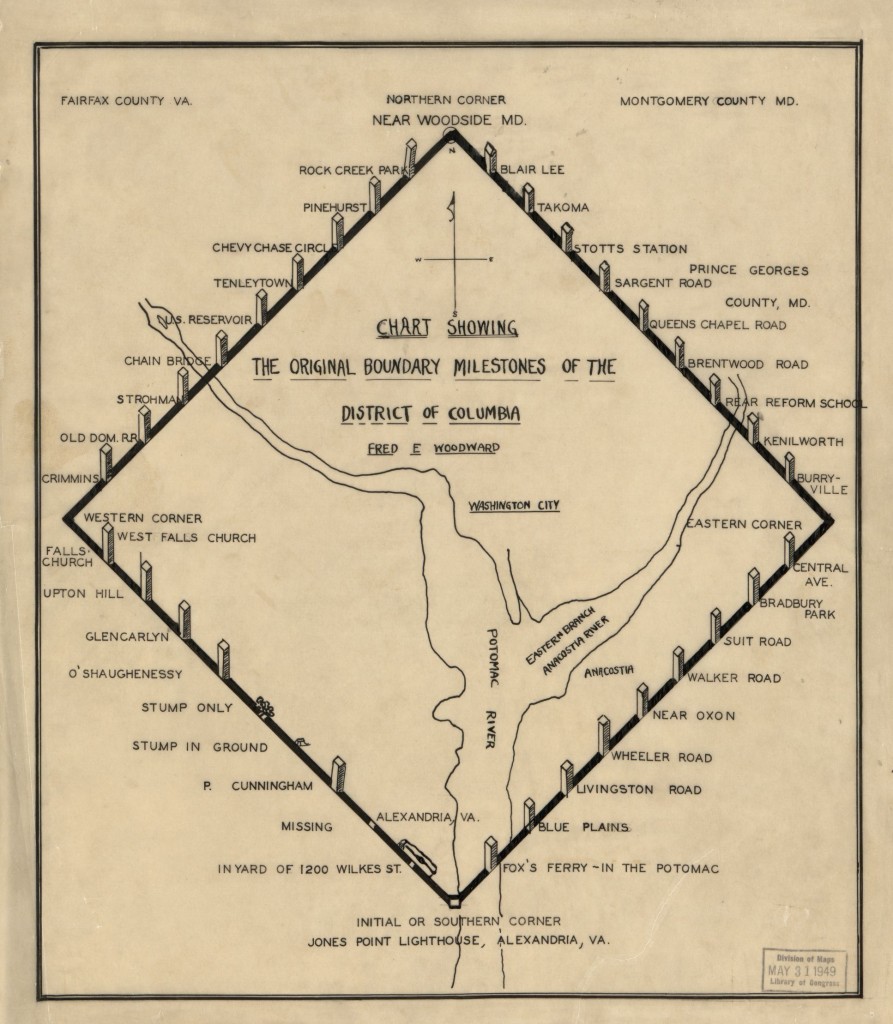 SW 9 Intermediate Boundary Stone (flickr.com)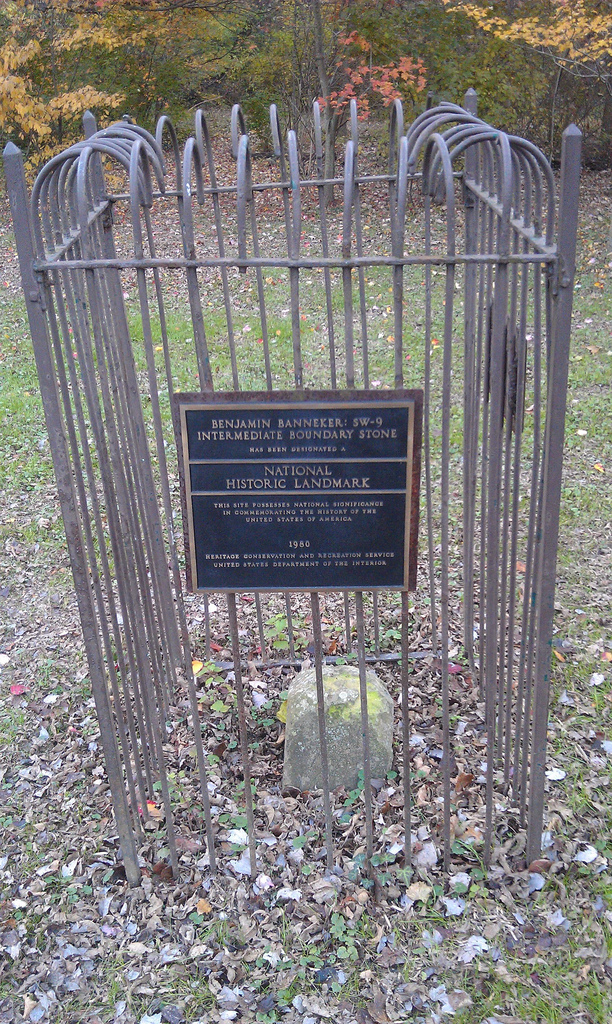 Benjamin Banneker 1795 (wikipedia.org)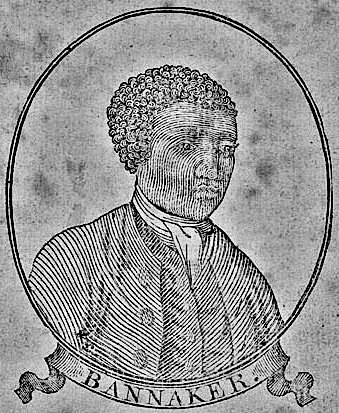 Backstory and Context
Born in 1731 in Baltimore County, Maryland, Benjamin Banneker was an African American farmer, mathematician, inventor, astronomer, writer, surveyor, scientist, and humanitarian. He grew up with a Quaker education, but was essentially a self-taught "renaissance man". During his lifetime he invented the first working wooden clock with moving parts (after having only observed one sundial and a pocket watch), wrote one of the first series of astronomical almenics in the country, was active in criticising slavery and capital punishment, and provided invaluable information to farmers and scientists on the behaviour of locust swarms. By the time he died in 1806 he was one of the most well-known African Americans in the country, and was widely-acclaimed for setting an example of the capabilities of Black Americans.

In 1789 Congress gave permission to President George Washington to survey and demarcate a territory to act as a the nation's capitol. Major Andrew Ellicott was appointed by Washington for this task, who in turn asked Benjamin Banneker for his assistance. The team was instructed to choose suitable locations for the capitol building, president's house, streets, parks, and public buildings. Thomas Jefferson appointed Major Pierre Charles L'Enfant to also help, by creating drawings of the proposed site.

Each of the original stones were inscribed with the year of its placement on one side, "Jurisdiction of the United States" on the side facing the capital, the name of either Virginia or Maryland on the opposite side, and its magnetic variance on the fourth. This particular stone marks the division between Arlington County and the City of Falls Church. In addition each stone bore a number representing its progression along the chain of ten stones marking one side of the district's boundary. They were originally made of carefully sawed blocks of sandstone.

Today the stone is situated within the 11-acre Benjamin Banneker Park, which is managed by the Arlington Parks and Recreation Department. It has unrestricted access, but is protected by a tall iron fence with a commemorative plaque installed by the Daughters of the American Revolution at the beginning of the 20th century. The park contains excellent walking trails, picnic tables with BBQ grills, a playground and sports fields.
Sources
http://focus.nps.gov/GetAsset?assetID=d498f367-a4e0-4f1b-9dc2-0a118fe20f84
Additional Information