Elysian Fields
Introduction
Elysian Fields was the site of the first organized baseball game. The game was played in 1846 between the Knickerbockers and the New York Club, who ended up winning 23-1. Elysian Fields was also used for other teams (like the NY Mutuals and NY Metropolitans) as a practice and home field. The field was eventually used for housing developments. However, there is a plaque on 11th street that denotes the field's importance in early baseball.
Images
Picture of the field in the 1850s when it was being used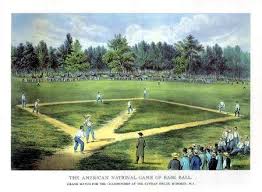 Street view of the "diamond" as it is today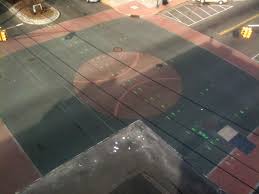 Plaque located on 11th Street denoting the Elysian Fields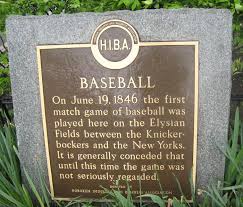 Backstory and Context
On June 19, 1846, the very first organized baseball game was played at Elysian Fields in Hoboken, New Jersey. Because of this, the town was denoted as the "birthplace of baseball". The first game was played under the rules of Alexander Joy Cartwright. Three rules that he had proposed were: 1) a runner had to be touched, not hit, with the ball to be out, 2) any ball outside of first or third base was considered foul, and 3) there needed to be 42 paces between the bases. These same rules are still used in baseball today.

The game itself was played between the Knickerbockers and the New York Club. The game only lasted 4 innings, with the NY Club winning 23-1. During the game, Alexander Cartwright was the umpire; he ended up fining a few players for cursing. By the 1950s, seven National Association of Base Ball Player teams were using Elysian fields as their home field; this included the Knickerbockers, the NY Mutuals, and the NY Metropolitans.

The year 1873 was the last recorded game at Elysian Fields. The field was turned into a housing development afterward. The intersection between 11th Street and Washington Street is believed to be where the diamond would've been. In fact, there is an intersection in the area that marks where all four bases should have been. Adjacent to where third base was, sits a restaurant/music club called "Maxwell's". A bronze plague emphasizing the fields importance is placed on the median strip of 11th street, which would have been between first and second base.
Sources
Nucciarone, Monica. "Alexander Cartwright." Society for American Baseball Research. Accessed May 23, 2016. http://sabr.org/bioproj/person/09ed3dd4. "Elysian Fields, Hoboken, New Jersey." Wikipedia. Accessed May 23, 2016. https://en.wikipedia.org/wiki/Elysian_Fields,_Hoboken,_New_Jersey. Mondout, Patrick. "New York Knickerbockers." Baseball Chronology: The Game since 1845. Accessed May 23, 2016. http://www.baseballchronology.com/baseball/leagues/NABBP/Clubs/New-York-Knickerbockers.asp.
Additional Information