University of Phoenix Stadium
Introduction
After three years of construction, University of Phoenix Stadium opened on August 1, 2006. The stadium seats 63,400 people and features a retractable roof and the first ever retractable field which can be moved in and out of the stadium. The exterior of the stadium features twenty-one large panel windows that provides natural lighting. The stadium was completed at a cost of $450 million, two-thirds of which was paid for by taxpayers via the The Arizona Sports & Tourism Authority. Part of this tax revenue was supposed to come from a new tax on rental cars that would be born primarily by guests to the city. However, rental car companies won court decisions against the use of these taxes to fund the stadium, as Arizona law requires all vehicle taxes to be spent on roads.
Images
At a game on August 15, 2015, a short meeting of Jen Walter, the first female NFL coach, and Sarah Thomas, the first female NFL referee symbolized the breaking of barriers for women in the NFL.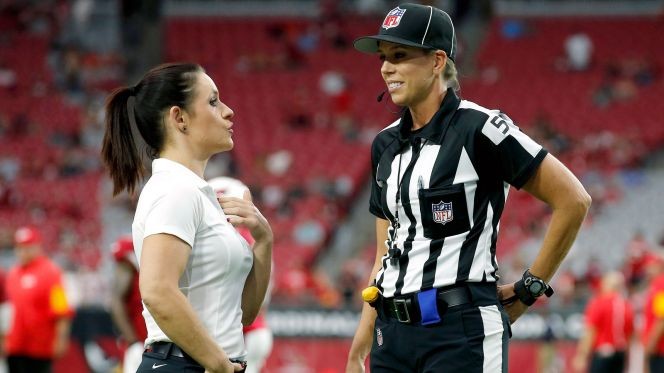 Image of inside of stadium, which opened with a ceremonial groundbreaking on April 12, 2003.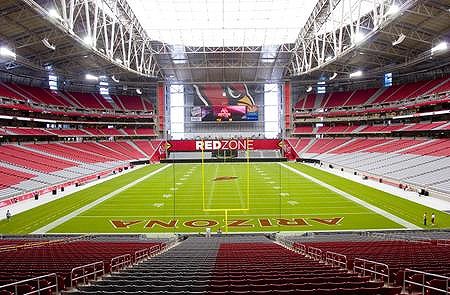 Backstory and Context
University of Phoenix Stadium was built in Glendale, Arizona in August of 2006. The stadium seats 63,400 people normally, but can seat up to 72,200 people. The roof of the stadium is retractable and the complex covers 25 acres.

Prior to the start of a preseason game between the Arizona Cardinals and Kansas City Chiefs, a brief exchange between coach Jen Welter and NFL official Sarah Thomas grabbed headlines as a symbol of the breaking of the NFL's gender barrier. Jen Welter played as a forward on her collegiate rugby team and became the first woman to play a non-kicking position on a men's professional football team then she played running back for the Texas Revolution of the Indoor Football League. She even became the teams coach in February 2015. Welter was offered a six-week internship for the Cardinals in July, which she took as an inside line-backers coach.

Sarah Thomas played basketball in college where she also began refereeing football amateur games. She was the first woman to officiate a major college football game and the first woman to work as a referee at a bowl game. The night of the Cardinal/Chief game was actually Thomas' first game as a full-time on-field official.
Sources
"University of Phoenix Stadium." University of Phoenix Stadium. Accessed May 23, 2016. http://www.universityofphoenixstadium.com/. "NFL's First Woman Referee and Assistant Coach Meet before Chiefs-Cardinals Game." FOX Sports. Accessed May 23, 2016. http://www.foxsports.com/nfl/story/chiefs-cardinals-nfl-first-woman-referee-assistant-coach-meet-081515. Aaron Kurilof, While Arizona Cardinals Soar, Legal Battle Puts Stadium Investors in Red Zone, October 24, 2015, (accessed 6/1/16) http://www.wsj.com/articles/while-arizona-cardinals-soar-legal-battle-puts-stadium-investors-in-red-zone-1445679183
Additional Information