Tom Benson Hall of Fame Stadium
Introduction
Construction of Tom Benson Hall of Fame Stadium began in the spring of 2015 and should be completed by 2017. Prior to renovation and reconstruction, Fawcett Stadium stood at this location and hosted numerous historic games, including the annual Pro Football Hall of Fame game. The original stadium at this location dates back to the 1920s, an era when Canton and many other area cities had their own pro football team.
Images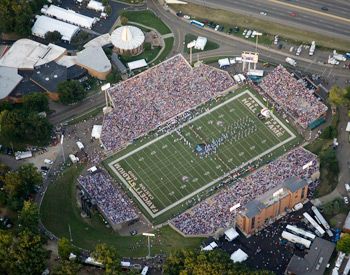 Fawcett Stadium during demolition in the spring of 2015. To become Tom Benson Hall of Fame Stadium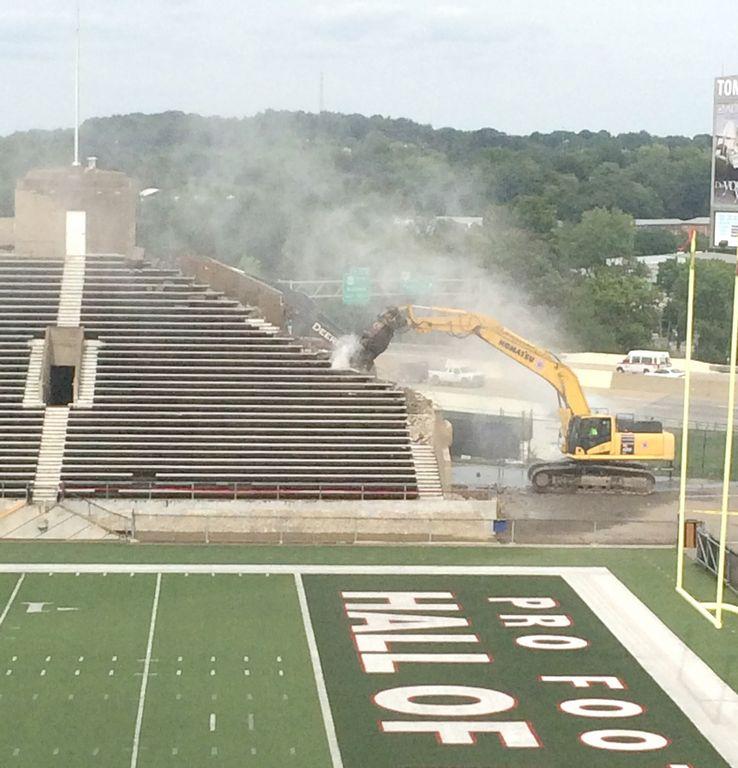 Backstory and Context
The new stadium is named in honor of New Orleans Saints owner, Tom Benson, who donated $11 million to the Pro Football Hall of Fame in 2014. $10 million of that donation was directed to the construction of the stadium which will replace Fawcett Stadium, demolished in the spring of 2015. The stadium will be in the exact same location as its predecessor which is just steps away from the walls of the Pro Football Hall of Fame.
This location has been home to a stadium since 1924. Numerous professional teams played at this stadium, but only one team has played its games here since the beginning-the Canton McKinley High School Bulldogs. Other teams that have called the stadium home were the Lincoln High School Lions from 1926–1975, Lehman High School Polar Bears from 1932–1975, GlenOak High School Golden Eagles from 1975–2006, and the Timken High School Trojans from 1976–2014. Also two local Division ll college teams; Walsh University and Malone University have used the field for their games. In addition, the stadium hosted the 2009 and 2015 IFAF World Championship game.
The stadium has been home to the Pro Football Hall of fame game for many years, a game that kicks off the NFL preseason every year on the Sunday after the Hall of Fame inductions. The game attracts football fans from all over as a team from the AFC and NFC square off. The match-up is selected by the league and typically announced upon the same time the Hall of Fame inductees are announced during super bowl week! It's also not uncommon for the league to select a team that has a connection to a notable inductee that year.
Sources
Jessica Holbrook, "Stadium demolition opens the road to the future of HOF Village," CantonRep.com, September 10, 2015. http://www.cantonrep.com/article/20150910/NEWS/150919917
Additional Information