The History Museum of Burke County
Introduction
Opened in 2003, The History Museum of Burke County showcases the region's cultural and military history, from Native Americans, to the Revolutionary and Civil Wars, to Watergate. The museum also operates the Morganton Depot Museum, which concentrates on the railroading history in the county. Built as a freight station by the Southern Railway in 1929, it is located on 624 South Green Street and listed on the National Register of Historic Places.
Images
The History Museum of Burke County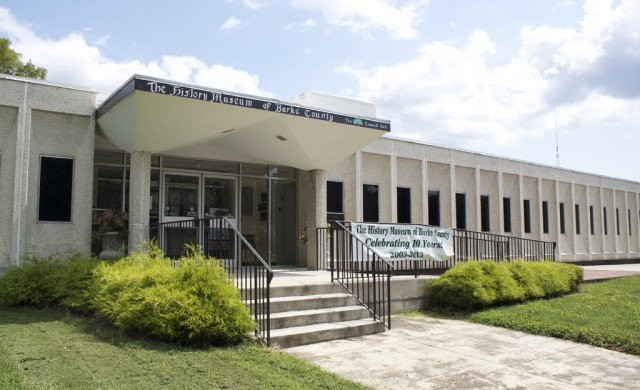 Backstory and Context
The museum has both temporary and permanent collections that emphasize contemporary local connections to the larger history of the United States. One of its most significant is dedicated to the Battle of Kings Mountain during the Revolutionary War, centered around a meeting by the Patriots in 1780 at the Council Oak at Quaker Meadows before the battle. There is also a collection on display of prehistoric Native American artifacts and an exhibit devoted to the Colonial period, as well as a wall of maps covering the Civil War in the region.
The 20th century section features a great deal of material culture, particularly regarding textiles, women's culture and the military. Several rooms are devoted to this period. One of the most significant and original exhibits is an entire room of objects and documents dedicated to Watergate. Hometown hero Sam Ervin, who was appointed to lead the Senate Watergate Committee that investigated the Watergate scandal, was born in Morganton.
In addition to a gift and book shop that has materials relating both to history and prehistory in the area, the museum provides genealogical resources in its North Carolina Room.
Sources
"About Us." The History Museum of Burke County. Accessed May 21, 2016. https://www.thehistorymuseumofburke.org/about-us.
Additional Information