Julius "Dr. J" Erving Statue
Introduction
This statue honors the career of National Basketball Association (NBA) Hall of Fame member Julius "Dr. J" Erving. Erving's career began with the American Basketball Association's (ABA) Virginia Squires and New York Nets. Erving's talent helped to legitimize this second professional league which led to the merger of the ABA and the NBA. After the merger, Erving joined the Philadelphia 76ers and propelled that team to its greatest success. Erving was known for his high-flying, above-the-rim style of play and became the sixth-highest scoring player in NBA history. This statue was originally dedicated outside of the Spectrum Arena in Philadelphia in 1989. The statue was relocated to Xfinity Live! Philadelphia when the Spectrum was demolished in 2010.
Images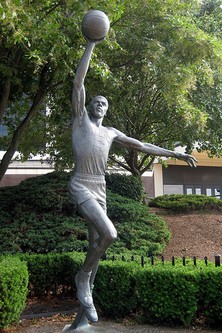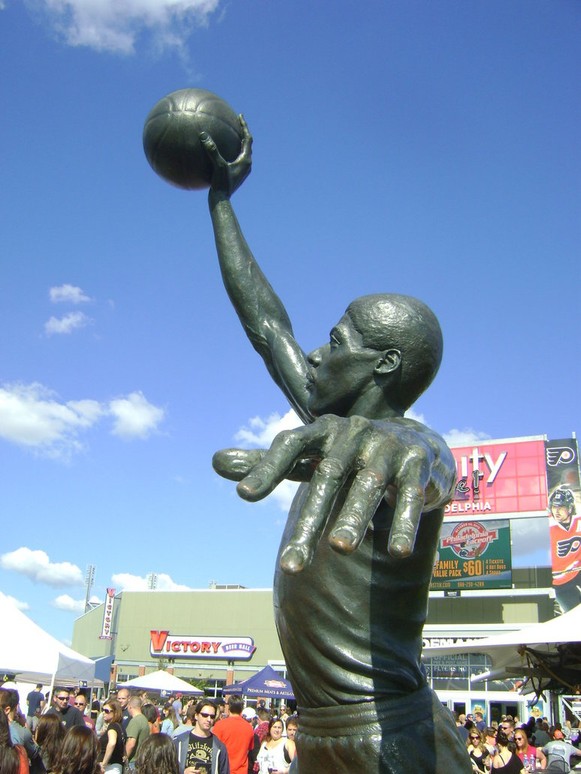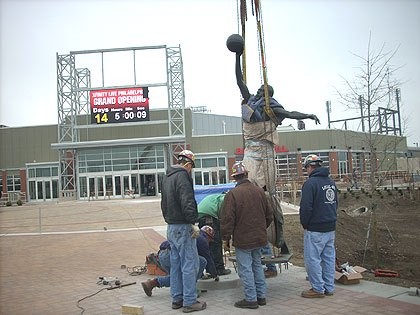 Backstory and Context
Julius Erving was born on February 22, 1950 in Roosevelt, NY. He went to college at the University of Massachusetts but did not graduate. He left to go play basketball with the Virginia Squires and then the New York Nets in the American Basketball Association (ABA). When the ABA merged with the National Basketball Association (NBA), Erving joined the Philadelphis 76ers.

During his ABA/NBA career, Erving earned three championships and four Most Valuable Player (MVP) awards. He is also the sixth highest scorer in NBA history. He revolutionized the game of basketball with his high-flying, above-the-rim style of play. One of his most popular slam dunks was from the free throw line during a slam dunk competition. He was inducted into the NBA Hall of Fame in 1993.

In 1987, a sculptor created a bronze statue of Dr. J, and it was dedicated in front of the Spectrum arena in Philadelphia in 1989. The statue is life-sized, and honors Dr. J's gravity-defying dunks. The granite base was donated by Converse (a company Dr. J helped make famous). When the Spectrum was demolished, the statue was relocated to in front of the Xfinity Live! Philadelphia attraction, where it now resides.
Sources
DeNardo, Mike. 2012. Iconic Statues Returned to South Philadelphia Ahead of Entertainment Venue's Debut. March 16. Accessed May 21, 2016. http://philadelphia.cbslocal.com/2012/03/16/iconic-statues-returned-to-south-philadelphia-ahead-of-entertainment-venues-debut/. Gobetz, Wally. 2008. Philadelphia - The Spectrum: Julius Erving Statue. June 1. Accessed May 21, 2016. https://www.flickr.com/photos/wallyg/2544025468/in/photostream/. 2016. Julius Erving. May 20. Accessed May 21, 2016. https://en.wikipedia.org/wiki/Julius_Erving. Editors, Biography, ed. n.d. Julius Erving Biography. Accessed May 21, 2016. http://www.biography.com/people/julius-erving-9288521#post-basketball-career.
Additional Information