Lumpkin's Jail Site
Introduction
Also known as "The Devil's Half Acre," Lumpkin's Jail was at the same time a slave holding facility, an auction house, and the home of the Lumpkin family. Before the Civil War, Richmond was the most important slave-trading hub outside of New Orleans, and Richmonders would bring their slaves to this place in order to have them broken, tortured, or auctioned. Prior to ownership of Robert Lumpkin, Lewis A. Collier, a slave dealer, improved the intricate slave site that he used for his slave-trading business. In total, the slave jail operated from the 1830s to 1865 marking the end of the Civil War. Robert Lumpkin held many slaves in this jailhouse and even charged dealers to hold their slaves at this site. Eventually, Robert Lumpkin died and left his property to his "lover", Mary Lumpkin, an enslaved woman. The remaining of the property can now be seen on the Richmond Slave Trail.
Images
A depiction of Lumpkin's Jail, 1895. This is where Richmonders brought their slaves to be broken.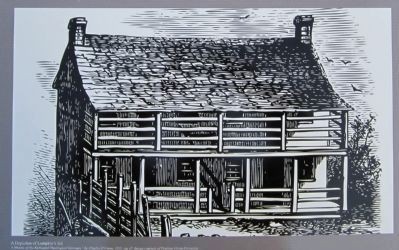 Foundations of the kitchen building.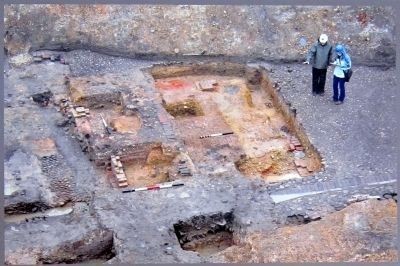 Digital reconstruction of Lumpkin's Jail Complex Reconstruction, by BAM Architects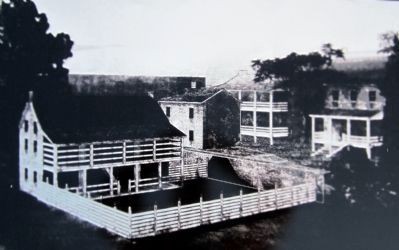 Lumpkin's Jail Markers. The complex was commonly known as "The Devil's Half-Acre".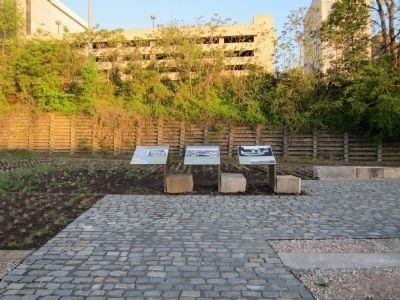 Lumpkin's Jail as it looks today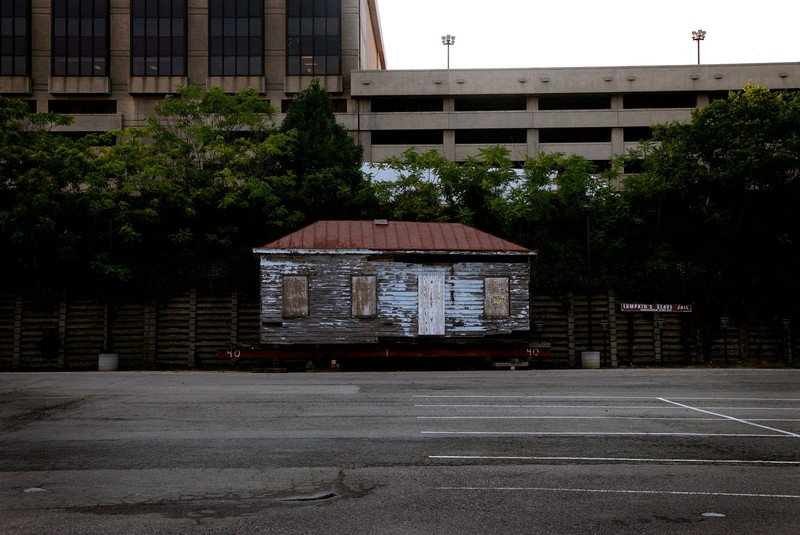 Location of Lots 62, 63, and 64 in Mayo's addition on detail of Micajah Bates' Plan of the City of Richmond Drawn From Actual Survey, 1835.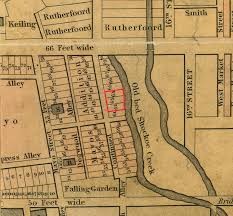 Slaves Waiting for Sale, Richmond Virginia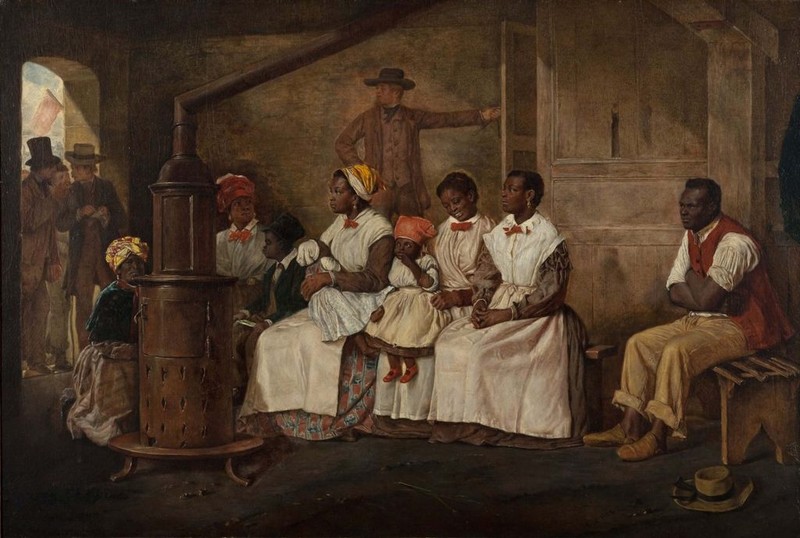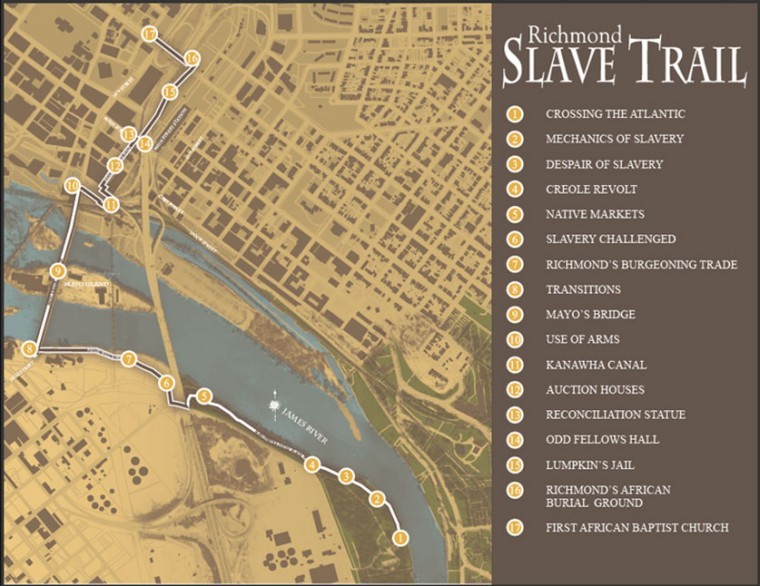 Backstory and Context
The owner of Lumpkin's Jail was Robert Lumpkin, a prominent slave owner and trader, who is described as being "both an evil man and a family man." Although Lumpkin would submit slaves to countless horrors, he also married a former slave named Mary, with whom he fathered 5 children. All his kids, both boys and girls, were sent to school. When times were economically hard for him, he sent his life and children to Pennsylvania to avoid having them sold back into slavery to pay off his debt; and after he died his sole heir was his wife. 
At the same time, he led a brutalizing enterprise that thrived on tormenting fellow humans. Thousand of slaves came and went through Lumpkin's Jail, a complex that included four separate buildings: the Lumpkins' home, a guest house, a kitchen/bar, and the slave pen. The latter was a two-story brick building, about forty feet long, which comprised the main jail area. The living conditions of these quarters were absolutely unfit for human habitation: there were neither windows nor toilets, and many slaves were crammed, often in shackles, in tiny rooms. Those who died were unceremoniously dumped into the area surrounding the jail. 
 The buildings in Lumpkin's complex were all demolished in 1876, and it wasn't until archaeological excavations began in the mid-2000s that the foundations of the jailhouse were discovered. Archeologists also found numerous items such as toys, clothes, and shoes, although none of the artifacts traditionally associated with slave-holding were found in the area, such as iron bars or whipping rings. However, we knoe they were in use as Anthony Burns, a slave who was held in this complex, managed to escape and tell his story to an biographer.  
Following the beginning of the Civil War, the slave-trading business in Virginia was booming. However, Virginia kept slave-trading quiet.  Robert Lumpkin was one of the popular slave jail owners in Richmond. Robert Lumpkin was "the scapegoat" for many other slave dealers and traders. Previous owners, Bacon Tait and Lewis A. Collier played a huge role in the building and improvement of the jail. Tait, the original owner of the site, sold the property to Collier who then improved the property that was worth "$1,500" to be worth "$6,000 by 1840" (Laird). Collier, who was also interested in slave trading, improved the building by adding another story and enlarging the jail that was once small. Collier, however, lost the jail to the bank after failing to repay his loan. The property was then sold to Robert Lumpkin. 
The jailhouse consisted of four buildings that had various purposes such as the kitchen, Lumpkin's home, and the slave jail. Within the slave jail, many of the slaves were kept for holding or punishment. Lumpkin charged slave buyers/traders a fee for however long their slave was being kept in the jail site. Many of the slaves that were being purchased were "often being relocated to the lower south" states Maurie D. McInnis (McInnis). Some slaves were kept in jail after being sold because there was no one to march them down to the south. In addition to the slave jail, there were also border houses for slave buyers to dine and rest. 
Mary Lumpkin was one of Robert Lumpkin's slaves. Robert grew fascinated with her and continued to pursue her. Because Mary was a slave, she was not able to consent and was forced to have relations with Robert. "At the raw age of 13, Mary Lumpkin conceived Robert's first child" states Jenna Dawkins (Dawkins). Over time Mary grew to have 5 children with Robert Lumpkin. Mary Lumpkin had a lighter complexion and could read and write, as a slave she was very valuable. Because of her strong value, and Robert lacked funds, he sent Mary and their 5 children to Philadelphia. After the death of Robert Lumpkin, Mary was left money along with the property that once was the slave jail.  
The slave jail soon came to an end after the end of the Civil War. Slavery was abolished and it was illegal to have slaves. Robert Lumpkin soon died after and his property was given to his wife, Mary Lumpkin. Matthew Laird states, "Mary met Reverend Nathaniel Colver, a representative of the National Theological Institute in May 1867" (Laird). After leasing the building to him, Reverend Colver used it as a school for African Americans for almost 4 years. The property was then sold, and the jail was demolished and buried. The remains of the once slave jail can now be seen at the Richmond Slave Trail. 
Sources
Dawkins, Jenna. "Uncovering the Story of an Enslaved Woman at Lumpkin's Jail." Virginia Humanities, 2021 Virginia Humanities, 30 Mar. 2021, https://virginiahumanities.org/2018/04/uncovering-the-story-of-an-enslaved-woman-at-lumpkins-jail/. 
Laird, Matthew. "Lumpkin's Jail" Encyclopedia Virginia. Virginia Humanities, (14 Dec. 2020). Web. 29 Oct. 2021 
Maurie D. McInnis. "Mapping the Slave Trade in Richmond and New Orleans." Buildings & Landscapes: Journal of the Vernacular Architecture Forum, vol. 20, no. 2, University of Minnesota Press, 2013, pp. 102–25, https://doi.org/10.5749/buildland.20.2.0102. 
Richmond City Council Slave Trade Commission. "Preliminary History of the Lumpkin's Jail Property."
Tucker, Abigail. "Digging up the Past at a Richmond Jail." Smithsonian Magazine. March 01, 2009. Accessed April 15, 2017. http://www.smithsonianmag.com/history/digging-up-the-past-at-a-richmond-jail-50642859/?no-ist.
Image Sources
Pleasants, James J. n.d. Plan of the Division of Richard Adams' Estate. Richmond City Engineer Architectural Drawings and Plans, Library of Virginia, Richmond.

Laird, Matthew. "Lumpkin's Jail" Encyclopedia Virginia. Virginia Humanities, (14 Dec. 2020). Web. 29 Oct. 2021

Additional Information