Norton Mounds Group & Hopewell Indian Mounds Park
Introduction
Over 2000 years ago, the Hopewell became one of the earliest groups of Native Americans to settle in the West Michigan area. The Hopewell culture is especially prevalent in Ohio, but it extended all across the Eastern United States, including throughout Michigan. Grand Rapids holds one of the most significant sites in the remaining history of the Hopewell: the Norton Mound group. The site is a National Historic Landmark and is also listed on the National Register of Historic Places.
Images
The Norton Mound group as seen from the Grand River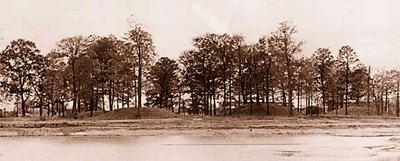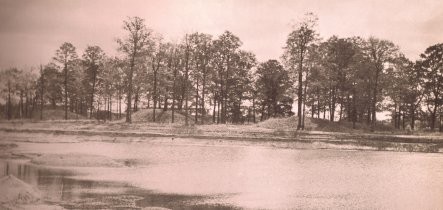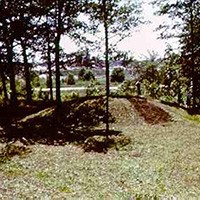 An example of Hopewell pottery, like the ones found in the Norton Mounds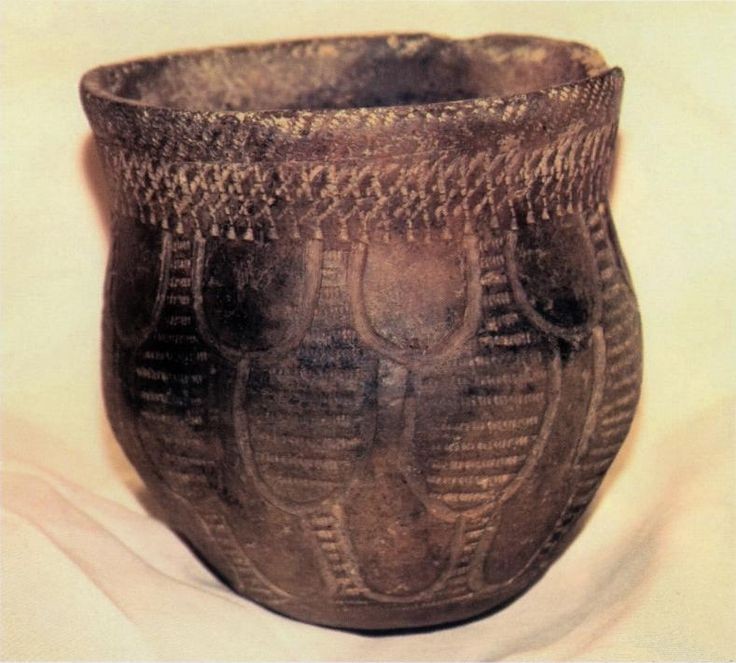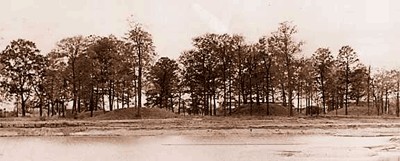 Backstory and Context
The Hopewell often settled near river valleys and buried their dead inside large conical mounds of earth along the riverbanks. Mounds once existed all along the main river ways of West Michigan, although many were vandalized by treasure-seekers or destroyed by development over the years. The Norton Mound group, located along the Grand River, is one of the best-preserved and largest groups of mounds still in existence. It once held about 35 mounds, and today there are 13. They range in from 1.5 to 15 feet in height and from 30 to 100 feet in diameter.
1
Another group called the Converse Mounds were located in what is now downtown Grand Rapids, but they were destroyed in the 1850s by farmers and land developers.
The Hopewell had a vast trading network. Mounds have been found to contain shells from the Gulf of Mexico, obsidian from the Rocky Mountains, and shark's teeth from the Atlantic Ocean. Copper mined from Northern Michigan was also used to create knives, jewelry, and other goods. Pottery, furs, and food were also buried in the mounds. The Hopewell were nomadic hunter-gatherers who did some farming and had temporary housing. For this reason, little remains of their way of life, and much of what we know of them comes from the burial mounds. Around 100BCE, the Hopewell culture disappeared. No one quite knows why they stopped building these mounds or what happened to them. 2

The Norton Mounds were first excavated in 1874, led by archaeologist W. L. Coffinberry, who was affiliated with the Kent County Scientific Institute (now the Public Museum of Grand Rapids). In the early 1960s, the Norton Mounds were excavated again, this time by the University of Michigan headed by Richard Flanders, and at least 48 individuals were exhumed along with dozens of grave goods, such as pottery, shells, beads, and animal parts.3 After NAGPRA (Native American Graves Protection and Repatriation Act) was passed in 1990, some artifacts and human remains were returned to Native American groups for a respectful reburial. The Norton Mound Group was recognized as a National Historic Landmark in 1965. According to the museum's website: "The Museum is currently working with community input to develop future plans for respectful preservation of and educational access to the site. Until this important work is completed, all scientific studies throughout the entire Norton Mound Group and its related cultural resources collections will be restricted."4
Sources
1. State of Michigan Official Website - About Michigan Places - Norton Mounds Group. https://www.michigan.gov/som/0,4669,7-192-29938_68915-54607--,00.html

2. Rosentreter, Roger. Michigan: A History of Explorers, Entrepreneurs, and Everyday Peoples. University of Michigan Press, 2013. http://www.press.umich.edu/pdf/9780472071906-ch1.pdf

3. National Park Service. "Notice of Inventory Completion in Accordance with NAGPRA." https://www.nps.gov/nagpra/FED_NOTICES/NAGPRADIR/nic1358.html

4. Grand Rapids Public Museum Website. http://www.grpm.org/about/
Additional Information