Cardines Field
Introduction
Cardines Field is a small baseball stadium in Newport, Rhode Island. The field was created sometime between 1893 and 1908, and has underwent several renovations to become the park that it is today. Through renovations in 1938 and 2000, the field now has a capacity of 3500 people. Though small, the field is well used, being home to Rogers High School, Newport's Babe Ruth League, The Sunset League, Newport's American Legion team, Salve Regina University, the Naval Academy Preparatory School, and the Newport Gulls.
Images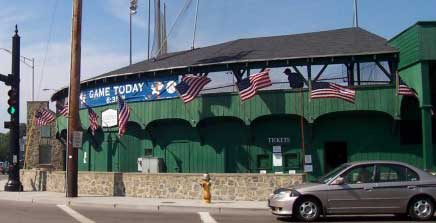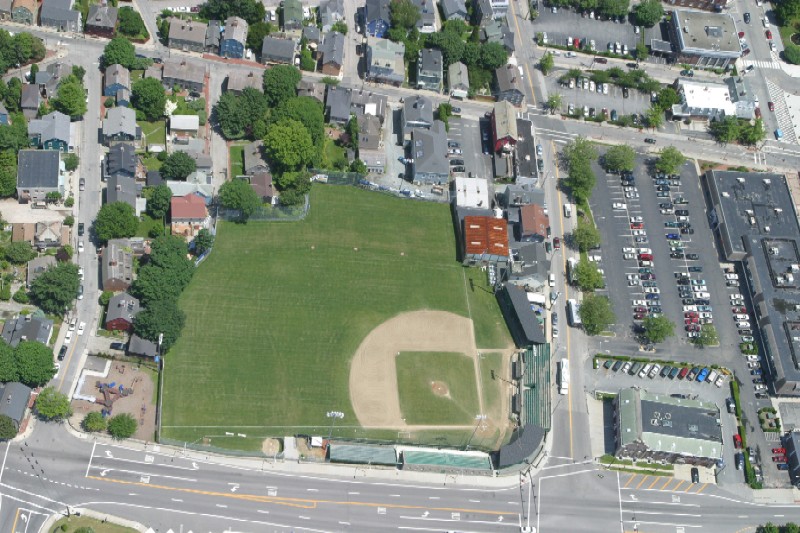 Backstory and Context
Cardine field began its life as Basin Field, an unofficial field that was to be used for sandlot games by the local railroad workers. The official founding date of the field is unknown, but is thought to be between 1893 and 1908. The field appears to have been used for this purpose as early as 1893, but the construction of the original backstops was in 1908. The field is thought to be one of the oldest ballparks in the country, and is said to be like a "smaller cousin of other notable ballparks of that era, such as Ebbets Field, Fenway Park and Wrigley Field, with a stone facade and wooden bleachers with unique outfield angles." In addition to being one of the oldest parks in the country, it is the oldest continuous amateur baseball league

in 1919, a member of the Newport Recreation Department started the Sunset League, and the field began to gain popularity. Originally, the Sunset League had six teams that took turns playing on what is now known as Cardine field, and another field. It was at this time that bleachers were installed for fans to sit to watch the games, and renovations to the field began to take place. From this time until 1938, when lights were installed, all games began at 5:30 pm and ended at dusk, which is where the league got it's name. The biggest changes to the park began in 1936, when the city of Newport purchased the field and began renovations such as adding bleachers and a grandstand.

The field has been a long standing place for people to play baseball, but it was much more than just a small place for people to play baseball. In the early days of its existence, Cardines field played host to a number of barnstorming teams, including some famous Negro League teams like the Baltimore Elite Giants, the Boston Royal Giants, and the New York Black Yankees. Negro League stars such as Satchel Page and Josh Gibson have played within the park. Several other famous players such as Yogi Berra, Phil Rizzuto, and Bob Feller played in the park during WWII, due to being stationed at the Newport Naval Station.
Sources
8 historic ballparks to see before you die. (n.d.). Retrieved May 18, 2016, from http://matadornetwork.com/sports/8-historic-ballparks-to-see-before-you-die/ (n.d.). Retrieved May 18, 2016, from https://en.wikipedia.org/wiki/Cardines_Field#cite_ref-fod_3-0 Cardines Field. (n.d.). Retrieved May 18, 2016, from http://www.projectballpark.org/other/cardines.html George Donnelly Sunset League. (n.d.). Retrieved May 17, 2016, from https://en.wikipedia.org/wiki/George_Donnelly_Sunset_League
Additional Information