James Joseph Reeb Memorial
Introduction
James Joseph Reeb was a white Unitarian minister who worked with less fortunate people in Boston. In 1965 he responded to the call by Martin Luther King for clergy to come to Selma, Alabama to protest the violence against civil rights marchers. James Reeb traveled to Selma for the protest march that took place on March 9th, 1965. That same day James Reeb and two other ministers where attacked by a group of white supremacist. He obtained a head injury and was pronounced dead two days later on March 11th.
Images
Photo of memorial of James Joseph Reeb, located in Selma, Alabama.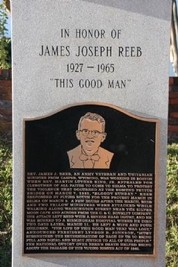 Photo of James Joseph Reeb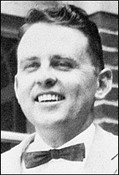 James Reeb during the Civil Rights Movement.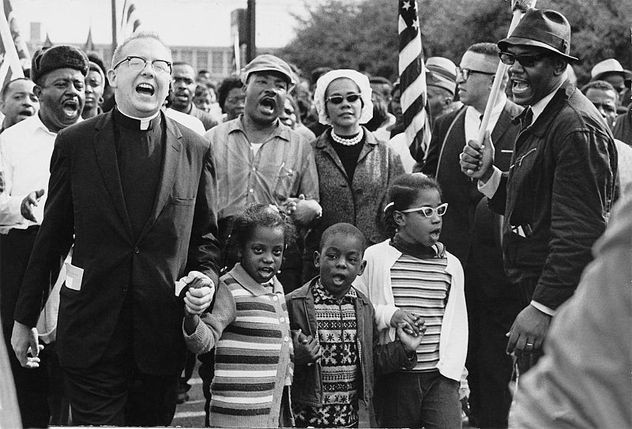 Edmund Pettus Bridge where the protesters marched.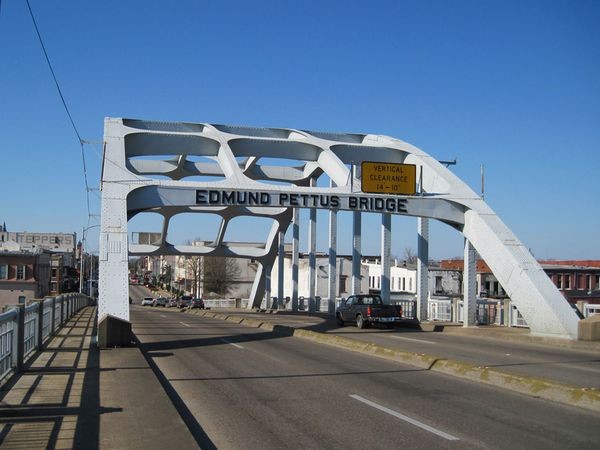 Students from St. Olaf the college where James Reeb attended, honoring him fifty years later.
News article during the time of Reebs Death.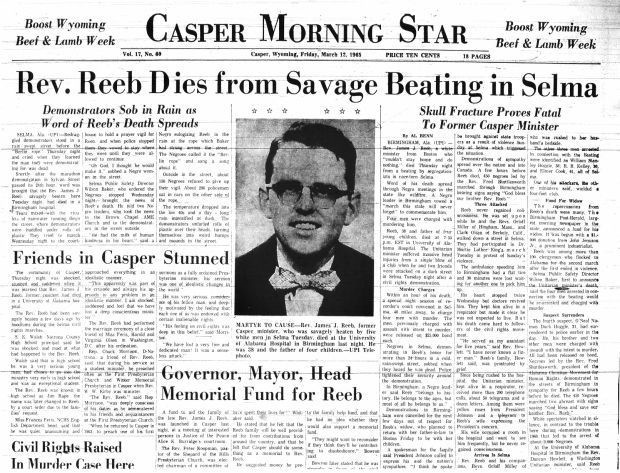 Backstory and Context
James Joseph Reeb was born on January 1st 1927 in Kansas. James was raised in a low-income household but excelled in school and extra-curricular activities such as debate. He later went on to serve in the United States Army during World War II. After attending college at St. Olaf College in Minnesota, he served as a chaplain at Philadelphia General Hospital.
​James Reeb took on many honorable positions throughout his life including social work and volunteering with inner city youth. He started his ministries as a Presbyterian chaplain at a Philadelphia hospital. Later he transferred to the Unitarian church called All Souls Church in a predominately Black neighborhood. He then moved to Boston to work for American Friends Service Committee where he was working to improve conditions in the slum neighborhoods of Boston.
​On March 7th, 1965 James learned of the attacks on the Selma marchers who were attempting to cross the Edmund Pettus Bridge on their pilgrimage from Montgomery to the state capitol. The marchers never made it to the capitol as they were attacked on the bridge by sheriffs and state troopers. At least sixty protesters were injured and the day became known in history as "Bloody Sunday." Martin Luther King and other leaders made a call across the country for clergy to join them for a second march on March 9th 1965. James Reeb answered this call and took a flight to join other ministers for the protest. The march took place on March 9th at 3pm. There had been an injunction granted by a federal judge against the march, so Martin Luther King arranged a compromise to only march to the end of the bridge and then turn around and come back. They marched across the bridge where they were stopped by police; they were given permission to pray then they proceeded to turn around and march back into Selma. At this point King asked that they stay overnight because he was hopeful that the same judge would grant an injunction to allow them to march the next day.
​After hearing this, Reeb decided to stay overnight. After a long day, James and two other colleagues decided to walk to get something to eat. They preferred an integrated restaurant and decided to eat at Walkers Cafe around the corner from King's headquarters. After eating, they began to walk back to the headquarters. They were spotted coming out of the restaurant by four white men who began yelling racial slurs. The men crossed the street and began to assault the three men. Reeb was hit from behind with a pipe, he fell to the pavement. The attackers fled the area.
Reeb was still conscious at this point so the others helped him back to headquarters to seek help. He was then taken to a Black infirmary where the physician examined him and determined he needed to be taken to the hospital to seek treatment from a neurosurgeon. The hospital was ninety miles away, so they began preparations to transport Reeb there. They were escorted to the edge of town by the police. They were not too far out of town when they got a flat tire. They thought it would be risky for a biracial group to be seen out at night changing the tire so they headed back to get another vehicle. When they finally got Reeb to the hospital, he was taken into surgery where they discovered half of his skull was crushed and he had developed a blood clot. It was at this point that doctors determined that he would not recover from his injury. He remained on life support for two days and was pronounced dead at 7 pm on March 11th.
​News of his death spread quickly across the nation, making the front page of the newspapers. Many groups nationwide staged demonstrations in memory of Reeb and in support of the Civil Rights Movement. President Lynden B. Johnson was deeply moved by the passing of James Reeb. On March 15th the President addressed congress and the nation urging the passage of the voting rights act. Congress passed the legislation and it was signed into law August of 1965. He is remembered today as a Martyr for civil rights. A memorial has been placed on Martin Luther King Street in his honor which is very fitting for such courageous acts on the part of Rev. James Joseph Reeb during the Civil Rights movement.
Sources
"James Reeb and the Call to Selma." UUA Top Stories. 2014. Accessed May 16, 2016. http://www.uua.org/re/tapestry/adults/river/workshop5/175806.shtml. "Reeb", James (1927-1965)." Reeb, James (1927-1965). Accessed May 16, 2016. http://kingencyclopedia.stanford.edu/encyclopedia/encyclopedia/enc_reeb_james_1927_1965/. "A Witness to the Truth." Princeton Theological Seminary. Accessed May 16, 2016. https://www.ptsem.edu/Publications/inspire2/6.2/pdf/feature4.pdf.
Additional Information