Moraga Steps
Introduction
The Moraga Steps are located in the Sunset district. This project started in 2003 and it's been a huge tourist attraction since then. When you reach the top of the steps, you get to see an amazing view of the city and Ocean Beach. Starting from the top and working your way to the bottom is very rewarding, because you get to see each mural as you complete each set of steps.
Images
View of the beautiful steps!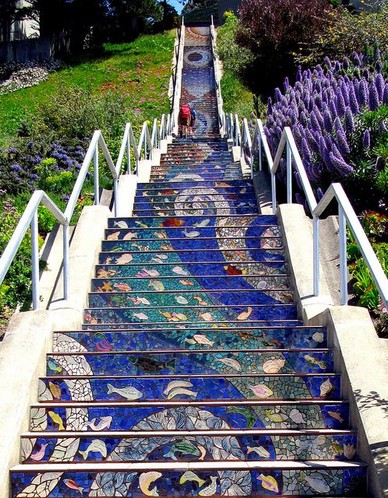 View from the top of the steps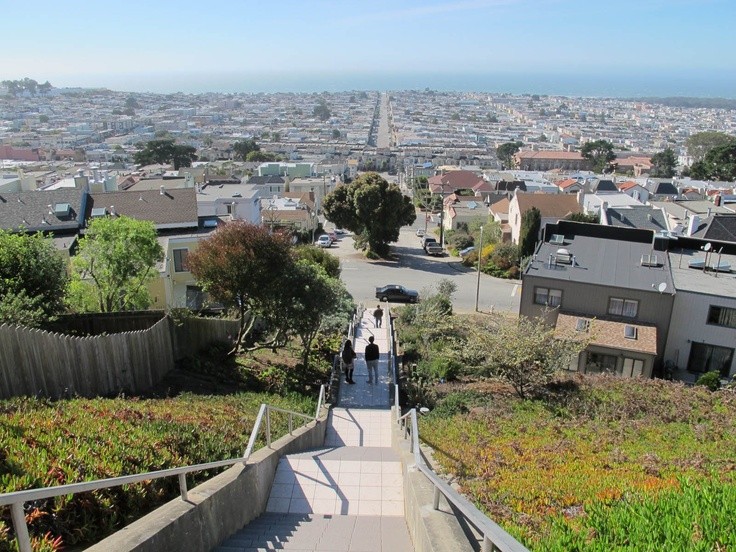 View of the city at the top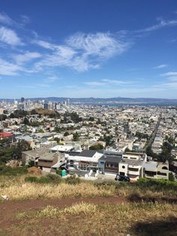 Backstory and Context
On 16th Avenue and Moraga Street, you can visit the Tiled Steps Project, a community collaboration to create a 163 step stairway decorated with a beautiful mosaic style. The project was started by
Jessie Audette and Alice Yee Xavier in 2003 as an attempt at connecting the neighborhood in a community project.

Artists Aileen Barr and Colette Crutcher collaborated with the community on the project in designing each of the 163 mosaic panels. The handmade tiles were made in the shape of animals, fish, and shells, and sponsored by local residents. This sponsorship is what enabled the vast majority of the project to be funded. Workshops were held in the community and anyone who came could participate in the making of the mosaic panels.

The opening ceremony was held on August 27th, 2005 with Lian dancers lining the streets. The project has a "sister stairway" located in Caltagirone, Italy, known as the Scala Steps, whose mayor actually came to the location for the opening. The gardens either side of the stairway were generously donated by Dr. Christopher Xavier and Alice Yee Xavier. A grant was successfully obtained in 2006 to develop the gardens on the north side of the stairway.


Volunteer Days are held during Earth Day weekend and in the Fall and anyone is welcome to come along and help out.
Sources
MC, Josh. Mosaic Steps on 16th Avenue in San Francisco. California Through My Lens. December 19, 2013. Accessed April 12, 2017. http://californiathroughmylens.com/mosaic-steps-16th-avenue-san-francisco.

The 16th Avenue Tiled Steps Project. Tiled Steps. Accessed April 12, 2017. http://www.tiledsteps.org/.

16th Avenue Tiled Steps. 16th Avenue Tiled Steps. Accessed April 12, 2017. http://www.16thavenuetiledsteps.com/.

S, Mike. Moraga Steps, San Francisco. Hidden SF. October 23, 2013. Accessed April 12, 2017. http://www.hiddensf.com/moraga-st-tiled-steps.html.