St. Helena Island Light
Introduction
St. Helena Island Light was built in 1873 and was one of 14 lights to help ships pass through the dangerous reefs located in Straits of Mackinac. It stands at 63 feet tall and is still an active navigational light operated by the Coast Guard. The light can be seen almost seven miles away. The island is now the St. Helena Island Nature Preserve, which is owned by the Land Traverse Conservancy, an organization that works to protect northern Michigan's natural areas. The island is open to the public and several education programs are hosted by the Great Lakes Light House Keepers Association (GLLKA). The association has led restoration efforts since 1986, with a lot of help coming from the Boy Scouts. The light was listed on the National Register of Historic Places in 1986.
Images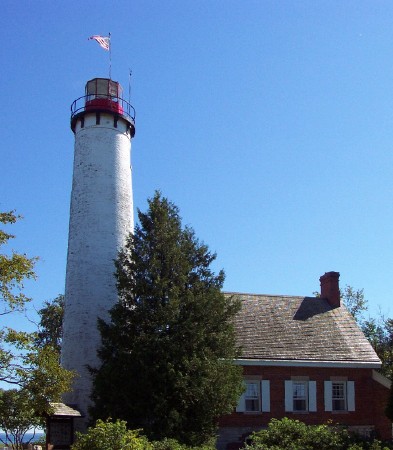 Backstory and Context
Brothers Wilson and Archie Newton bought the island in 1853, after realizing that the north shore had a good harbor in which to dock boats (the more peaceful northern shore had been known to Native Americans for a long time). The brothers established fishing, lumber and trading companies with others to take advantage of the calm harbor and natural resources of the island. A community of about 200 people lived on the island. The need for a light soon became apparent, but it was not built until 1873. Keepers operated the light until 1922 when it was automated. Over time, the structure fell into disrepair and was vandalized. The GLLKA obtained a thirty-year lease in 1986 and have been in charge of the building ever since. It has also rebuilt some of the contributing structures as well.
Sources
http://www.lighthousefriends.com/light.asp?ID=214 http://www.gllka.com/sth-hist.html https://en.wikipedia.org/wiki/St._Helena_Island_Light
Additional Information