The Tulsa Preservation Commission
Introduction
The Tulsa Preservation Commission provides zoning ordinances and other services that protect historic properties. They also create lists of endangered sites and nominate local properties to the National Register of Historic Places. Finally, the organization provides educational materials for citizens and teachers that help to to keep residents informed of Tulsa's history and then need to preserve its historic properties. Among the properties the organization was responsible for having listed in the National Register of Historic Places are the Dresser House, The Ambassador Hotel, and the 11th Street Arkansas River Bridge.
Images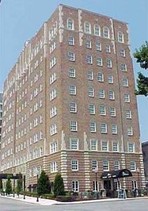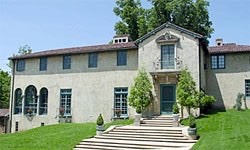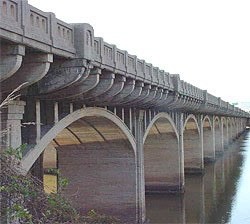 Tulsa Preservation Commission logo

Backstory and Context
Construction on the Dresser House was completed in 1920. The Spanish Eclectic Style and was designed by Albert Joseph Bodker. Bodker designed the Waldorf-Astoria hotel in New York. The Spanish Eclectic Style, mostly found in the southwestern United States and in Florida, is typically inspired by traditional Spanish missions and includes elements of Moorish, Byzantine, Gothic, and Renaissance Styles. The Dresser House was built for Carl and Pauline Dresser. Carl Dresser was a successful businessman who made his money from oil. The interior of the house is impressively decorated and includes woodwork constructed with trees felled from King George V's private forest. The sunroom, breakfast room, and library are paved with handmade Italian tiles. Today, the home is an event venue that can be rented out for private functions. The Dresser House is located at 235 West 18th Street.
The Ambassador Hotel, located at 1314 South Main, was constructed in 1929 and was built in the Mission/Spanish Colonial Revival Style. The 11th Street Bridge was built between 1916 and 1917. In 1929, it was altered to include guardrails decorated with Art Deco style motifs, including the Zigzag and PWA Classical-oriented designs typical of Art Deco.
Part of the International Movement in modern art, Art Deco design was popular from 1925-1940s. Art Deco design incorporates geometric shapes and drew on Greco-Roman Classicism as well as aspects of design found in Ancient Egypt, Aztec Mexico, Babylon, and Assyria.
Sources
http://tulsapreservationcommission.org/ http://tulsapreservationcommission.org/buildings-listed/ http://tulsapreservationcommission.org/buildings/dresser-house/ http://tulsapreservationcommission.org/buildings/ambassador-hotel/ http://realtormag.realtor.org/home-and-design/guide-residential-styles/spanish-eclectic http://www.dressermansion.com/history http://www.dressermansion.com/history http://www.dressermansion.com/ http://tulsapreservationcommission.org/buildings/eleventh-street-arkansas-river-bridge/ http://www.visual-arts-cork.com/history-of-art/art-deco.htm https://www.questia.com/newspaper/1P2-17085258/these-walls-dresser-mansion-in-tulsa
Additional Information