George Washington's Gristmill and Distillery
Introduction
In the years following George Washington's inheritance of his Mount Vernon Estate, he built a large stone gristmill on the property. At the suggestion of his farm manager, James Anderson, Washington also built a whiskey distillery next to the gristmill. When it was completed in 1797, Washington's distillery was the largest in the United States. Although the original building was destroyed in the 1850s, the Mount Vernon Ladies Association have reconstructed the building. Nowadays, visitors can come to the Distillery and Gristmill and watch it come to life. With guided tours and costumed interpreters, one of the highlights of this historic site is its fully functional distillery. In fact, Washington's distillery is the only site in America where visitors can witness the 18th-century process from seed to barrel. The Distillery and Gristmill are listed on the National Register of Historic Places.
Images
Reconstruction of George Washington's 1771 gristmill near Mount Vernon, Virginia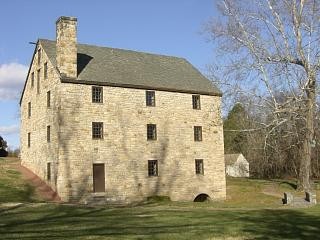 Another view of the reconstructed gristmill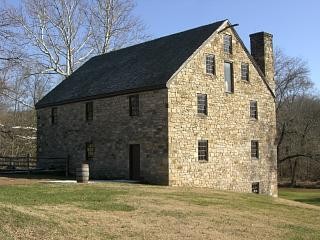 Reconstruction of Washington's Distillery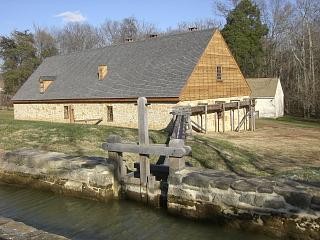 Artist's depiction of the gristmill and distillery

The Whiskey Rebellion by William Hogeland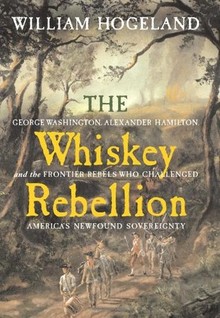 Backstory and Context
History of Washington's Distillery and Gristmill
George Washington's Distillery and Gristmill symbolize the time in America's history when the young nation was transitioning from a colonial market into a nationalized economy. For example, in early 1770 and 1771, George Washington wanted to not only move his plantation to self-sufficiency but also start selling flour to local and export markets. Also, Washington wanted to move away from tobacco plants and instead focus on wheat. As such, in 1771, he built the large gristmill. The mill was capable of producing upwards of 5,000 to 8,000 pounds of flour and cornmeal every day. Washington made several improvements for the gristmill over the decades since its construction. The last of these improvements involved the purchase the newly patented automated milling system, invented by Oliver Evans.
While managing Washington's farm, James Anderson urged Washington to produce whiskey at the site as a new source of revenue. Washington was hesitant in terms of the economic venture but trusted Anderson's history in the distilling industry in Scotland before immigrating to America. Thus, in early 1797, Anderson purchased to stills and set up the small operation next to the gristmill. The initial 600 gallons of whiskey proved profitable, and so Washington agreed to a larger distillery over the 1797-78 winter. By the year of Washington's death in 1799, the distillery produced nearly 11,000 gallons of whiskey, which Washington sold for $1,800 (equivalent to about $120,000 today). Washington's whiskey distillery was the largest in America.1
George Washington's Whiskey
Today, workers at Mount Vernon use Washington's distillery to make whiskey just as Anderson and his team did in the 18th century. Moreover, the try to keep to Washington's original rye recipe as much as possible. The grains for the whiskey (rye grain and corn, mostly), are ground in the gristmill and then added to barrels in the distillery. Malted barley is added afterward. About 1,000 bottles of unaged rye generally go on sale at Mount Vernon in mid-May.2
Sources
1.) "George Washington's Gristmill", National Park Service National Register of Historic Places Registration Form. August 16, 2002. Accessed May 8, 2016, http://www.dhr.Virginia.gov/registers/Counties/Fairfax/029-0330_George_Washington_Grist_Mill_2003_Final_Nomination.pdf 2.) Natasha Geiling, "Long Before Jack Daniels, George Washington Was a Whiskey Tycoon." Smithsonian.com, May 12, 2014. Accessed May 8, 2016, http://www.smithsonianmag.com/history/george-washington-whiskey-businessman-180951364/?no-ist
Additional Information