This entry includes a walking tour! Take the tour.
Introduction
Michigan's State Capitol was dedicated in 1879. It originally housed all branches of the state government, and today serves as the home of the Governor's Office, the Michigan Senate, and the Michigan House of Representatives. The Capitol is nationally recognized for its architectural importance and Victorian interior design, and was completely renovated in 1992. It is listed on the National Register of Historic Places and is a National Historic Landmark.
Images
The Michigan State Capitol was built over seven years and features an interior filled with hand-painted murals and Victorian-era furnishings.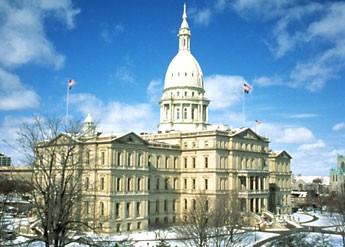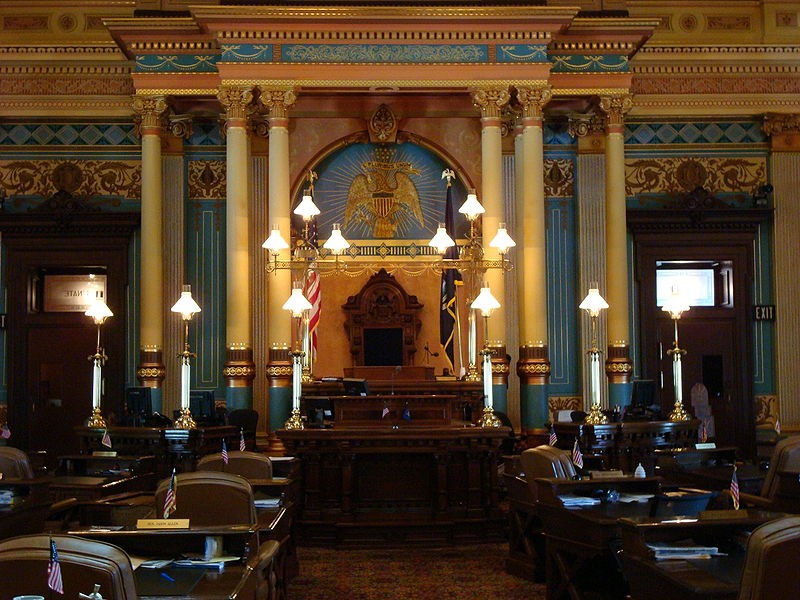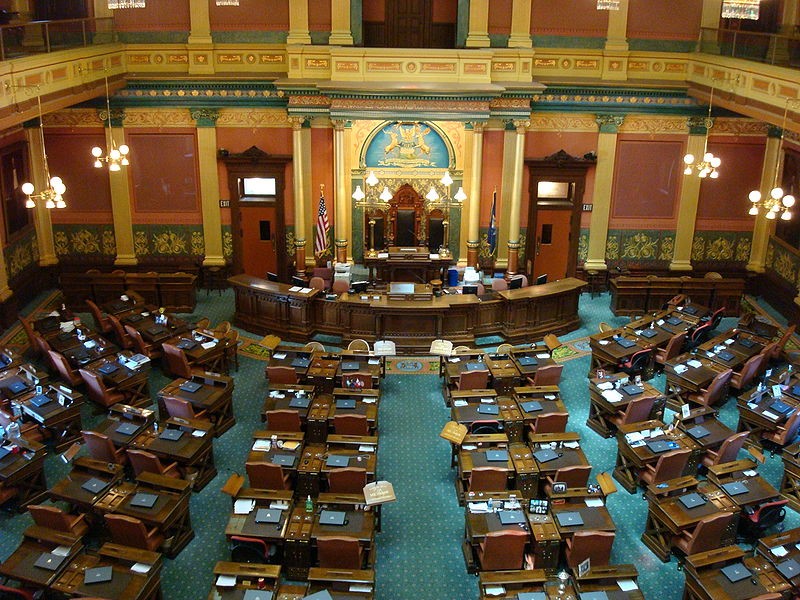 Backstory and Context
Michigan's third state capitol was dedicated on January 1, 1879. This magnificent building was built to replace a simpler wooden structure that served as the first capitol building in Lansing after the state capital was moved from Detroit. Designed by architect Elijah E. Myers, the final cost totaled $1,427,738.78.1
The capitol is 267 feet tall, to the top of its cast iron dome. It was originally lit by gas chandeliers, with hand-painted interiors and Victorian-era furnishings. It was extensively restored and rededicated in 1992.
Originally, the Capitol housed all branches of the state government, including the Supreme Court, the legislature, the governor, and various state administrators. The ground floor was originally intended for store rooms and an armory, but the main entrance was later relocated here. The first floor features a rotunda, with astounding views of the inner part of the Capitol's dome, made up of 976 pieces of glass, as well as checkerboard tile floors of marble and limestone. The second floor holds the Governor's Office and the Governor's Gallery, which showcases a portrait of each of Michigan's past governors. The House and Senate Chambers, with public viewing galleries, are on the third floor.2
Sources
1. "Your State Capitol." Presented by the Michigan Legislature. http://www.michigan.gov/documents/hal_lm_capinfo_54904_7.pdf
2. "The Michigan State Capitol." http://capitol.michigan.gov/CapitolBuilding
Additional Information