Sacred Heart/Charleston Catholic High School
Introduction
As early as 1869 Sacred Heart Church in Charleston, WV operated a parochial school for primary grades that continued through the end of the 1800s. By 1903, the Sisters of Saint Francis of Penance and Christian Charity in Niagara, NY took over administration of the school and in 1923 added high school classes in what was known as the Chilton House. In 1940 the school's name was changed to Charleston Catholic High School and a new building was constructed under the auspices of Bishop John Swint of the Diocese of Wheeling. The school still offers classes to students in the Charleston area.
Images
Original Sacred Heart School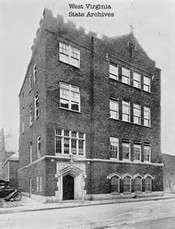 Backstory and Context
Sacred Heart High School has undergone many changes since its creation in 1923. In 1941 under Bishop John Swint a new building, gymnasium, and science labs were added to increase the school's size and curriculum. Student enrollment at Charleston Catholic High School peaked in the 1960s, along with Charleston's population. However, as time passed enrollment dropped.

In 1986, Monsignor P. Edward Sadie, a local priest, hired Debra K. Sullivan as principal, and in 1994 the school added a third floor math and science wing to accommodate more students and adapt to technological changes in education. Today the school continues to grow, having recently purchased and renovated a local tennis club located off-site to house its athletic facilities, including a basketball court and tennis courts.
In 2016, Charleston Catholic Middle and High schools have 422 students in grades 6-12. Typically, nearly 100% of the graduating high school class goes on to attend a four-year college of higher education in the United States. Charleston Catholic also offers many groups and community service opportunities. One is known as HOPE, which stands for Housing Outreach Project Express and is meant to improve the quality of housing for low income families and seniors in Clay County, West Virginia; it also instills the habit of service in students, a commitment to living the works of mercy. The Clay County project is a sponsored project in which students buy and deliver food and gifts for families and kids that live in Clay County for Christmas. Pax Christi is another group that is dedicated to peace education. Students promote the gospel imperative of peacemaking as a priority in the Catholic Church. Pax Christi works for a more peaceful, just, and sustainable world.
Sources
http://www.charlestoncatholic-crw.org/index.php
Additional Information