Cravath Hall and Murals by Aaron Douglas
Introduction
This nine-story neo-Gothic structure was completed in 1930 as the Erastus M. Cravath Memorial Library and replaced a previous library that had been partially funded by Andrew Carnegie. In that same year, Fisk became the first African American institution to gain accreditation by the Southern Association of Colleges and Schools. The building is named in honor of Fisk University's first president. The building is best-known today for a series of murals by the artists Aaron Douglas. These murals can be found on the building's second floor. The nine-story building was recently restored and renovated by I. C. Thomasson Associates, Inc., and the murals were restored by Cunningham-Adams Fine Arts Painting Conservation of Washington, D.C
Images
Portrait of Aaron Douglas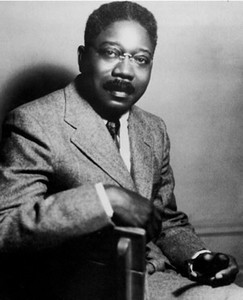 Cravath Hall at Fisk University (image from I. C. Thomasson Associates, Inc.)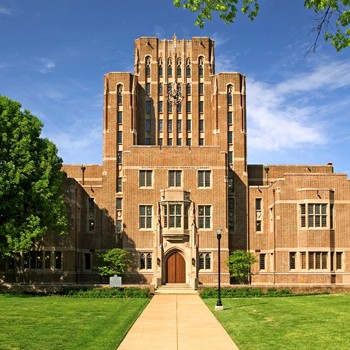 Science, 1930. Aaron Douglas. Mural at Cravath Hall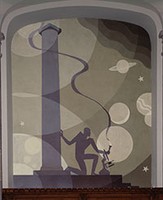 The North Reading Room at Cravath Hall with restored Aaron Douglas murals (image from the Smithsonian American Art Museum)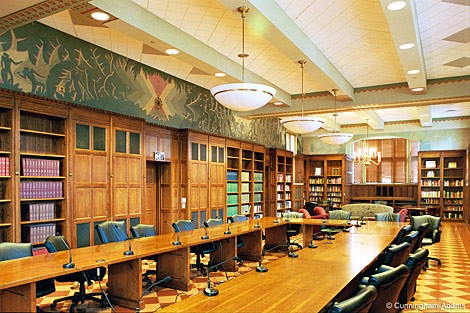 Backstory and Context
About Cravath Hall
Until Andrew Carnegie funded Fisk University's first dedicated library building (opened in 1909), the predominantly African American school made do with reading rooms and collections in residential buildings. By 1924, the university had outgrown the Carnegie library, in spite of expansions, and was striving to prove itself as a leading American college. University President Thomas Jones acquired a grant from the General Education Board, while Fisk's head librarian, Louis Shores, consulted national library experts including Ernest J. Reese of Columbia University. Reese suggested the new building, which would be shared by both Fisk and the Meharry Medical College, including reading rooms, seminar rooms, spaces for undergraduate and graduate students, and a special collections room dedicated to books about African Americans.
Henry C. Hibbs designed the nine-story neo-Gothic building, as well as the furniture within it. The library featured Reese's suggested spaces, as well as classrooms for library science, a special room for collections on Fisk University history, a periodical room, and a browsing room with two fireplaces. The building was equipped with a pneumatic tube, a gravity chute, and an elevator. Harlem Renaissance painter Aaron Douglas was hired to paint murals on the lobby walls and the walls of two reading rooms, featuring themes including the African American transition from Central Africa to contemporary America; music, religion, drama, poetry, science, and philosophy; and a depiction of Fisk's Jubilee Hall, which was built using funds raised by the Jubilee Singers. Later, in 1939, Douglas returned to Fisk University to found the art department. In 1930, the building opened as the Erastus M. Cravath Memorial Library, named for the university's first president.
The university worked to expand its collections and received donations from the General Education Board, the Carnegie Foundation, and the Russell Sage Foundation, and worked with Meharry Medical College to provide a medical reading room and medical library assistant. Frances L. Yocum became the head librarian in 1933, and her cataloging of materials on African Americans became the basis for the Library of Congress' subject heading on the topic. Gradually, the library once again outgrew its facilities, and in 1969 the Franklin Library opened (so named in 2000 in honor of historian John Hope Franklin and his librarian wife, Aurelia, both alumni of Fisk).
Cravath Hall underwent a major renovation and restoration project from 2001-2003, including work by I. C. Thomasson Associates, Inc. to update the building's utilities; repair the exterior features including windows, roofing, and masonry; restore the reading rooms and original wood bookcases and paneling; and create administration offices; as well as restoration of the Aaron Douglas murals by Cunningham-Adams Fine Arts Painting Conservation of Washington, D.C. The murals suffered from water damage, humidity, sunlight, general aging, and even removal or theft of sections of the wall. Some had even been painted over. Douglas himself had done the restoration to the murals in 1965 and 1969, and conservators found that he had altered the color palette to convey a more somber outlook. The Cunningham-Adams restoration received the National Trust for Historic Preservation's National Preservation Award in 2004.
A brief biography of artists Aaron Douglas:
Once dubbed the "Father of African American Art," Aaron Douglas was a painter, illustrator and educator who was at the forefront of the Harlem Renaissance movement during the 1920s. Beginning his study at the University of Nebraska-Lincoln, Douglas went on to enjoy an iconic career in the creation and the education of African American art.
Born in 1899 in Topeka, Kansas, Douglas' family encouraged him to pursue his interest in artistry. He graduated from Topeka High School in 1917. He went on to study at the University of Nebraska, where he noticed:
"I was the only Black student there. Because I was sturdy and friendly, I became popular with both faculty and students." After receiving a B.F.A. he went on to receive a bachelor of arts degree from the University of Kansas.

He moved to Harlem, New York in 1925, a time where the realization of the Harlem Renaissance was underway.
The Harlem Renaissance was a cultural, social, and artistic explosion beginning in the mid-1920s. The movement saw an increased appreciation of Black music, writing, and art among whites. Intellectuals such as W. E. B. Dubois and Marcus Garvey expressed ideologies that would be debated for years to come, and Black expression in its entirety exploded.
Upon his arrival, Douglas immediately began working as an illustrator for The Crisis and Opportunity, two of the most significant magazines in the Harlem Renaissance.
He also began working with Winold Reiss, a German painter known for compassionate pieces depicting ethnic diversity. Weiss influenced Douglas to develop his modernist style which would characterize his work for decades. He continued to illustrate and saw his work featured in several significant books in the period such as; James Weldon Johnson's
God's Trombone
(1927), a 1927 reprint of Johnson's
The Autobiography of an Ex-Colored Man
, and Langston Hughes's
Fine Clothes to the Jew
(1927). in 1931, he went to Paris to study traditional French painting at the Academie Scandinave, prior to which he studied African and Modern European art at the Barnes Foundation in Marion, Pennsylvania in 1928.

Douglas was known for using his African heritage as inspiration, which garnered attention from important individuals in the African American intellectual community, W. E. B. Dubois, for example. One of his mural series,
Aspects of Negro Life
, was completed in 1934 for the 135th Street branch of the New York Public Library and is depicted above. Douglas' paintings presented a strong theme of African individuality; representing Blacks' contributions to society using signature elements such as geometric symbolism. Douglas' work is considered unique for fusing modernism with ancestral African images. Never wanting to be the "Father of African-American arts," a moniker that led him to say: "
Do not call me the Father of African American Arts, for I am just a son of Africa, and paint for what inspires me."


While attending the University of Columbia Teacher's College in 1939, Charles S. Johnson, a longtime mentor and the first Black president of Fisk University, invited Douglas to develop the art department at the historically Black college. Still working toward his master's degree that he would complete in 1944, he joined the faculty at Fisk. Having worked as a high school teacher briefly in Missouri after graduating from the University of Kansas, a return to education was a meaningful experience for Douglas. He retired from Fisk in 1966. Once a leader in the Harlem Renaissance, a moving muralist, Douglas' career as a painter finished at Fisk where he passed his years of education on to many young, Black students for 27 years.
Sources
I. C. Thomasson Associates, Inc. "Fisk University Cravath Hall." 2007. Accessed July 21, 2016.

Smith, Jessica Carney. "From Andrew Carnegie to John Hope Franklin: Library Development at Fisk University." Tennessee Library Association. Accessed July 21, 2016. http://www.tnla.org/?290

Aaron Douglas. Kansapedia- The Encyclopedia of the Kansas Historical Society. June 12, 0003. Accessed November 30, 2016. https://www.kshs.org/kansapedia/aaron-douglas/12039.
Lauren Kernes, Aaron Douglas: Teacher Resource. Spencer Museum of Art, 2007. http://www.aarondouglas.ku.edu/resources/teacher_resource.pdf
Kaplan, Howard. "Stop-Loss: Restoring the Aaron Douglas Murals at Fisk University." Eye Level, Smithsonian American Art Museum. October 14, 2008. Accessed July 21, 2016. http://eyelevel.si.edu/2008/10/stop-loss-resto.html
Additional Information