Patrick Street Bridge
Introduction
Patrick Street Bridge was built in 1930. It is a Polygonal Warren through truss design, with all verticals, and is 1,769.1 feet in length. The bridge spans Kanawha River near the I-64 stretch between South Charleston and Charleston, and carries about 18,800 cars a day over the river. It is named after early settler Spicer Patrick, who owned a farm that once stood near the western end of the bridge on Charleston's West Side.
Images
South End of Patrick Street Bridge, Summer 1964. Photo courtesy mywvhome.com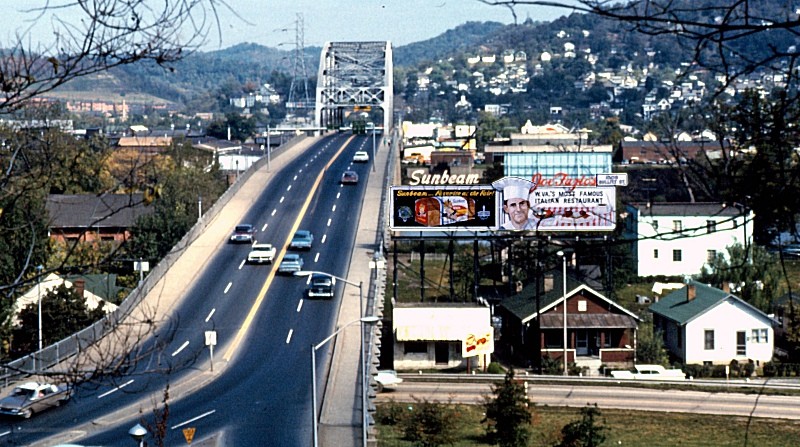 Construction of the bridge. Photo courtesy mywvhome.com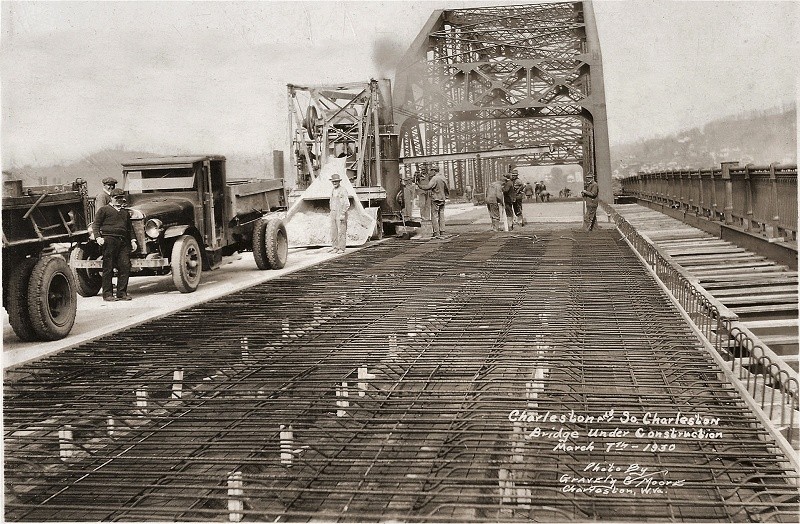 Photo by Lawrence Pierce, from Charleston Gazette article "Nearly 1,000 West Virginia bridges rated 'structurally deficient.'"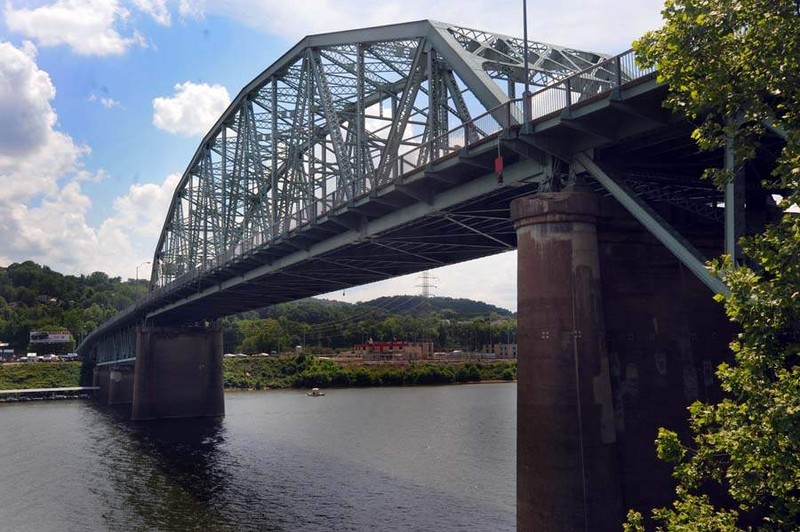 Backstory and Context
The bridge was named after Spicer Patrick, a Charleston physician and businessman who relocated to this area from upstate New York in the early 1800s. Patrick was later one of two delegates who represented Kanawha County in the Virginia Secession Convention that convened in Richmond in 1861 to vote on whether Virginia should secede. Patrick and fellow delegate George Summers subsequently both voted to oppose secession, an act of political defiance shared by other Western Virginia residents that helped spawn the West Virginia statehood movement.
An originally proposed drawbridge was envisioned to carry Patrick Street over Kanawha River to relieve existing traffic congestion exacerbated by the presence of a large tool factory situated just off Patrick Street. While the rough proposal was scrapped, it began what would eventually become the largest bridge over Kanawha River at the time it was built; a multi-spanned structure nearly 1,770 feet in length connecting Patrick Street in Charleston to MacCorkle Avenue on Charleston's South Side near the eastern city limit of South Charleston.
The bridge was constructed out of proceeds from the $1,250,000 Loudon-Charleston District bond issue passed in April of 1928. The bridge coas an estimated $900,000, included the purchase of land required for the immense configuration, much of which had homes existing on it. Sadly, six construction crewmen drowned during bridge construction when the cable supporting the large cement bucket in which they were riding out to the job collapsed in March of 929. Patrick Street Bridge carries U.S. Route 60, which extends 2,760 miles from the Atlantic coast of Virginia tosouthwestern Arizona! After nine decades of service, Patrick Street Bridge remains an important river crossing point for thousands of motorists daily.
Sources
"Moments in Time: Patrick Street Bridge." Charleston Gazette-Mail. Charleston Gazette, 16 Nov. 2014. Web. 02 May 2016. "Erection of Bridge, Below Present Structure, Proposed to Relieve Existing Traffic Congestion."

Charleston Gazette 4 Apr. 1926: n. pag. Print. "Work Will Be Started at Once on Free Bridge Foundation; Bids Will Be Recieved by the County Court on January 18." The Charleston Daily Mail 16 Dec. 1928: n. pag. Print.