The Run From Ellisville- Lynching of John Hartfield
Introduction
On June 26, 1919 3,000- 10,000 white men, women and children gathered in Ellisville, Mississippi to witness the heinous lynching of John Hartfield. He was allegedly murdered for assaulting a white girl. Mississippi Gov. Theodore G. Bilbo, avid white supremacists and racist, released Hartsfield to the people of Ellisville around 4 o clock that evening. Governor Bilbo claimed there was nothing he could do to prevent the attack.
Images
The is a copy of the news paper that was released in 1919 parading the lynching of John Hartfield.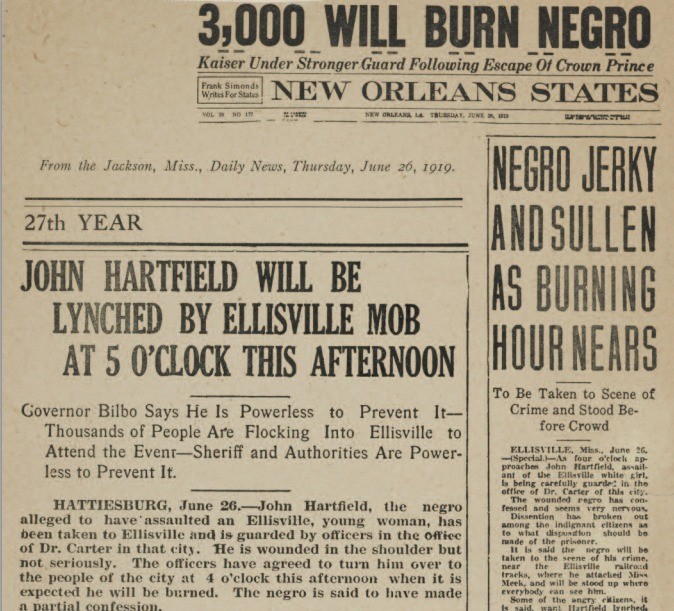 This is a photo documenting Mrs. Mamie Lang Kirkland's return home to Ellisville, Mississippi after 100 years following John Hatfield's lynching.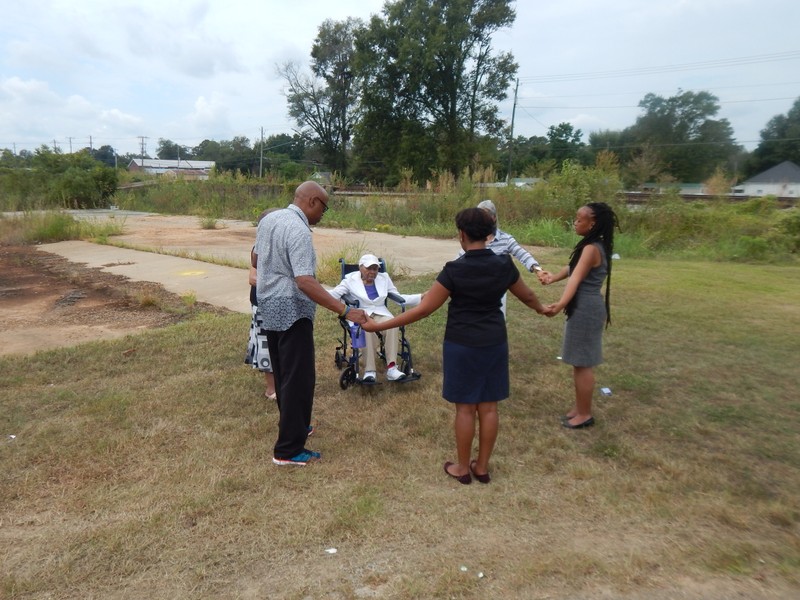 Backstory and Context
On June 26 1919, nearly 10,000 white people gathered in the town of Ellisville, Mississippi to witness the gruesome lynching and death of John Hartfield. Mrs. Mamie Lang Kirkland remembers the story of his lynching very vividly. She recalls her father Edward Lang being good friends with Hartfield. Mamie, who was born in the town of Ellisville, Mississippi, remembers her father forcing their family and Hartfield to flee the town after Hartfield was accused of having an affair with a white woman.
Mrs. Mamie Lang and her family along with Hartfeld fled to East St. Louis in hopes of finding an escape from the terrorizing lynchings that were taking place in the Deep South. Although he was warned not to, Hartfield potentially got home sick and decided to return to Ellisville four years later. After learning of Hartfeld's return, a ten-day manhunt ensued leading up to his capture and the premeditation of his death.
Due to the enraged spirit of the white citizens, Governor Theodore Bilbo claimed the power to prevent the lynching was out of his hands. While Mrs. Mamie Lang did not witness the lynching of Hartfield, she recalls her mother and father discussing his torturous death. She told EIJ that after his death "they say they had a rope around his neck and was dragging him down the street with a horse, dead."
Since the lynching of John Hartfield over 100 years ago, in attempt to keep the daunting past behind her, Mrs. Mamie Lang has refused to visit Ellisville. However, after uncovering the dark history of that evening with her son and community filmmaker Tarabu Kirkland, they resolved to visit her hometown together in 2015. While Mrs. Lang Kirkland tries to avoid discussing the horrifying story of John Hartfield, she understands the power of bringing truth and relevance to the untold stories of lynching.
Additional Information