Lynching of Laura and L.D. Nelson
Introduction
Near this location on May 25, 1911, a mob lynched L.D. Nelson and his mother Laura Nelson. the photograph was publicized and distributed as a postcard that like the lynching itself was intended to remind members of the Black community what was in store for them if they retaliated against white supremacy. Although there are records and documentation of thousands of lynchings of African Americans, it is rare to see photographic evidence of the lynchings of African American women. Memorializing and commemorating such individuals who have died unjustly promotes recognition of a larger history and culture of killing and devaluing Black individuals.
Images
Laura Nelson hanging from the Schoolton Bridge.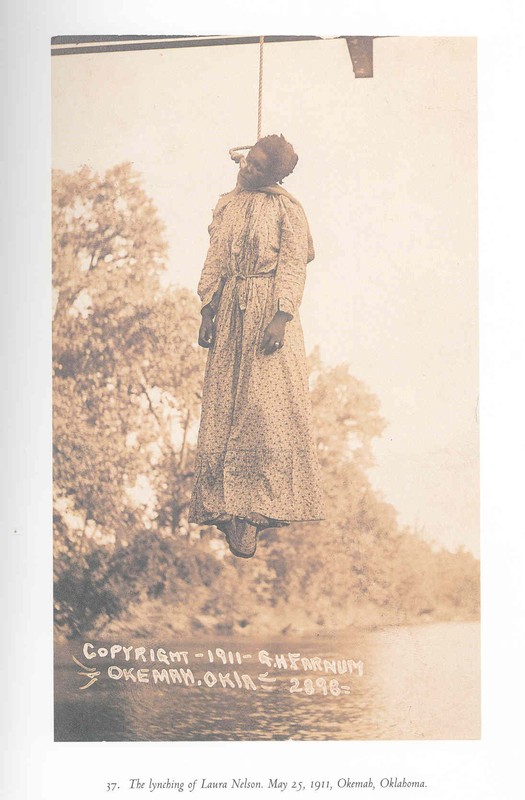 Photograph of Laura and L.D. Nelson along with lynch mob and observers on the Schoolton Bridge after the lynching.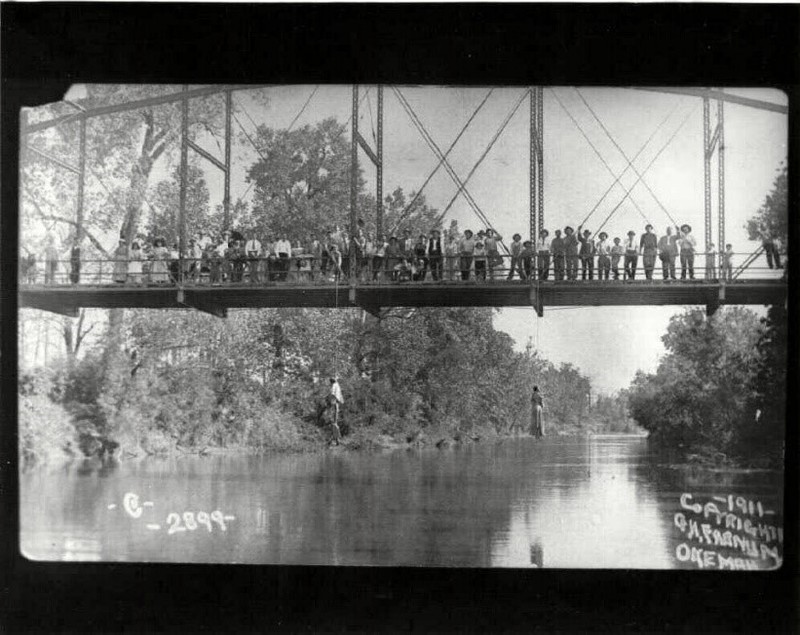 Backstory and Context
On May 25, 1911, Laura Nelson and her son L.D. Nelson were lynched from a bridge over the North Canadian River due to allegations that L.D. Nelson shot and killed George H. Loney, who was Okemah's deputy sheriff. This killing transpired after the deputy sheriff and a mob of individuals showed up at the Nelson household and accused Laura Nelson's husband, Austin Nelson, of stealing a cow. Although it is not documented who fired the shot that killed the deputy, it is said that he was shot in self-defense. It is also said that Laura grabbed the gun first and L.D. fired the shot, but there is no record of what actually transpired. Following this incident, Austin, Laura, and L.D. Nelson were taken into custody. Laura and L.D. were charged with murder and awaited trial in the Okemah county jail. Austin pleaded guilty to larceny and was sent to the state prison in McAlester for three years.
According to the police officer, W.L. Payne,who was guarding the cells, a lynch mob of approximately forty white men, tied, bound, and gagged him at gun point. After doing this, they proceeded to kidnap Laura and L.D. Nelson. Although it is presumed that Laura had a baby with her during her stay in jail and lynching, there are no records indicating the existence and or survival of the child. After their kidnapping on May 24, the press reported that Laura was raped and then hung along with her thirteen-year-old son L.D. from the Old Schoolton Bridge that ran over the North Canadian River.
Following the event, sightseers gathered to take photos with the hanging bodies. Although a grand jury was convened, Laura and L.D.'s killers were not identified or charged. Despite the fact that there is no exact recounting of the specific details of the events, it is evident that two African American individuals were denied rights of punishment by law and deemed to be deserving of death rather than fair judicial sentencing.
The postcard is one of the few visual records of the lynching of a woman. Aside from the postcard, Laura and her family are memorialized through the works of Woody Guthrie and Andrew Hardaway. Guthrie produced a song entitled, "Don't Kill My Baby and My Son," and Hardaway wrote a two-act play, Falling Eve, inspired by the Nelson lynching.

Sources
https://vimeo.com/91065177 http://lauranelsonlynching.weebly.com/ Guthrie, Woody. "Don't Kill My Baby and My Son" (lyrics), 1966 (on YouTube). The New York Times. "Hang Negro Woman and Son", May 26, 1911.
Additional Information