Lynching of Jesse Thornton, 1940
Introduction
On June 21st, 1940, farm manager and worker Jesse Thornton was lynched in Luverne, Alabama and the mob disposed of his body at an unknown location and it was discovered seven days later by a fisherman in the Patsaliga. The lynching began at a local barbershop when Thornton addressed a white police officer without the title of "mister", an act that was prohibited at the time. The violence and injustice that followed are representative of the violence that African Americans still felt during this era. No one was ever prosecuted for Thornton's murder.
Images
This is the death certificate for Jesse Thornton.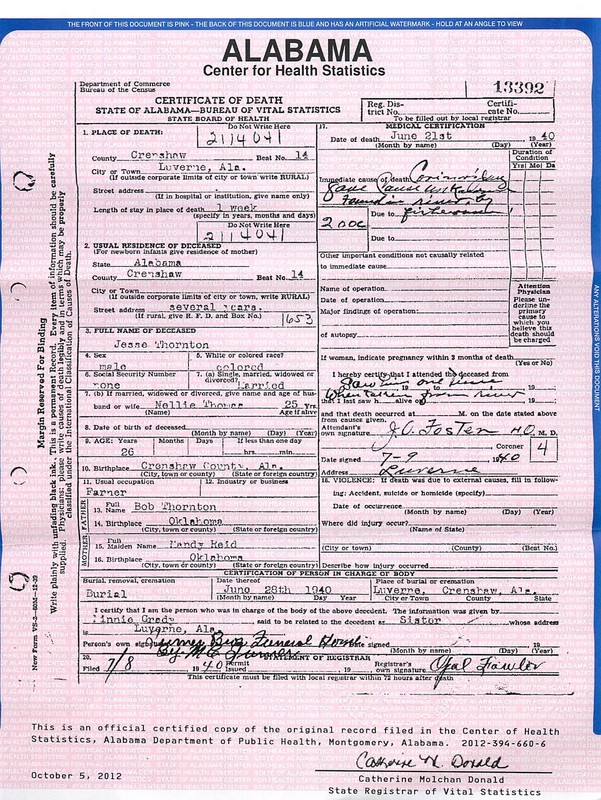 Backstory and Context
On June 21, 1940, Jesse Thornton became a victim of racial violence when he was lynched by a mob in Luverne, Alabama, in Crenshaw County. Thornton was a well-liked member of the community, having lived there for five years with his wife Nellie May and worked as a manager of a local chicken farm. As Thornton was visiting a local Black barbershop with some friends, he had a brutal encounter with a police officer. Thornton along with a few of his friends were standing in front of the barbershop socializing when an officer by the name of Doris Rhodes walked by them. He said to his nearby friends "There comes Doris Rhodes, boys." In a rage, the officer asked Thornton to repeat himself. Thornton attempted to correct himself saying "Mr. Doris Rhodes." In a rage, the officer threw slurs at Thornton and accused him of referring to him by his first name, an act that was prohibited during this era. Infuriated, the officer attacked Thornton, knocking him to the ground, arresting him, and walking him to the local jail.
Once the officer and Thornton arrived at the jail cell, events quickly took a turn for the worse. While officer Rhodes was preparing to unlock the cell, Thornton hastily broke away and fled out of the building. However, he was soon met by a vicious mob awaiting him outside the jail. Thornton attempted to escape the mob by running but he was shot five times. After shooting him, the mob threw his body in the back of a pickup truck and drove him to a nearby location. His body was found a week later in the Patsaliga Creek by local fisherman Stephen Thompson. Town officials had African American prisoners build Thornton a crude casket, then buried him in the local Black cemetery, without notifying his wife. Forensic clues led the investigators to believe that Thornton was lynched. 
The violence that the mob created was not limited to Thornton. After completing the lynching, the mob returned to the barbershop and asked where Thornton's wife could be found, pretending that the lynching had not occurred. Upon arriving at the home of Nellie Thornton, the members of the mob asked where Thornton could be found. When she insisted that he had gone downtown, the mob left and insisted that when they returned she "had better tell" where her husband had gone. The mob returned downtown to the office of Mayor T. McKing to discuss what had occurred and what to do next. On the Mayor's orders, the mob returned to Nellie Thornton's home and kidnapped her during the night. They kept her in the back of a pickup truck for practically the entire night and was told she would meet the same fate as her husband if she spoke to anyone about the kidnapping. Following this traumatic event, she refused to speak to anyone in the town, including Black residents for over a week.
Following the completion of the investigatory report by Dr. Charles J. McPherson, secretary of the NAACP's Birmingham branch, Thurgood Marshall, an attorney for the NAACP strongly urged the US Justice Department to launch an official investigation of the lynching. Marshall sent a letter to the Assistant AG John Rogge on August 13th, 1940. Marshall's letter emphasized that there was strong evidence of the local officer's involvement in the murder, which if proven, would constitute a violation of Section 52 of Title 18 of the United States Code. Rogge in turn sent a request to FBI Director J. Edgar Hoover to launch an investigation. Rogge stressed that the first phase of an investigation involving the police officers had to be done discreetly. He suggested that the special agents assigned to the case should interview every person who might have information before contacting the officers involved. However, to date, it is uncertain whether either agency proceeded with the steps required for prosecution in the case. At the time Hoover's FBI was not interested in pursuing complaints about civil rights.
Sources
Black Man Lynched in Alabama for Failing to Call a White Man "Mr.", Eji A History of Racial Injustice. Accessed December 8th 2020. https://calendar.eji.org/racial-injustice/jun/21.
Ekaneum, Janette. Injustice Unveiled: The Lynching of Jesse Thornton, Civil Rights and Restorative Justice Clinic. January 1st 2013. Accessed December 8th 2020. https://repository.library.northeastern.edu/downloads/neu:m040dr115?datastream_id=content.
Ikathryntucker. Jesse Thornton (pt 1 of 2), Newspapers.com. April 9th 2018. Accessed December 8th 2020. https://www.newspapers.com/clip/19099239/jesse-thornton-pt-1-of-2/.
Jesse Thornton, Legacy of Lynching. Accessed December 8th 2020. https://legacyoflynching.com/profiles/jesse-thornton/.
https://web.archive.org/web/20180227013028/http://nuweb9.neu.edu/civilrights/jesse-thornton/
Whisperer, Woodstock. AMERICAN LYNCHING 4, The Woodstock Whisperer. December 29th 2019. Accessed December 8th 2020. https://woodstockwhisperer.info/2019/12/29/american-lynching-4/.
rhapsodyinbooks. June 21, 1940 – Alabamian Black Man Lynched for Failing to Address White Cop as "Mr.", Legal Legacy. June 21st 2015. Accessed December 8th 2020. https://legallegacy.wordpress.com/2015/06/21/june-21-1940-alabamian-Black-man-lynched-for-failing-to-address-white-cop-as-mr/.
Additional Information