Kanawha County Courthouse
Introduction
The Kanawha County Courthouse was originally assembled at Fort Lee in the home of George Clendenin, the man responsible for the first permanent settlement of the Kanawha River Valley. After the incorporation of Kanawha County, the justices voted to construct a courthouse during their first gathering. A one story log cabin was the first official courthouse of Kanawha County, and was replaced by a two story brick building that existed from 1817 to 1888. The current Kanawha County Courthouse was established in 1892, and has served the community since. Additions were made in 1817 and 1824, both designed by local architect, H. Rus Warne.
Images
Kanawha County Courthouse was constructed in 1892.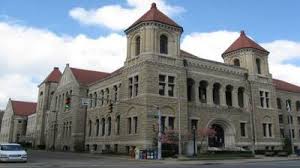 The Kanawha County Courthouse from 1817-1888 sat in the same location and was demolished due to the growing population of Charleston.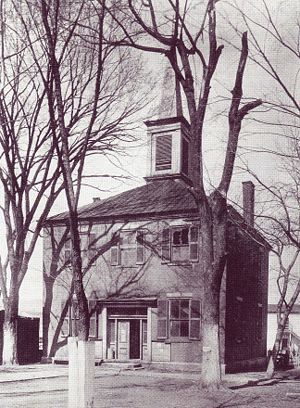 Backstory and Context
After the establishment of the Kanawha County, court was held at Fort Lee in the Mansion House, and the decision to build a courthouse was decided during the first meeting of the justices. A levy resulted in the creation of a one story log cabin on property belonging to George Alderson, which served at Kanawha County's courthouse until 1817. A two story brick court house was constructed in 1817. In 1849, the open market beside the courthouse was destroyed during a cholera outbreak in Charleston, and offices for the courthouse were built in its place. In 1888, the brick courthouse was demolished over the course of two days because it could not suit the needs of the growing city.
The current Kanawha County Courthouse was erected on the same site in 1892. An architectural firm from Richmond, Virginia, Shieff and Highnam, won the bid to design the new courthouse. In 1917, prominent West Virginia architect, H. Rus Warne, designed the additions that shaped the courthouse into an "L." These additions, finalized in 1924, extended the building onto the corners of Kanawha Street and Virginia Street. In the 1930s, the statue that was originally installed at the top of the tower vanished. With the additions of 1817 and 1824, the Kanawha County Courthouse spans the length of an entire block. All of the buildings that have served as the Kanawha County Courthouse have existed on the same piece of property.
Sources
National Register of Historic Places Nomination Form, Kanawha County Courthouse. West Virginia History and Culture website. Accessed December 30, 2016. http://www.wvculture.org/shpo/nr/pdf/kanawha/78002801.pdf. 
Peyton, Billy Joe. Then & Now: Charleston. Charleston, SC. Arcadia Publishing, 2010.
Charleston Century Chronicle.
Charleston: A Capital Experience. Atlanta, Georgia. Riverbend Books, 2000.
Rice, Otis K. Charleston and the Kanawha Valley. Windsor Publications, Inc, 1981.
Morgan, John G.. Charleston 175. Charleston, WV. The Charleston Gazette, 1970.
Laidley, W. S. History of Charleston and Kanawha County West Virginia and Representative Citizens. Chicago, IL. Richmond-Arnold Publishing Co.
Marshall, Paul D.. Cook, John D.. Historical and Architectural Survey Downtown Charleston, West Virginia. Charleston, WV. Charleston Regional Chamber of Commerce and Development, 1984.
Additional Information