St. Marys Falls Canal (Soo Locks)
Introduction
The St. Marys Falls Canal is one of the largest and busiest canal systems in the world. Around 10,000 Vessels and other boats pass to and from Lake Superior and the rest of the Great Lakes each year. Given its historical importance to the economic development of the Lake Superior which in turn benefited the rest of the country, it was declared a National Landmark in 1966. The canal consists of six parallel locks, the first one of which was built in 1855. The others were constructed over the next century, the last one being completed in 1968. A visitor center was built in 1966 and it features exhibits about how the locks work, the ships that pass through, and the U.S. Army Corp of Engineers, the organization that built and operates the canal.
Images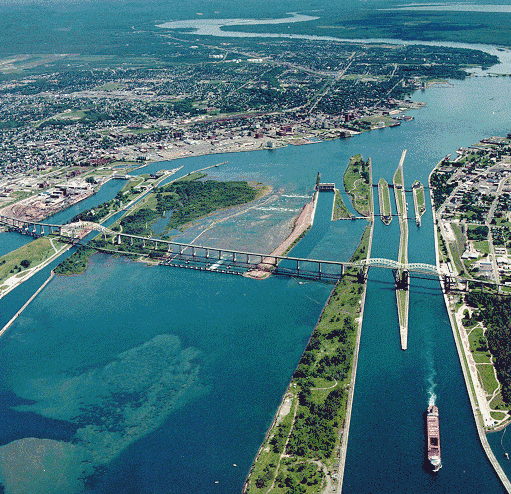 Backstory and Context
The locks get the name "soo" from the pronunciation of the French word for waterfalls, "sault". So in French, Sault Ste. Marie translates to St. Marys Falls in English.
Sources
http://www.lre.usace.army.mil/Missions/Recreation/SooLocksVisitorCenter/SooLocksHistory.aspx https://en.wikipedia.org/wiki/Soo_Locks
Additional Information